100 Greatest Guitarists
Rolling Stone's "100 Greatest Guitarists of All Time" for 2011 is much different than their "100 Greatest Guitarists of All Time" for 2003.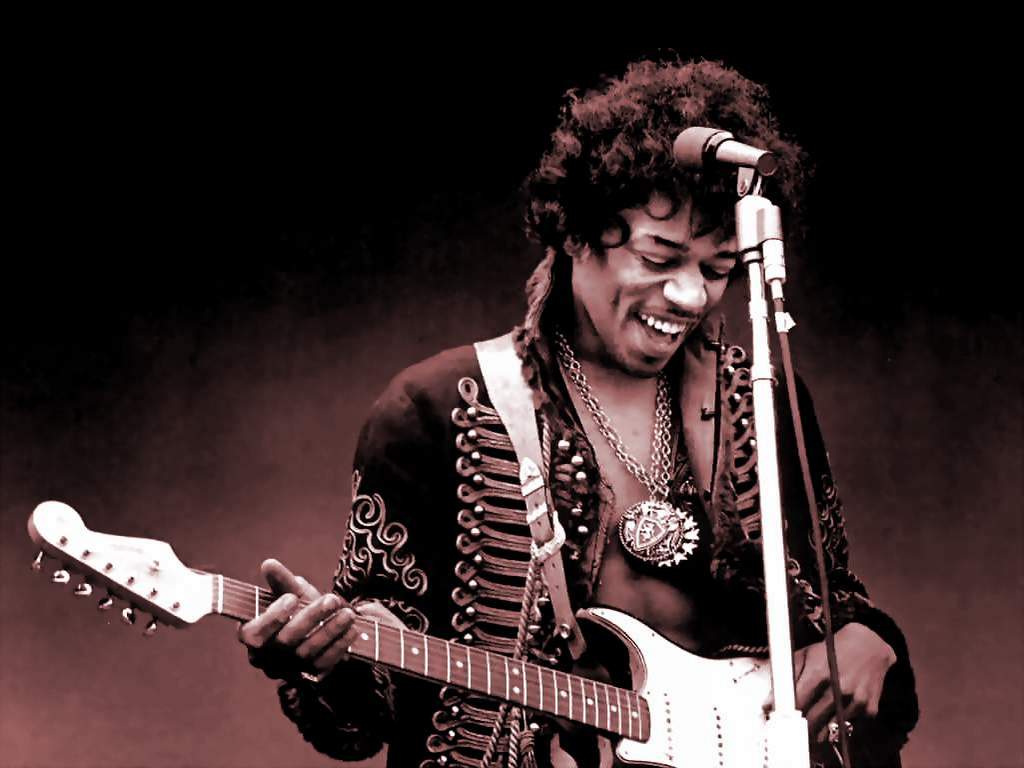 So, Rolling Stone has rolled out one of those lists designed to spark controversy: "100 Greatest Guitarists of All Time." They've also done it in the most annoying possible way: Every guitarist on his own page, to artificially inflate pageviews.
The #1 choice, Jimi Hendrix, is pretty much a no brainer. Tom Morello explains:
Jimi Hendrix exploded our idea of what rock music could be: He manipulated the guitar, the whammy bar, the studio and the stage. On songs like "Machine Gun" or "Voodoo Chile," his instrument is like a divining rod of the turbulent Sixties – you can hear the riots in the streets and napalm bombs dropping in his "Star-Spangled Banner."

His playing was effortless. There's not one minute of his recorded career that feels like he's working hard at it – it feels like it's all flowing through him. The most beautiful song of the Jimi Hendrix canon is "Little Wing." It's just this gorgeous song that, as a guitar player, you can study your whole life and not get down, never get inside it the way that he does. He seamlessly weaves chords and single-note runs together and uses chord voicings that don't appear in any music book. His riffs were a pre-metal funk bulldozer, and his lead lines were an electric LSD trip down to the crossroads, where he pimp-slapped the devil.

There are arguments about who was the first guitar player to use feedback. It doesn't really matter, because Hendrix used it better than anyone; he took what was to become Seventies funk and put it through a Marshall stack, in a way that nobody's done since.
#2 Eric Clapton (by Eddie Van Halen):
Eric Clapton is basically the only guitar player who influenced me – even though I don't sound like him. There was a basic simplicity to his playing, his style, his vibe and his sound. He took a Gibson guitar and plugged it into a Marshall, and that was it. The basics. The blues. His solos were melodic and memorable – and that's what guitar solos should be, part of the song. I could hum them to you.

What I really liked was Cream's live recordings, because you could hear the three guys playing. If you listen to "I'm So Glad," on Goodbye, you really hear the three guys go – and Jack Bruce and Ginger Baker were a couple of jazz guys, pushing Clapton forward. I once read that Clapton said, "I didn't know what the hell I was doing." He was just trying to keep up with the other two guys!

After Cream, he changed. When he started doing "I Shot the Sheriff" and this and that, and when he hooked up with Delaney and Bonnie, his whole style changed. Or at least his sound. He focused more on singing than playing. I respect him for everything he's done and is still doing – but what inspired me, what made me pick up a guitar, was his early stuff. I could play some of those solos now – they're permanently imprinted in my brain. That blues-based sound is still the core of modern rock guitar.
#3 Jimmy Page (by Joe Perry):
Listening to what Jimmy Page does on guitar can transport you. As a lead player, he always plays the right thing for the right spot – he's got such remarkable taste. The solo on "Heartbreaker" has such incredible immediacy; he's teetering on the edge of his technique, and it's still a showstopper. But you can't look at just his guitar playing on its own. You have to look at what he did with it in the studio and how he used it in the songs he wrote and produced. Jimmy built this incredible catalog of experience on the Yardbirds and doing session work, so when he did the first Led Zeppelin record, he knew exactly what kind of sounds he wanted to get.
#4 Keith Richards (by Nils Lofgren):
I remember being in junior high school, hearing "Satisfaction" and being freaked out by what it did to me. It's a combination of the riff and the chords moving underneath it. Keith wrote two-and three-note themes that were more powerful than any great solo. He played the vibrato rhythm and the lead guitar in "Gimme Shelter." I don't think anyone has ever created a mood that dark and sinister. There is a clarity between those two guitars that leaves this ominous space for Mick Jagger to sing through. Nobody does alternate tunings better than Keith. I remember playing the chorus to "Beast of Burden." I'm like, "These are the right chords, but they don't sound anything like Keith." He had some cool tuning, a beautiful chord so well-tuned that it sings. That is the core of every great guitar part on a Rolling Stones record. Keith finds the tuning that allows the work – the fretting, muting strings – to get out of the way of what he's feeling.
#5 Jeff Beck (by Mike Campbell):
Jeff Beck has the combination of brilliant technique with personality. It's like he's saying, "I'm Jeff Beck. I'm right here. And you can't ignore me." Even in the Yardbirds, he had a tone that was melodic but in-your-face – bright, urgent and edgy, but sweet at the same time. You could tell he was a serious player, and he was going for it. He was not holding back.

There is a real artistry to playing with and around a vocalist, answering and pushing him. That's the beauty of those two records he made with Rod Stewart, 1968's Truth and 1969's Beck-Ola. Jeff is not getting in the way, but he's holding his own. And he stretched the boundaries of the blues. "Beck's Bolero," on Truth, is un-bluesy, but still blues-based. One of my favorite tracks is the cover of Howlin' Wolf's "I Ain't Superstitious," on Truth. There is a sense of humor – that wah-wah growl. I don't know if Clapton plays with the same sense of humor, as great as he is. Jeff's definitely got that.

When he got into his fusion phase, the cover of Stevie Wonder's "'Cause We've Ended as Lovers," on Blow by Blow, got me immediately. The tone was so pure and delicate. It's like there was a vocalist singing, but there was a guitarist making all of the notes. I saw him last year at a casino in San Diego, and the guitar was the voice. You didn't miss the singer, because the guitar was so lyrical. There is a spirituality and confidence in him, a commitment to being great. After I saw that show, I went home and started practicing. Maybe that's what I took from him: If you want to be Jeff Beck, do your homework.
There are 95 more, and I won't include more of them here. The list is already pretty controversial just at 5.
Not to mention meaningless. The magazine's 2003 list was radically different. Hendrix topped it but the remaining order is wildly different.
1. Jimi Hendrix
2. Duane Allman of the Allman Brothers Band
3. B.B. King
4 Eric Clapton
5 Robert Johnson
6 Chuck Berry
7 Stevie Ray Vaughan
8 Ry Cooder
9 Jimmy Page of Led Zeppelin
10 Keith Richards of the Rolling Stones
11 Kirk Hammett of Metallica
12 Kurt Cobain of Nirvana
13 Jerry Garcia of the Grateful Dead
14 Jeff Beck
15 Carlos Santana
16 Johnny Ramone of the Ramones
17 Jack White of the White Stripes
18 John Frusciante of the Red Hot Chili Peppers
19 Richard Thompson
20 James Burton
21 George Harrison
22 Mike Bloomfield
23 Warren Haynes
24 The Edge of U2
25 Freddy King
26 Tom Morello of Rage Against the Machine and Audioslave
27 Mark Knopfler of Dire Straits
28 Stephen Stills
29 Ron Asheton of the Stooges
30 Buddy Guy
31 Dick Dale
32 John Cipollina of Quicksilver Messenger Service
33 & 34 Lee Ranaldo, Thurston Moore of Sonic Youth
35 John Fahey
36 Steve Cropper of Booker T. and the MG's
37 Bo Diddley
38 Peter Green of Fleetwood Mac
39 Brian May of Queen
40 John Fogerty of Creedence Clearwater Revival
41 Clarence White of the Byrds
42 Robert Fripp of King Crimson
43 Eddie Hazel of Funkadelic
44 Scotty Moore
45 Frank Zappa
46 Les Paul
47 T-Bone Walker
48 Joe Perry of Aerosmith
49 John McLaughlin
50 Pete Townsend
51 Paul Kossoff of Free
52 Lou Reed
53 Mickey Baker
54 Jorma Kaukonen of Jefferson Airplane
55 Ritchie Blackmore of Deep Purple
56 Tom Verlaine of Television
57 Roy Buchanan
58 Dickey Betts
59 & 60 Jonny Greenwood, Ed O'Brien of Radiohead
61 Ike Turner
62 Zoot Horn Rollo of the Magic Band
63 Danny Gatton
64 Mick Ronson
65 Hubert Sumlin
66 Vernon Reid of Living Colour
67 Link Wray
68 Jerry Miller of Moby Grape
69 Steve Howe of Yes
70 Eddie Van Halen
71 Lightnin' Hopkins
72 Joni Mitchell
73 Trey Anastasio of Phish
74 Johnny Winter
75 Adam Jones of Tool
76 Ali Farka Toure
77 Henry Vestine of Canned Heat
78 Robbie Robertson of the Band
79 Cliff Gallup of the Blue Caps (1997)
80 Robert Quine of the Voidoids
81 Derek Trucks
82 David Gilmour of Pink Floyd
83 Neil Young
84 Eddie Cochran
85 Randy Rhoads
86 Tony Iommi of Black Sabbath
87 Joan Jett
88 Dave Davies of the Kinks
89 D. Boon of the Minutemen
90 Glen Buxton of Alice Cooper
91 Robby Krieger of the Doors
92 & 93 Fred "Sonic" Smith, Wayne Kramer of the MC5
94 Bert Jansch
95 Kevin Shields of My Bloody Valentine
96 Angus Young of AC/DC
97 Robert Randolph
98 Leigh Stephens of Blue Cheer
99 Greg Ginn of Black Flag
100 Kim Thayil of Soundgarden
What, precisely, did Eric Clapton do over the last eight years to move ahead of B.B. King and Duane Allman? More importantly, what did King and Allman do to get bumped out of the top 5 by artists whose best work was long behind them by 2003? What did Jimmy Page and Keith Richards do to move up 6 spots each? Or Jeff Beck 9 spots?
For that matter, how is that that the greatest guitarists of all time emerged on the scene somewhere between 1964 and 1967?