9th Circuit Lifts Stay, Same-Sex Marriages Resume In California
Faster than many expected, same-sex marriage became the law again in California late yesterday.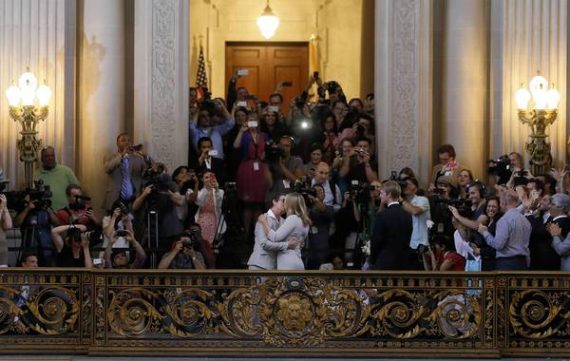 Just over forty-eight hours after the Supreme Court had issued it's ruling in Hollingsworth v. Perry, the 9th Circuit Court of Appeals lifted the stay it had up in place on Judge Vaughn Walker's 2011 opinion declaring Proposition 8 unconstitutional and,  almost immediately, same-sex weddings resumed in California:
SAN FRANCISCO — Same-sex marriages in California resumed Friday when a federal appeals court lifted a hold on a 2010 injunction, sparking jubilation among gays and accusations of lawlessness from the supporters of Proposition 8.

In a surprise action, a federal appeals court cleared the way, bypassing a normal waiting period and lifting a hold on a trial judge's order that declared Proposition 8 unconstitutional.

The news came in a single, legalistic sentence Friday afternoon from the U.S. 9th Circuit Court of Appeals.

"The stay in the above matter is dissolved immediately," a three-judge panel wrote.

Gov. Jerry Brown told county clerks they could begin marrying same-sex couples immediately, launching plans for ceremonies up and down the state. The two same-sex couples who filed the federal lawsuit against Proposition 8 headed to the city halls in Los Angeles and San Francisco to tie the knot, ending their long fight to become legal spouses.

The first wedding, in San Francisco, began at 4:45 p.m. At 4:10 p.m., a cheer went up in the San Francisco City Hall rotunda. Kris Perry and Sandy Stier, made their way from the city clerk's office, where they got their marriage license, to the marble steps of City Hall, stopping for photographs.

In Southern California, Paul Katami and Jeff Zarrillo, the other plaintiffs in the lawsuit, headed to L.A. City Hall to tie the knot.

"It couldn't come a moment too soon," said Lt. Gov. Gavin Newsom, who sparked the legal effort for gay marriage in California when he was San Francisco mayor.

"What extraordinary timing, right before [gay] pride weekend," Newsom said. " All that time, all the struggle, and the moment has arrived."
Proponents of Proposition 8 are upset at this development for several obvious reason, but the most prominent is the fact that, under the rules of the Supreme Court, a party has twenty-five days within which to file motions regarding a decision before that ruling becomes final, including a Motion to Reconsider. Now, realistically, it's unlikely that any such motion would be granted by the Court, indeed I can't recall a single case where that has happened in recent memory, or where the Court has reversed itself. So, any such motion would have been a waste of time,  but that isn't stopping them from complaining:
Supporters of Proposition 8 were furious that the 9th Circuit acted before the normal waiting period. ProtectMarriage, the sponsors of the ballot measure, has 25 days from the ruling to ask for reconsideration.

"It is part and parcel of the utter lawlessness in which this whole case has been prosecuted, said Chapman Law professor John Eastman, a supporter of Proposition 8. "Normally, courts let the parties kind of pursue their legal remedies before they issue a mandate."

He said the 25-day period for asking the Supreme Court to reconsider still applied and a rehearing, though extremely unlikely, remained a technical possibility.

"Tonight it is chaos and lawlessness, and anyone who is concerned about the rule of law ought to be deeply troubled by what happened here," the constitutional law professor said.

Andy Pugno, general counsel for ProtectMarriage, expressed astonishment and dismay.

"I am not sure what we do at this moment," he said. "It is 4:30 p.m. on a Friday. I am not sure what can be done at this point. This is beyond belief. I don't think anybody expected this. The Supreme Court decision is not even final, and yet the 9th Circuit is rushing forward."

A spokesman for the 9th Circuit had told reporters Wednesday that normally it took "at least" 25 days for the 9th Circuit to act.

But UC Irvine Law School Dean Erwin Chemerinsky said he knows of no instance in which the Supreme Court has granted a rehearing after delivering a full-blown ruling. He said he thinks the 9th Circuit's action was legally appropriate.

"I was surprised," Chemerinsky said. "They usually wait for the 25 days, and it just doesn't become an issue. But there is no way the Supreme Court is going to reconsider this."

He said the 9th Circuit undoubtedly realized that the decision was final and decided to end the waiting for same-sex couples. He noted that now-retired Chief U.S. District Court Judge Vaughn R. Walker's order had been on hold three years.
In reality, of course, there was nothing preventing the 9th Circuit from acting when it did. The Supreme Court had ruled, and the decision to wait the 25 days is purely a discretionary one. Yes, it's true that the Court does seem to have treated this appeal differently from others, but there's nothing legally preventing that.  The effect of all of this, of course, is that Judge Walker's August 2011 opinion is now effectively the law of the land in California, which is now the 13th state in the nation to formally recognize same-sex marriage. Some County Clerks offices around the state are apparently planning to have office hours all weekend to handle the demand from those who have been waiting for nearly five years since Proposition 8 became law to get married.
It also means, of course, that these newly married couples will immediately come entitled to the myriad of legal benefits and protections granted by Federal law due to the fact that Section Three of the Defense of Marriage Act has been struck down. In response to that, the Federal Government has already begun the process of making the necessary modifications to federal policy and procedure:
WASHINGTON — The Office of Personnel Management on Friday announced that it is implementing the Supreme Court's marriage-recognition decision quickly, with federal employees' same-sex spouses being made eligible for the federal employee health insurance program and other key programs.

"Today my Administration announced that, for the first time in history, we will be making important federal employee benefits, including healthcare and retirement benefits, available to eligible married gay and lesbian couples and their families," President Obama said in a statement Friday afternoon.

OPM acting director Elaine Kaplan alerted executive department and agency heads to the changes, most of which noted to have been effective as of June 26, 2013 — the day of the Supreme Court's decision in United States v. Windsor striking down section 3 of the Defense of Marriage Act.

In addition to the Federal Employees Health Benefits (FEHB) Program, Kaplan details new eligibility under life insurance, dental and vision insurance, long-term care insurance, retirement programs and flexible spending accounts resulting from the DOMA ruling.

The changes apply both to employees and retirees, specifically, annuitants — which are those who are retired and eligible for an annuity, or retirement benefit. So, eligible retirees' spouses also now are eligible for the equivalent retirees' benefits.

Additionally, the memorandum states at several points that the changes apply to "all legally married same-sex spouses," which an OPM spokesman confirmed includes couples who are legally married in one state but live in a state that does not recognize the marriage.
This means, for example, that there will be couples living in states where same-sex marriage is illegal, but who were married in states where it is legal, who will be able to do things like file their Federal income taxes as a married couple, but will be forced to file their state taxes as individuals. And that's just one of the many anomalies that such couples will face. This, most likely, will become the basis for the next round of legal challenges to state laws and Constitutional Amendments against same-sex marriage.