____ Will Bring Extremism to Your Doorstep!
A generic attack ad that's cringeworthy in the specific.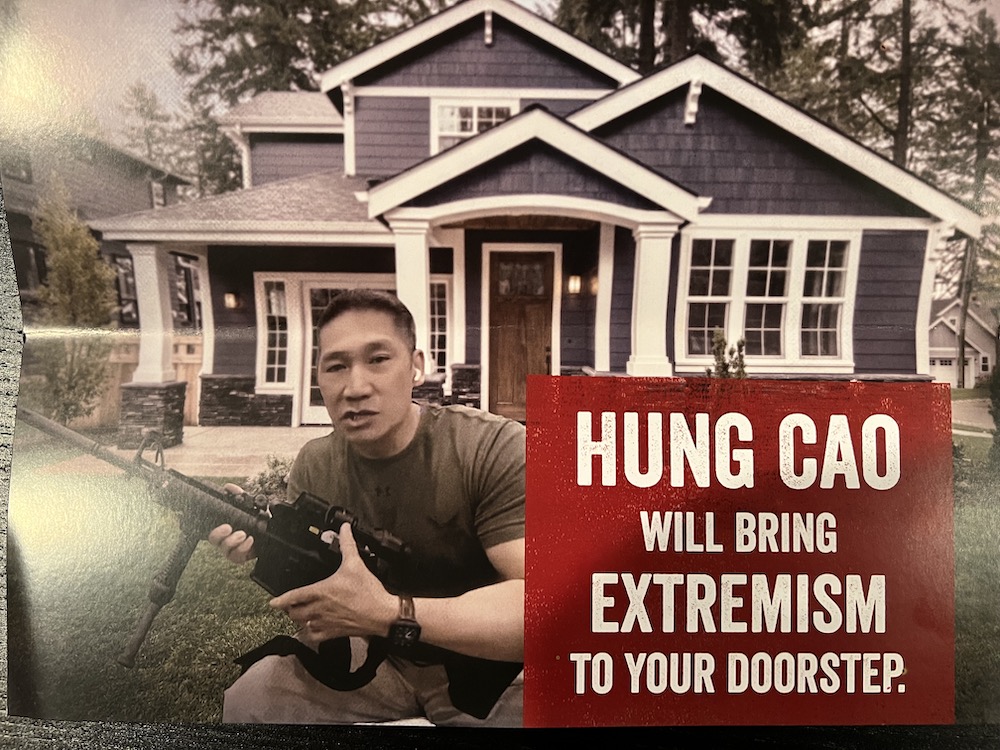 The image at the top of the post is a reduced-sized photo of a magazine-sized postcard that came in the mail yesterday from the Democratic Party of Virginia.
Cao is the Republican nominee for the US House of Representatives in my district, running against Democratic incumbent Jennifer Wexler. Until yard signs for him started appearing a couple of weeks ago, I didn't know he existed and, sadly, his name evoked a racist joke I heard from an old Army buddy of my dad's probably 50 years ago now. Regardless, it's a heavily Democratic district and he has essentially no shot at winning.
Cao's biography is impressive: a refugee from Vietnam as a young boy he was in the inaugural class of what is now the top public high school in the country, graduated from the United States Naval Academy, and served as an officer in dive and explosives ordinance disposal, retiring as a Captain (equivalent to a full Colonel in the other services) after 25 years of service, including multiple combat deployments.
He's a Republican and espouses most of the standard Republican positions (although, to his credit, he's not a 2020 election denier). It's perfectly within bounds to label those positions "extreme" as a branding tactic and, indeed, it appears that this is essentially the standard ad the DPV is sending out for all races.
That said: Can you imagine if Republicans sent this ad out to attack an Asian-American veteran with multiple combat tours? It would surely be cast as racist and intending to evoke images of Viet Cong guerrillas.