Whatever Happened To The Captain Going Down With The Ship?
Cowardice. There really isn't any other word for it.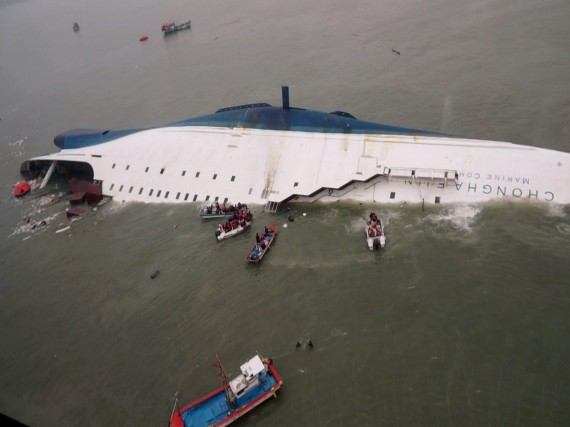 Just two days ago, a ferry carrying hundreds of South Korean school children capsized on its way to an island known as "the Hawaii of Korea." So far, there are about three dozen people confirmed dead, but hundreds of children remain missing, either trapped aboard ship in an air pocket that isn't likely to last much longer, or already dead. One thing that's getting a lot of attention both here and Korea, though, is the fact that the ship's captain acted in a manner that most of us would consider cowardly:
Ever since the Titanic sank on its maiden voyage, carrying its captain and many of the passengers with it, the notion that the captain goes down with his ship has been ingrained in popular culture.

But now, for the second time in just over two years, a sea captain — first in Italy and now in South Korea — has been among the first to flee a sinking vessel, placing his own life ahead of those of his terrified passengers.

A much-publicized photo from the latest accident shows the Korean captain being helped off his own ship, the Sewol, stepping off the deck to safety even as scores of his ferry passengers remained below where survivors believe they became trapped by rushing water and debris.

The behavior has earned the captain, Lee Jun-seok, 69, the nickname the "evil of the Sewol" among bloggers in South Korea. It also landed him in jail.

Maritime experts called the abandonment shocking — violating a proud international (and South Korean) tradition of stewardship based at least as much on accepted codes of behavior as by law.

"That guy's an embarrassment to anybody who's ever had command at sea," said John B. Padgett III, a retired United States Navy rear admiral and former submarine captain.

His sentiments were echoed by Capt. William H. Doherty, who has commanded Navy and merchant ships and managed safety operations at a major cruise line. He called Mr. Lee's decision to leave his 447 passengers "a disgrace," and likened it to the desertion of the stricken Costa Concordia cruise ship off the Italian coast in 2012. "You can't take responsibility, or say you do, for nearly 500 souls, and then be the first in the lifeboat," he said.
The Italian Captain is on trial for manslaughter, but the charges against him are directly related to abandoning ship while it was sinking rather than supervising the escape and rescue of the passengers. As it turns out, though, the rules about what a Captain must or should do when a ship is so endangered that it becomes necessary to evacuate aren't entirely formal:
Most countries do not explicitly state that a captain must be the last person to leave a distressed ship, experts say, giving captains the leeway to board lifeboats or nearby ships if they can better command an evacuation from there. South Korea's law, however, appears to be explicit, allowing authorities to arrest Mr. Lee for abandoning the boat and its passengers in a time of crisis. An international maritime treaty known as the Safety of Life at Sea — first adopted in 1914 after the Titanic disaster — makes a ship's captain responsible for the safety of his vessel and everyone on board. It also says that passengers should be able to evacuate within 30 minutes of a general alarm.

The Sewol took two and a half hours to sink, but many survivors have reported that the crew told passengers it was safer to stay put inside the ship, likely dooming them. (The captain says he later issued instructions for passengers to evacuate the ship, but it remains unclear if that was conveyed to passengers.)

The United States Navy's rules are more explicit than ones for commercial ships. Dave Werner, Naval History and Heritage Command spokesman, said that Navy rules dating back to 1814 require a captain to remain with a stricken ship as long as possible and salvage as much of it as he can.

Mr. Werner cited current regulations that state, "If it becomes necessary to abandon the ship, the commanding officer should be the last person to leave."
One would think that would be something that every ship captain, whether in the Navy or not, would think of not just as a rule but as something that a decent human being would do.
Obviously, the actions of two men aren't necessarily a reflection on ship captains as a whole. Indeed, the fact that most of the people in that line of work  who have commented publicly about either one of these incidents have condemned their actions seems to demonstrate that they are not representative of captains everywhere.  At the same time, though, you have to wonder what kind of culture would create a person as callous toward others as these two men quite obviously were. The human instinct for self-preservation is quite strong, but so is the instinct to help others in need. Examples of this kind of heroism can be found in the 9/11 tragedy, the Boston Marathon bombing, and the shooting at Sandy Hook Elementary School in December 2012. Perhaps that's why examples such as what Captain Lee did off the coast of South Korea stand out so starkly. Most of us would like to think that we'd act heroically in similar situations, and when we come across an example of someone acting with such abject cowardice, perhaps it hits a little to close to home.