A Contrarian View of 'Solo'
It may be my favorite Star Wars film since 'Empire Strikes Back.'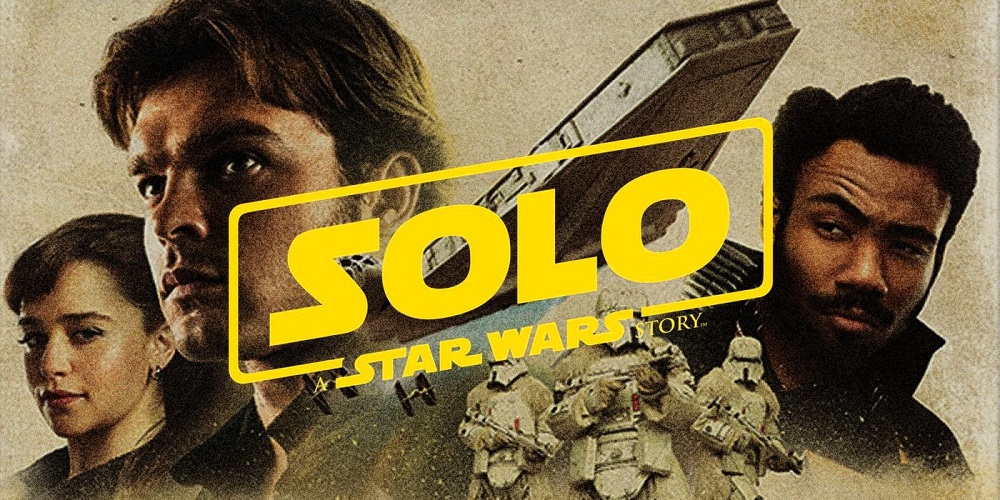 Solo: A Star Wars Story is tanking at the box office and has been blasted by critics. It may be my favorite Star Wars film since Empire Strikes Back.
The movie, which I saw with my daughters yesterday morning, has earned less in its first two weekends than Rogue One did in its first three days. There's talk that it'll actually lose money.
Some are blaming fatigue—there have now been four new Star Wars movies three years, compared to the one every three years pace of the first two trilogies.  Some are blaming competition with the Avengers and Deadpool movies, which target similar demos. Some are saying Disney was too complacent in its marketing.
The reviews, which have been mostly bad, certainly didn't help.
Ann Hornaday for WaPo ("The young Han Solo movie is here. And let's just say a robot is the best part."):
'Solo: A Star Wars Story" begins with the Star Wars franchise's signature tag line, "A long time ago, in a galaxy far, far away." But it seems like only yesterday that the title character met his end in "The Force Awakens," the first installment in yet another trilogy that feels like it's trying desperately to take another bite of the original apple — one that only looks shinier and juicier, by comparison, the more chomps are taken out it.

As far as "Solo" is concerned, this dutiful excavation of Han Solo's early years performs all the necessary feats of fan service that viewers have come to expect from seemingly endless iterations of the series.
A.O. Scott for the NYT ("'Solo: A Star Wars Story' Answers Questions You May Not Have Asked"):
"This was never about you," someone says to Han Solo, which is odd since the movie is called "Solo." I don't want to make this about me, but there are a lot of questions that, in the 41 years since I saw the first "Star Wars" movie — fine! the fourth one; "A New Hope"; jeez! — it has never occurred to me to ask. Where did Han Solo get his last name? How did he and Chewbacca meet? What was the winning hand in the game of Sabacc that gave him possession of the Millennium Falcon? How exactly did he make the Kessel run in less than 12 parsecs?

"Solo: A Star Wars Story" answers all of these questions and more. This isn't a bad thing, but it makes this episode, directed by Ron Howard from a screenplay by Jonathan Kasdan and Lawrence Kasdan, a curiously low-stakes blockbuster, in effect a filmed Wikipedia page.
Mark Zoller Seitz, writing at the late Roger Ebert's site:
As unnecessary prequels go, "Solo: A Star Wars Story" isn't bad. It's not great, either, though—and despite spirited performances, knockabout humor, and a few surprising or rousing bits, there's something a bit too programmed about the whole thing. It has certain marks to hit, and it makes absolutely sure you know that it's hitting them. Everything that you expect to see visualized in "Solo," based on your experience with previously stated "Star Wars" mythology, gets served up on a silver platter, from young Han Solo's first meeting with Chewbacca to Han winning the Millennium Falcon in a card game from its original owner, Lando Calrissian, and making the Kessel Run in less than 12 parsecs (that parsecs are a unit of distance, not time, is properly explained at last), to the fact that Wookiees hate to lose at three-dimensional chess and are strong enough to rip people's arms from their sockets. We also get to see what some of our favorites were like when they were younger (Donald Glover's Lando walks off with the movie). It's fan service of a high order.

Whether you consider that a bonus or plus will depend on what you want from a "Star Wars" movie. In some ways, this movie is the antidote to the sort of "Star Wars" movie that viewers who despised the prankishly irreverent and oddly introspective "The Last Jedi" seem to have wanted: one where the payoffs to setups are italicized so that nobody can miss them, artistic license is subordinated to brand management, and every reference, no matter how small, that was so lovingly memorized by devotees of the franchise is placed under a spotlight for the audience's recognition and self-congratulation.
David Edelstein for Vulture ("Solo: A Star Wars Story Hits All Its Marks — Except for the Most Important One"):
The movie is a good old-fashioned linear piece of storytelling, different in kind from the disjointed, multi-narrative spectacles of which Disney has made a specialty.

[…]

Ehrenreich? He has obviously studied Harrison Ford's wise-ass cadences and arrogant, gunslinger stride. He's a lightweight, but you can project the older Han on him, which is more than half the battle. But there's a problem with the character that suffuses the whole movie and makes it less than the sum of its parts.

From the start, Han makes it clear that he doesn't take orders from anyone. He's his own man — a loner, Dottie, a rebel. "Solo" isn't even his birth name, it turns out, but one he earns. But he has a girlfriend he adores and a surrogate family. He bonds so quickly and firmly with Chewbacca that he's hardly a Solo act at all — he's Han Duo. He's rarely even alone onscreen! With Qi'ra reminding him constantly that he has a heart of gold and a nagging sympathy for social-justice warriors, there's no real dramatic tension. Maybe in the next Solo film — there will be another, sure as shootin' — he'll become the Bogart-like cynic we met at the start of this whole saga, but something is lost when a prequel negates a character's essence so firmly. Solo: A Star Wars Story hits all its marks except the one it needed to hit most: accounting for one of pop culture's most cantankerous charismatics.
These critiques, which are representative, demonstrate the problems the filmmakers were up against. To the extent Ehrenreich's Han Solo is consistent with Ford's, it's derivative fan service. To the extent he's different, he's falling short of the mark.
Having seen several of the reviews and having been mostly disappointed with the post-1981 installments in the franchise, I went in with low expectations. But, once I stopped trying to compare Ehrenreich to Ford and got into the flow of the movie, I was pleasantly surprised. Indeed, while making the judgment based on a single viewing would be premature, this may be my third favorite of the series, behind Empire and Star Wars (aka A New Hope).
Michael Roffman's review for Consequence of Sound ("Solo: A Star Wars Story Flies Casually Against All Odds") hits at why:
[T]his is the first Star Wars movie in ages that "gets" Star Wars. Because really, it's never been about lightsabers, space battles, and lavish throne rooms, it's always been about the lingering notion that our underdog heroes might not make it out alive, that hope was truly all they had, and wit was their only way to prevail. The prequels could never find that feeling because all of its characters were powerful Jedis who were as exciting to watch as cardboard cutouts bobbing around a pond in Tallahassee. The latest round of movies have come close, but they've fallen short because, well, you have characters revisiting past story beats (The Force Awakens), being sidelined for asinine nostalgia (Rogue One), or becoming mass murderers and doing dumb shit like visiting imaginative cities for modern political allegories (The Last Jedi). Solo: A Star Wars Story eschews the regurgitated mumbo jumbo for a simple story about dirty rotten scoundrels.
In hindsight, even the bad Star Wars movies are fine.  I watched all of them again with my daughters over the last year and a half. A Phantom Menace, which I saw in theaters with my now co-blogger Steven Taylor, was actually fairly entertaining. But there was Jar-Jar Binks. Attack of the Clones had some good scenes but, you know, clones.  And, unlike just about everyone, I thought Revenge of the Sith easily the best of the prequels. Still, the storyline was complicated for the sake of being complicated and the dialogue sucked.
The Force Awakens was a welcome infusion of Star Wars after a decade-long drought. But talk about fan service! It was a veritable high school reunion. And the plot was incredibly derivative of the original trilogy, just with older heroes and weaker villains.
Rogue One was perfectly enjoyable. But talk about a movie we didn't need. We got backstory on R2D2 got that recorded hologram from Leia. And we find out (spoiler alert!) that the insipid vulnerability of the Death Star was actually intentional. Fine. But the downside is that none of the new characters matter. Most of them get killed off and even the ones who did probably won't be back because they're not central to a story that we've already watched unfold.
And talk about movies that are unfaithful to an iconic character, The Last Jedi presents a Luke Skywalker that Mark Hamill himself thinks of as "almost another character." Like Hamill, I thought the redirection was necessary, in that we can't continue to have the franchise anchored around actors who debuted their role in 1977, but it was a weird flick.
Solo, by contrast, is the first straight-up Star Wars space western in decades.
Ehrenreich doesn't have quite the star quality of a young Harrison Ford but that's a high bar, indeed. But, unlike most of the critics, I find it quite plausible that his Solo would evolve into Ford's over the course of the next few years. (Ehrenreich is 27; Ford was 34 when Star Wars came out 41 years ago.) Yes, Ford's Solo is more cynical. But, for most of the movie, Ehrenreich's Solo is motivated by the love of a woman who will betray him at the end. Oh, and so will his mentor. Mix those in along with another seven years cheating death in the Millenium Falcon and youthful idealism gets replaced by jaded cynicism.
Are there fan service elements to the flick? Of course. It is, after all, a prequel designed to serve as the origin story of an iconic character. I think it would have served well as the first film in a franchise, with something like Star Wars as a follow-on, introducing a larger cast. But it's impossible to know, since we already know about Lando, Chewie, the Falcon, droids, and the like. It certainly offers the "lingering notion that our underdog heroes might not make it out alive, that hope was truly all they had, and wit was their only way to prevail" that Roffman correctly identifies as central to the original trilogy—with the significant caveat that we know Han will survive for decades.
You may be wondering why I have it tentatively ranked ahead of Return of the Jedi. Simple: there are no Ewoks in this one.