A Partisan Divide Over Israel? Not Really.
Recent polls notwithstanding, Republicans and Democrats remain largely in lockstep when it comes to U.S. policy toward Israel.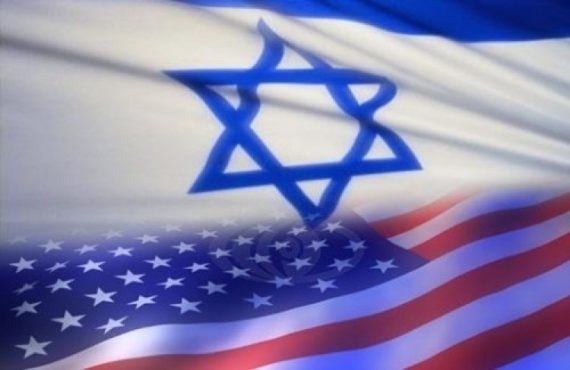 For most of the post World War II era, support for Israel inside the United States has been one of the few foreign policy issues, indeed, one of the few issues at all, that largely has united Democrats and Republicans. Yes, there was a wing of the Democratic Party that was sympathetic to the Palestinian cause that started to emerge in the 1970s, but it  has been, and remains, a fairly small part of that party. For the most part, you hear the same strong support from Republican politicians that you hear from Democratic politicians, and politicians from both sides of the aisle appear regularly at events like the annual AIPAC conference in Washington, D.C. to voice their support for Israeli policies. Whether they are genuine or not, these kinds of public displays of support, as well as an American foreign policy that is generally pro-Israel, is seen as a required part of American politics. A new Pew Research Poll shows, though, when you look beneath the surface, there are some real differences of opinion on Israel between Republicans and Democrats:
As violence between Israel and Hamas continues, a new Pew Research Center survey finds that American sympathies lie firmly with the Israelis – 51 percent say they sympathize more with Israel, while 14 percent say they favor the Palestinians. These numbers remain little changed since 1978.

But these aggregate figures mask a considerable partisan difference on the issue. 73 percent of Republicans favor the Israeli side, compared to 44 percent of Democrats, and 45 percent of Independents. Moreover, this partisan gap has widened considerably since 1978, when the gap between Republicans and Democrats was only 5 percentage points.
This chart shows quite well how the partisan gap has grown over the years: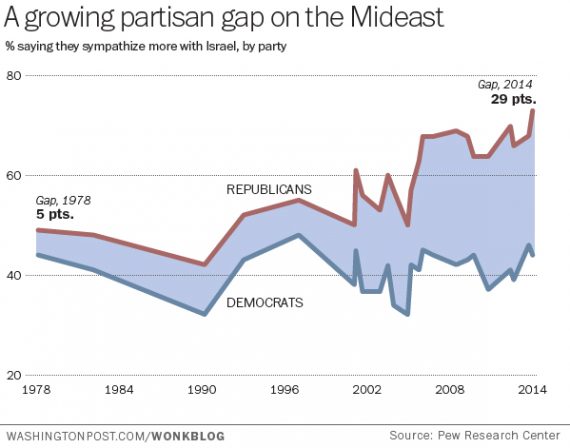 Ed Morrissey doesn't think there's much for Israel to worry about when it comes to this gap:
That dramatic increase may end up being worrisome to Israel in the long run. The US has a long history of bipartisanship when it comes to our alliance with Israel, even though some members of both parties have criticized it for various reasons. If this becomes another issue of partisanship testing, that will not benefit Israel, nor would it benefit our own politics.

On the other hand, every demographic in the survey has a plurality sympathizing with Israel by a wide margin. Even among the lowest levels of sympathy for Israel — liberal Democrats and religiously unaffiliated — the margins are double-digit at 39/21 and 36/20. There are substantial differences about the level of sympathy in the age demos, but not the balance of sympathy. The youngest demo, 18-29YOs, favor Israel 2:1 at 44/22, while among seniors it rises to 60/9.
If you want to explain the partisan gap that the Pew Research poll finds, I think the best explanation can be found by looking at what's going on inside the Republican Party. Unlike the Democrats, there isn't really any strong wing inside the GOP that can be fairly be said to be heavily critical of Israel or Israeli policies. The closest one can come to that, I suppose, are the people who have gravitated around former Congressman Ron Paul, but its worth noting that Paul's son, Kentucky Senator Rand Paul, has openly separated himself from many of the policy positions that these people, and even his own father, take when it comes to Israel. What does exist inside the GOP, of course, is a very strong evangelical movement that is arguably even more pro-Israel than many American Jews. For these people, support for Israel is based not on geopolitics but on their religious beliefs and the role that Israel plays in the Bible and, for some, the Book of Revelation. Given their prevalence inside the Republican Party, it's not surprise that we'd see Republicans in general as much more supportive of Israel than Democrats. The fortunate thing is that, for the most part, Republican foreign policy in the Middle East has historically tended to ignore irrational people like them.
As for the issue of the divide itself, I tend to think Morrissey is largely correct. As I noted above, there has always been some part of the Democratic Party that has tended to be more critical of Israeli policies for the past four decades or so. During that time, though ,we've had three Democratic Presidents and they have all been what can be described as generally "pro-Israeli" in their policies and public statements. Those Democratic Presidents have also been more aggressive about trying to pursue peace negotiations, of course, and met with limited degrees of success, but for the most part there has not been any real difference in the policies of Democratic Presidents toward Israel and the policies of Republican Presidents toward Israel. That seems unlikely to change at any point in the foreseeable future, especially given the close relationship between the American and Israeli militaries and the fact that Israel is one of the biggest international customers for the American defense industry. More importantly, though, it is still true  that the American relationship with Israel serves American national interests. That doesn't mean that we shouldn't criticize them when criticism is warranted, but as with any other ally it seems clear that we have more in common with Israel than we have differences, and because of that we are likely to maintain a largely "pro-Israel" policy in the Middle East for the foreseeable future.
H/T Andrew Sullivan