A Reminder that Institutions Matter
Some key numbers.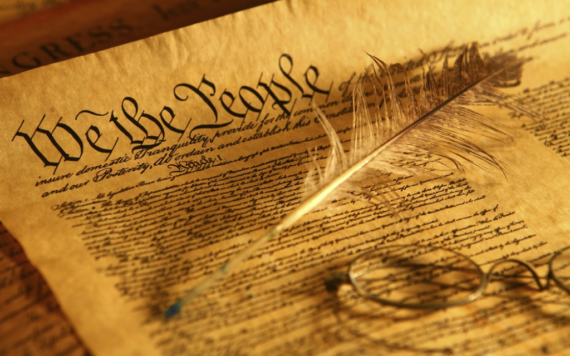 James Joyner's post on the Electoral College reminds me of some numbers that really need to be front and center as clear illustrations of how the rules we use to elect the president are problematic (to put it more kindly than I did in the comments of that post).
The first number is one out of five. One is the number of times (out of five attempts) that the Republican candidate for president has won the popular vote. However, out of those five electoral cycles, linked to five terms of office, the Republican has won three of five.
Specifically: George W. Bush won re-election in 2004 and it the only Republican President to have won the popular vote in this century. Yet, of the five terms of office that started in 2001, only two terms have been held by a Democrat. Indeed, the last Republican to win the popular vote prior to 2004 was George H. W. Bush in 1988.
So, from 1988 to 2016 we have had eight elections for president, with the Republicans winning the popular vote all of twice. Yet, there have been four Democratic terms and four Republicans terms. That is indicative of a flawed set of institutions.
Side note: only once during that entire span did a party have the votes needed across all branches to govern in an unobstructed manner. This was during a brief stretch of time in 2009 (it was only a handful of months during that one year that the Democrats had 60 votes in the Senate).
A second set of numbers: of the nine Justices on the Supreme Court, four (Roberts, Alito, Gorsuch, and Kavanaugh) were appointed by presidents who initially (or solely) came to power via a popular vote/electoral vote inversion.
While it is true that Roberts and Alito were appointed after Bush won the popular vote in 2004, it is still worth noting that without winning the EC by a hair in 2000 Bush almost certainly would not have run in 2004.
And, of course, there is the fact that the Senate, which is not representative of the country as a whole confirms the members to the Court. And, of course, such a set of observations must include McConnell's maneuver to block Obama from making an appointment to replace Antonin Scalia.
Let's further consider the way some of these numbers converge: since 2001 the majority of the Supreme Court has turned over: there have been six new Justices during that time period. Of those six, four appointees have been made by Republicans. The party that won the popular vote once from 2001-2016 has been able to appoint four out of six (67%) of the SCOTUS Justices during the same time frame. (And, also, three terms worth of lower court nominations).
One popular vote win has resulted in a multi-decade level of influence over the entire judiciary.
If we consider the whole of the current Court the relevant elections are 1988-2016 (eight cycles). Of those, Republicans won the popular vote twice (1988 and 2004) and Democrats won the popular vote six times (1992, 1996, 2000, 2008, 2012, and 2016). But, as already noted above, Republicans won the office four out of eight terms. During this period of time, Republicans have appointed five of the nine Justices, to include the Chief.
So, when mass publics are discontented with politics and political outcomes, I think that part of the reason, whether most people understand it or not, is because our institutions do such a poor job of representing us–and the well known, but worth reiterating, examples noted here are just some of the ways that they fail at their job. (And this does not even get into the major, and arguably even more serious, problems with legislative representation).
And to be clear: representative democracy is not about simple majority rule. I am not, nor have I ever, argued that the majority should have the right to do whatever it wants due to its majority status (democracy worthy of the name includes majority-based decision rules with built in minority protections of various kinds). But for those who want to go down the "we're a republic and not a democracy" rabbit hole* because they think that rules that limit majority tyranny are what being a "republic" is all about, let me point out that what I have outline above is not minority protection.
It is minority rule.
Of the various things that are worse than simplistic majority rule is minority rule (especially in a system that claims to be democratic).
The system was not intended to create minority rule. Indeed, the most fundamental point of American republicanism was to do away with aristocracy–which was a form of minority rule.**
(Look, sure, if we want to be accurate, the US Constitution was originally created for minority rule in the sense that slaves and women could not vote. But for the white males that it counted as citizens, the assumption was that the system would function primarily on majority rule–Madison explicitly argues for what we now call representative democracy in numerous places in the Federalist Papers.)
To reiterate: the notion that a system that, on a mass level, provides more power to the minority than to the majority in terms of basic decision rules (like selecting a president) is inherently flawed. It is not democratic. And even if one tries to engage in some convoluted argument that tries to establish that the EC does some amazing magical representation that is superior to a popular vote, all one is doing is rationalizing a failed institution that never even worked as designed.
Any argument in favor of the Electoral College has to also explain why it is fair in any sense of the word for the minority of the population to have to not only selected the president as frequently as it has in recent years, but also to justify why the minority has had, by extension of those elections, so much influence over the courts.
---
*See here if one is unfamiliar with that rabbit hole: The "A Republic, not a Democracy" Library
**Article IV, Section 4 of the US Constitution states "The United States shall guarantee to every State in this Union a Republican Form of Government" as well as Article I, Section 9: "No Title of Nobility shall be granted by the United States."