Trump's Electoral College Advantage Growing
He could lose the popular vote by an even larger margin in 2020---and still coast to re-election.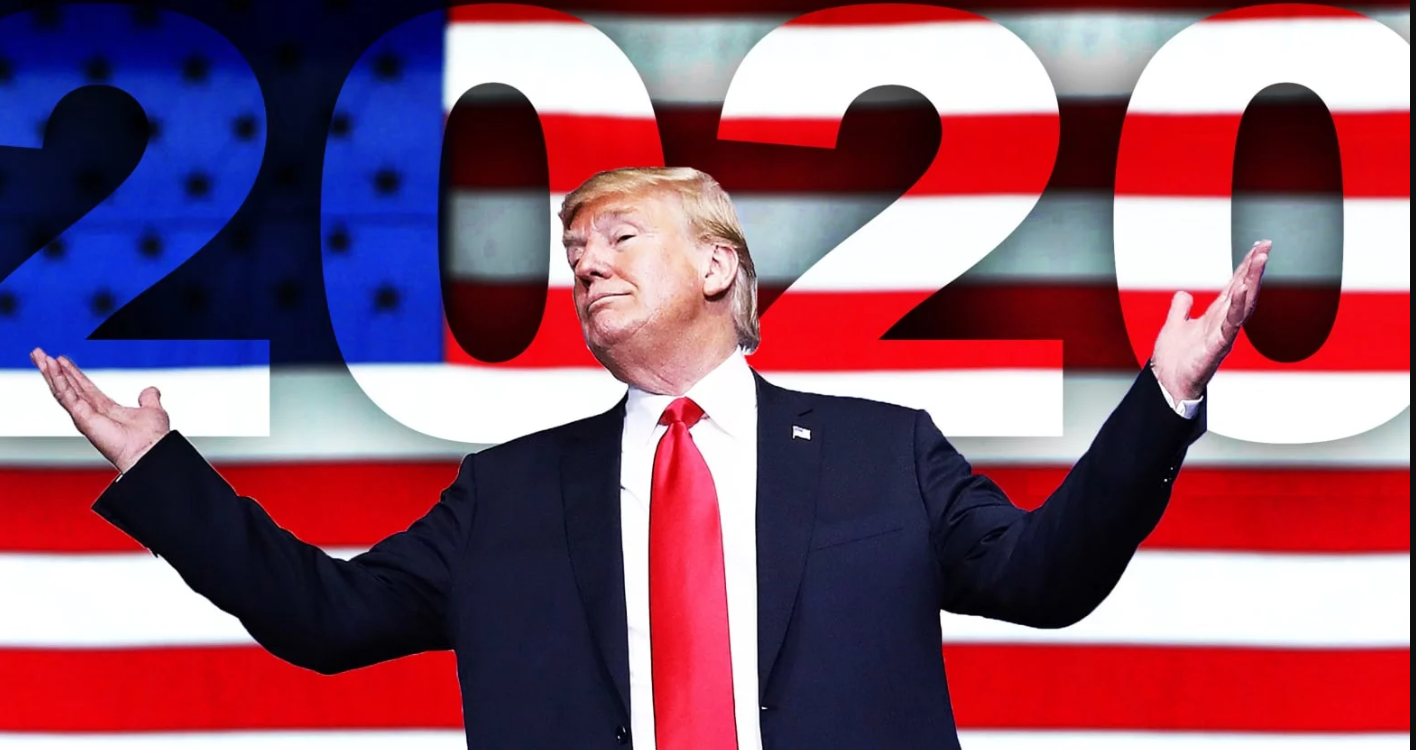 David Wasserman explains how "How Trump could lose by 5 million votes and still win in 2020."
Democrats' worst nightmare came true in November 2016 when Hillary Clinton captured 2.9 million more votes than Donald Trump but he still comfortably prevailed in the Electoral College, 306 to 232. As much as they would like to purge that outcome from memory, Democrats would be unwise to write it off as a fluke: In 2020, it's possible Trump could win 5 million fewer votes than his opponent — and still win a second term.

The nation's two most populous states, California and Texas, are at the heart of Democrats' geography problem.

Both behemoths are growing more diverse at a much faster rate than the nation — owing to booming Asian and Latino populations — and are trending toward Democrats. Yet neither blue California nor red Texas would play a pivotal role in a close 2020 election, potentially rendering millions of additional Democratic votes useless.

Over the past four years for which census estimates are available, California's population of nonwhite voting-age citizens has exploded by 1,585,499, while its number of white voting-age citizens has declined by a net 162,715. The Golden State's GOP is in free fall: In May 2018, the state's Republican registrants fell to third place behind "no party preference" voters for the first time. In 2016, Clinton stretched Barack Obama's 2012 margin from 3 million to 4.2 million votes. But padding that margin by another 1.2 million votes wouldn't yield the 2020 Democratic nominee a single additional Electoral vote.

Over the same time period, Texas has added a net 1,188,514 nonwhite voting-age citizens and just 200,002 white voting-age citizens. Texas' economic boom has attracted a diverse, highly professional workforce to burgeoning urban centers of Dallas, Houston, Austin and San Antonio and shifted the state's politics leftward — especially as GOP votes have begun to "max out" in stagnant rural areas. In 2016, Clinton cut Obama's 2012 deficit from 1.2 million to just over 800,000. But again, even cutting Trump's margin by 800,000 wouldn't yield the 2020 Democratic nominee a single additional Electoral vote.

Democrats' potential inefficiencies aren't limited to California and Texas: The list of the nation's top 15 fastest-diversifying states also includes the sizable yet safely blue states of New York, New Jersey, Massachusetts, Maryland, Washington and Oregon.

Meanwhile, demographic transformation isn't nearly as rapid in the narrow band of states that are best-positioned to decide the Electoral College — a factor that seriously aids Trump.

In 2016, Trump's victory hinged on three Great Lakes states he won by less than a point: Michigan (0.2 percent), Pennsylvania (0.7 percent) and Wisconsin (0.8 percent). All three of these aging, relatively white states have some of the nation's highest shares of white voters without college degrees — a group trending away from Democrats over the long term. And the nonwhite share of the eligible electorate in each of the three has increased at only a quarter to a half of the rate it has surged in California, Texas and Nevada.

Democrats eagerly point out that they swept Senate and governors' races in Michigan, Pennsylvania and Wisconsin in 2018. And they flipped two seats in Michigan and four in Pennsylvania on their way to taking back the House.

But Trump could lose Michigan and Pennsylvania and still win the Electoral College, so long as he carries every other place he won in 2016.
Steven Taylor and I have spilled innumerable pixels over the years on why the Electoral College is undemocratic (and nearly as many on why the "We're a republic, not a democracy" is not a useful rejoinder) and I don't think we need to rehash those here. But Wasserman points here to one of the sub-issues: the margin of victory in a winner-take-all contest is immaterial. Winning California by one vote or three million counts the same.
Coincidentally, the NYT's Nate Cohn also wrote about the larger issue today with, "Trump's Electoral College Edge Could Grow in 2020, Rewarding Polarizing Campaign." Rather than conjecture about demographics, though, he looks at state-by-state polling and concludes,
The president's relative advantage in the Electoral College could grow even further in a high-turnout election, which could pad Democratic margins nationwide while doing little to help them in the Northern battleground states.

It is even possible that Mr. Trump could win while losing the national vote by as much as five percentage points.
The methodology, though, is a little suspicious:
The best available evidence on the president's standing by state comes from the large 2018 election surveys. Their quality is generally high, and unlike most surveys, they have been adjusted to match actual election results, ironing out many potential biases of pre-election polls. Although these surveys are nearly nine months old, the stability of the president's overall approval ratings means, for our purposes, that they remain a decent measure of the distribution of his support.
That makes some sense, in that the President is so polarizing that he's extremely unlikely to garner any Democratic crossover and none who currently support him are likely to vote for any Democrat. Still, we've seen radical shifts in the popularity of previous Presidents in the sixteen months prior to standing for re-election.
Regardless, here's what Cohn sees: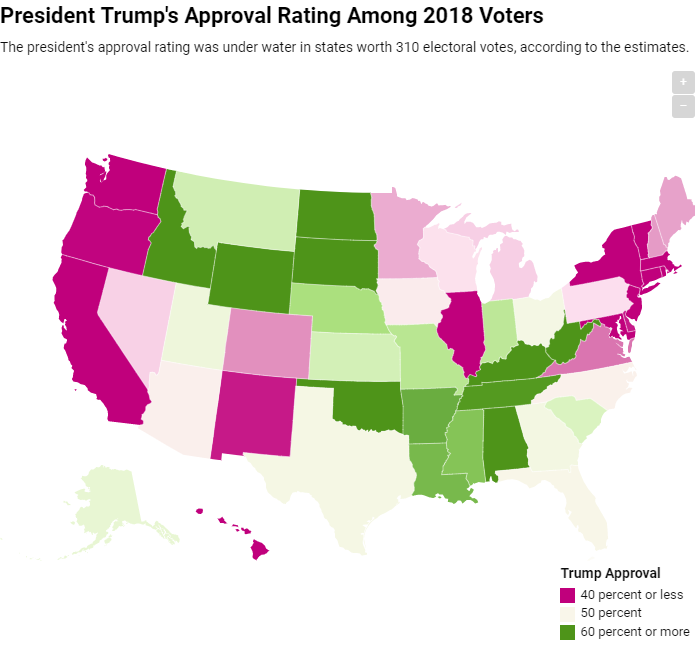 (The version at the link is interactive and therefore more useful.)
On the surface, this looks pretty bad for Trump:
By state, the president's approval rating was beneath 50 percent in states worth 310 electoral votes: the states carried by Hillary Clinton, along with Michigan, Pennsylvania, Wisconsin, Iowa, Arizona and North Carolina. This is not exactly good news for the president, but not as bad as it typically would be given an approval rating of 45.5 percent. John McCain, for instance, lost states worth 365 electoral votes in 2008 while winning 45.7 percent of the vote.
So, if the 2018 data is predictive, that sounds like a landslide loss. Cohn's explanation otherwise is rather confusing:
The most important measure of the president's strength in the Electoral College, relative to the national vote, is the difference between the national vote and the "tipping-point state" — the state most likely to push a candidate over the Electoral College threshold.

Wisconsin was the tipping-point state in 2016, and it seems to hold that distinction now, at least based on the president's approval rating among 2018 midterm voters.

Over all, the president's approval rating was 47.1 percent in Wisconsin, above his 45.5 percent nationwide. This implies that the president's advantage in the Electoral College, at least by his approval rating, is fairly similar to what it was in 2016.

A closer look at the underlying evidence suggests there's reason to think the president's ratings could be higher than estimated in the state. The estimates are based on four measures of the president's standing, and there is one outlier: the Votecast survey, which places the president's net approval rating at minus 13, or 43.6 percent approval. The other three are in close agreement, placing the president's rating between 47 percent and 48 percent.

There is an additional piece of evidence, unique to Wisconsin, that's consistent with a stronger position for the president: the Marquette University poll, which gave Mr. Trump a minus 5 net approval among likely voters in its final poll before the midterms. Over the longer run, the president has averaged a minus 5 net approval among registered voters (not midterm voters) in Marquette polls since October.

In other words, most measures suggest that the president's rating is higher than 47.1 percent in Wisconsin. If you excluded the Votecast data and added the final Marquette poll, the president's approval rating would rise to 47.6 percent — or a net 4.2 points higher than his nationwide approval.

It is important to emphasize that it is impossible to nail down the president's standing in Wisconsin, or any state, with precision. But Wisconsin is the pivotal state in this analysis, and a one-point difference there could potentially be decisive.

One reason that such a small swing in Wisconsin could be so important is that the Democrats do not have an obviously promising alternative if Wisconsin drifts to the right.
Part of the issue is that 50 percent isn't required, just getting more votes than your opponents. Still, it seems like we're taking data Cohn has vouched for as the best available and then tinkering around with it to make it more favorable to Trump. If the point is simply to show possibilities, that's fine. It's true that it doesn't take much movement to hand Trump crucial electoral votes. If it's to highlight probabilities, though, I'm more than a bit skeptical.
This, though, is more persuasive:
In 2016, Florida was that obviously promising alternative: It voted for Mr. Trump by 1.2 percentage points, compared with his 0.8-point victory in Wisconsin.

But all of the measures indicate that Florida has shifted to the right of the nation since 2016, at least among 2018 midterm voters. The president's approval rating in Florida was essentially even — and by our measure, slightly positive. Republicans narrowly won the Florida fights for Senate and governor, and also the statewide U.S. House vote.

The next tier of Democratic opportunities doesn't provide an easy backstop to Democratic weakness in Wisconsin either. There's Arizona, where Democrats had a good midterm cycle, but where the president's approval rating is plainly stronger than it is nationwide or in Wisconsin. The same is true of Iowa or North Carolina, though the president's standing in those states is somewhat more uncertain in the absence of an exit poll or a high-profile statewide result.

In the end, these states, particularly Arizona, could prove to be a better opportunity for Democrats than Wisconsin. But at least based on this evidence, it would probably be more a reflection of Democratic weakness in Wisconsin than strength elsewhere.
But, honestly, if the Democrats have a decent shot at Florida or North Carolina, they're going to win in a landslide.
There's a whole lot more parsing of state- and even county-level data in the rest of the piece and I commend it to you if you're interested in a deep dive this far away from the election. The bottom line, though, of both Wasserman and Cohn's analysis is the degree to which our peculiar institutional arrangement for choosing a President makes it quite plausible that Trump could cruise to re-election even if his national popularity continues to be well underwater.