Abe Vigoda, Godfather And Barney Miller Star, Dies At 94
"Tom, can you get me off the hook? For old times' sake?" "Can't do it, Sally."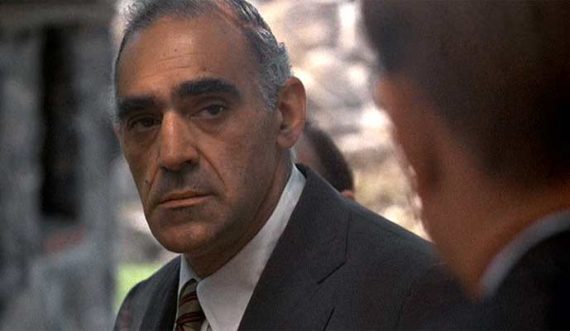 Abe Vigoda, who achieved fame when he played Salvatore Tessio, one of Vito and Michael Corelone's closest lieutenants in The Godfather, followed by a comedic role as Lt. Fish in Barney Miller, and then became something of a pop culture icon thanks to several erroneous reports of his death, has died at the age of 94:
Abe Vigoda, the sad-faced actor who emerged from a workmanlike stage career to find belated fame in the 1970s as the earnest mobster Tessio in "The Godfather" and the dyspeptic Detective Phil Fish on the hit sitcom "Barney Miller," died on Tuesday morning in Woodland Park, N.J. He was 94, having outlived by about 34 years an erroneous report of his death that made him a cult figure.

His daughter Carol Vigoda Fuchs, told The Associated Press that Mr. Vigoda had died in his sleep at her home.

Mr. Vigoda, tall and graying with a long face, sturdy jaw and deep-set eyes, was a 50-year-old stage actor who had earned his stripes on and off Broadway performing Shakespeare, Strindberg and Shaw when he got his big Hollywood break, winning the role of Salvatore Tessio in Francis Ford Coppola's epic adaptation of the Mario Puzo novel "The Godfather."

"I'm really not a Mafia person," Mr. Vigoda, who was of Russian-Jewish descent, told Vanity Fair magazine in 2009. "I'm an actor who spent his life in the theater. But Francis said, 'I want to look at the Mafia not as thugs and gangsters but like royalty in Rome.' And he saw something in me that fit Tessio as one would look at the classics in Rome."

To prepare himself for the role — a high-ranking mobster, or capo, who runs a crew of his own — Mr. Vigoda frequented the Lower East Side and other New York neighborhoods that are backdrops in the story. He "practically lived in Little Italy during the shoot," he told Vanity Fair.

Mr. Vigoda's Tessio is an old friend and ally of the Godfather, Vito Corleone (Marlon Brando). But in a story that traces a classical tragic arc, he becomes a figure of disloyalty who pays a steep price for his betrayal.

He reprised the role in a flashback scene in "The Godfather: Part II" in 1974.

A year after that, Mr. Vigoda was cast as the worn-out Detective Fish on the station-house sitcom "Barney Miller," opposite Hal Linden in the title role. Mr. Vigoda stayed with the series for two seasons, 1975-76 and 1976-77, and the opening episodes of a third, earning three Emmy nominations for best supporting actor in a comedy series. (The show continued without him until 1982.)

He was so successful that he achieved a rare television feat: appearing in his own spinoff, "Fish," while still in the cast of the original show. "Fish" centered on the detective's home life as the foster parent of five children of various racial and ethnic backgrounds. It ran from February 1977 to May 1978.

Mr. Vigoda's days as a television star seemed to be behind him in 1982 when People magazine reported that he had died. Mr. Vigoda responded by placing an ad in Variety with a photo showing him sitting up in a coffin and holding a copy of the offending issue of the magazine.

His "death" became a running joke. "I have nothing to say about Abe," Billy Crystal said at a roast of Rob Reiner at the Friars Club, where Mr. Vigoda was a regular. "I was always taught to speak well of the dead."

David Letterman and Conan O'Brien invited him onto their late-night shows to prove he was still alive. A website, abevigoda.com, continued to give updates on his status.

His name was kept alive in other ways as well. A punk-rock group appropriated his name as its own. And the Beastie Boys rapped about him in their 1986 album, "Licensed to Ill": I got a girl in the castle and one in the pagoda/You know I got rhymes like Abe Vigoda.

Abraham Charles Vigoda was born in New York City on Feb. 24, 1921, to Samuel Vigoda, a tailor, and the former Lena Moses, immigrants from Russia. Abe, one of three brothers, began acting as a teenager and turned professional in 1947, performing almost entirely onstage for the next 20 or more years.

In 1960 he starred in an Off Broadway production of the Strindberg drama "The Dance of Death," and he appeared frequently at the New York Shakespeare Festival in the early '60s, as John of Gaunt in "Richard II" and King Alonzo in "The Tempest," among other roles.

In 1963 he had the lead in an Off Broadway production of Shaw's "Mrs. Warren's Profession." Five years later he was on Broadway in Peter Weiss's "Marat/Sade."

Complete information on his survivors was not immediately available.

After his successes in "The Godfather" and "Barney Miller," Mr. Vigoda was seen on the prime-time sitcom "Soap" in 1978 and later on daytime soap operas like "As the World Turns" in 1985 and "Santa Barbara" in 1989. He also appeared in several television movies and on many prime-time series, including "Law & Order," "Mad About You" and "Touched by an Angel."

He was seen in dozens of movies as well, including "Cannonball Run II" (1984), "Look Who's Talking" (1989), "Joe Versus the Volcano" (1990), "Sugar Hill" (1993) and "Underworld" (1996). His last movie role was in 2007, in the short "Frankie the Squirrel."

But it was the first film that mattered the most to him.

"'The Godfather' changed my life," he told The New York Times in 2001.
Vigoda continued to make occasional appearances on the late night shows hosted by David Letterman and Conan O'Brien, and was the frequent subject of sighting reports as he lived mostly a quiet life in retirement in New York City well into his 90s. His last new media appearance that I'm aware of came in a Super Bowl commercial for Snickers along with another long-lived Hollywood star, Betty White. Those of us who grew up in the 70s and 80s also remember Vigoda for his role in Barney Miller and Fish, where he played a character exceedingly different from the serious and deadly Salvatore Tessio. Lt. Phil Fish seemed to fit Vigoda perfectly, and he frequently had some of the most memorable lines of the episodes he was in. For most people, though, it was The Godfather and the reports about his death that turned Vigoda into something of a cultural icon in his later years, which is pretty good for a ninety year old.
Perhaps most appropriately, here are Vigoda's final scenes in the film that he says changed his life:
A prominent role in one of the best movies ever made and a later life as a cultural icon. I'd say Tessio got a pretty good deal in the end.