Alex Rodriguez Sues Major League Baseball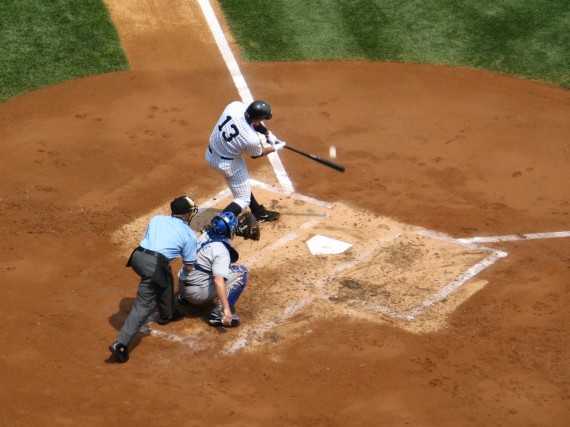 In the midst of an appeal hearing over a suspension that would keep him out of baseball for all of next season and then some, Alex Rodriquez is pushing back:
Faced with baseball's longest doping suspension, Alex Rodriguez sued Major League Baseball late Thursday, accusing it of buying the cooperation of Anthony Bosch, the head of an anti-aging clinic at the center of a doping scandal, as part of a continuing "witch hunt" to force him out of the sport.

In the complaint, Rodriguez's lawyers claim an investigator paid $150,000 in cash for records related to Rodriguez, which were apparently stolen. A portion of the cash "was handed off in a bag at a Fort Lauderdale, Fla., area restaurant," the lawsuit says.

The lawsuit specifically accuses Major League Baseball of engaging in "tortious interference," essentially interfering with Rodriguez's existing contracts and future business relationships.

The suit, in State Supreme Court in Manhattan, came just days after Rodriguez's lawyers began appealing the 211-game ban issued by Major League Baseball. It is unclear if the suit will affect the arbitration hearing, which is taking place behind closed doors.

The suit does not address whether Rodriguez used banned substances.

In a statement, Rodriguez said: "The entire legal dynamic is very complex, and my legal team is doing what they need to in order to vindicate me and pursue all of my rights. This matter is entirely separate from the ongoing arbitration.  I look forward to the arbitration proceedings continuing, and for the day to come when I can share my story with the public and my supporters."
That last part, of course, is simply incredulous. The idea that there's no connection between the ongoing arbitration proceedings and this lawsuit that arises directly out of the MLB investigation into Rodriguez's use of Performance Enhancing Drugs is simply absurd. The lawsuit essentially argues that MLB bought the cooperation of one of the chief witnesses against Rodriquez and the person who provided MLB with the documents that form a substantial part of the basis of their allegations against him. That's not only not separate from the ongoing arbitration, it's completely related to it. Quite obviously, A-Rod and his legal team are firing a shot across the bow at MLB that should indicate just how far they're intent on taking the fight against this 211 game suspension. Whether this is a serious move, or a strategic one designed to force negotiations that would eventually lead to a shorter suspension is hard to tell.
Here's the complaint: