American Grief And Denial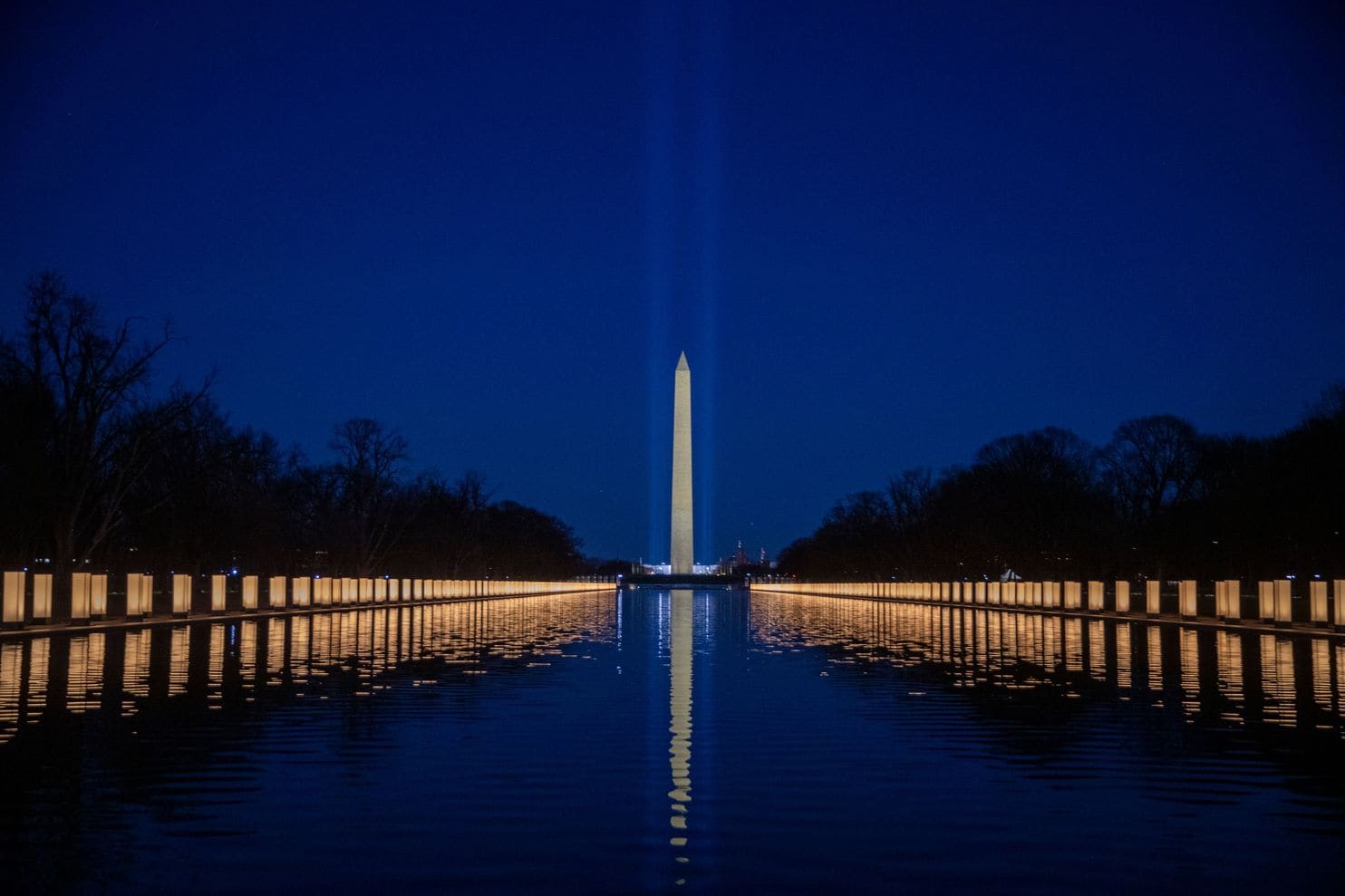 One of Biden's skills, which we expect to see at play in his inaugural address, is his acknowledgement of grief, and his ability to show citizens the path out of it. "People are learning to die with it," Biden retorted in the Presidential debates/verbal brawls, to Trump's criminally casual claim that people were learning to live with COVID-19. Yesterday's memorial to the approximately 400,000 victims of the pandemic — 400 lights in front of the Lincoln Memorial, each representing 1,000 dead Americans — was deeply moving, appropriate, and necessary.
We are a grieving nation. We are grieving the dead. We are grieving the lost moments we could have spent with friends and family. We are grieving the lost opportunities, the lost jobs, the lost hopes for what we might have achieved in the last year.
We are also grieving our lost optimism about America. Each of us has seen something important, perhaps sacred, damaged or befouled in the last few years. Some of us lost our comfortable belief that anti-democratic forces were on the fringes of our society. We lost our faith that we were safe from them. Some saw, for the first time, how abusive and oppressive the police could be. Some saw that the Republican Party in which they believed was dead. Some lost the expectation that, when faced with a monumental crisis, Americans would band together, and take whatever steps we needed to take to keep each other safe. Some lost the faith that, confronted with the truth, falsehood with melt away.
We have much to grieve. One of the inevitable parts of the grieving process is the struggle with denial. I've faced a lot of grief in my own life, and I am not ashamed to say that it's easy to fall under the sway of denial. There are things we want to believe, that the situation is not as bad as it seems, that a miracle cure will come, that life will return to the foundations, contours, and rhythms it once had.
As wonderful as today's inauguration is, it should not be an occasion to embrace denial. White supremacists and conspiracy theorists are not fading away. There is no hidden cadre of "real Republicans" who can smoothly re-take control of the party tomorrow. Many Americans live in an ignorant, separate reality of permanent outrage and paranoia. Many Americans still shirk their responsibility to their fellow citizens, either not understanding how masks and distancing work, or not caring. And the list goes on.
Raise a glass to an important turning point, but see it as an opportunity to deal with our manifold problems, not their erasure. They will not just fade away, and their resolution will depend on more than just a small bad of elected officials in one corner of the country.