Monument Shutdowns Bring Protesters To National Mall
Conservatives gathered on the National Mall today to protest the closure of memorials, but their message seems really intended for Republicans in Congress to not back down.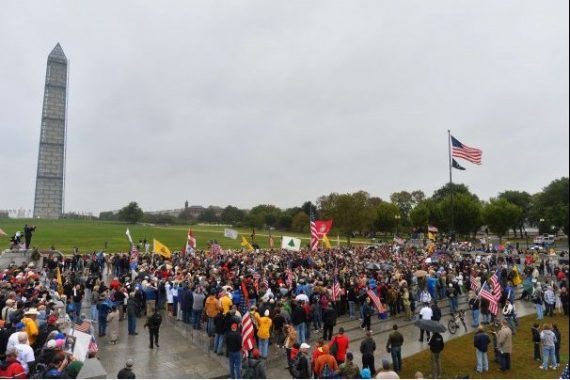 The closing of several open air memorials on the National Mall became the focus of protests today that brought out several top conservative leaders and Members of Congress as well as a small, but not insubstantial, crowd:
WASHINGTON — A crowd of people has converged on the World War II Memorial on the National Mall, pushing through barriers to protest the memorial's closing under the government shutdown.

WTOP Radio (http://bit.ly/GXQKGV ) reports Republican Sen. Mike Lee of Utah and Sen. Ted Cruz of Texas were among those who gathered Sunday morning, along with former Alaska Gov. Sarah Palin. Cruz says President Barack Obama is using veterans as pawns in the government shutdown.

The memorial has become a symbol of the bitter fight between Democrats and Republicans over who is at fault since the shutdown began.
Fox News has more:
Veterans marched on Sunday in Washington in protest of the partial government shutdown that has kept them and other Americans from visiting war memorials across the country, with support from several star conservatives.

"This is the people's memorial,"  Texas Sen. Ted Cruz told a crowd of several hundred gathered near the WWII Memorial on the closed National Mall, which has become a national symbol of the shutdown and the country's response. "Simple question: Why is the federal government spending money to keep veterans out of the memorial? Why did they spend money to keep people out of Mount Vernon, Mount Rushmore? Our veterans should be above political games."

Veterans, including many in wheelchairs, were allowed inside the memorial at about midday as others took the protest to the edge of the White House South Lawn.

"Today somebody's wife [or] husband is dead in Afghanistan. Is somebody going to pay her husband [or] his wife or their children?" one protester shouted at the White House, referring to the partial shutdown cutting off benefits for the survivors of military personnel.

Cruz was joined by former 2008 GOP vice presidential nominee and Alaska Gov. Sarah Palin, on a gray, rainy day in the nation's capital.

"Veterans have proven they are not timid and we will not be timid and calling out any that use military as pawns," Palin told the crowd assembled at the Million Vet March on Memorials. "We can only be America, home of the free, if we are America, home of the brave."

Protesters shouting "U.S.A." and "Tear down these walls" are putting the blame squarely on President Obama and Democratic congressional leaders.
Of course, the coverage from CNN is slightly different:
Angered by the closure of national landmarks due to the partial government shutdown, a crowd of conservatives removed barricades Sunday at the World War II Memorial and the Lincoln Memorial as they rallied against President Barack Obama and Democrats for their role in the ongoing stalemate.

High-profile speakers with close ties to the tea party appeared at the event, including former Alaska Gov. Sarah Palin and Sen. Ted Cruz of Texas.

The rally, billed as the "Million Vet March on the Memorials," drew far fewer than a million people and evolved into a protest that resembled familiar tea party events from 2009, with yellow "Don't Tread On Me" flags throughout the crowd and strong anti-Obama language from the podium and the audience.

One speaker went as far as saying the president was a Muslim and separately urged the crowd of hundreds to initiate a peaceful uprising.

"I call upon all of you to wage a second American nonviolent revolution, to use civil disobedience, and to demand that this president leave town, to get up, to put the Quran down, to get up off his knees, and to figuratively come out with his hands up," said Larry Klayman of Freedom Watch, a conservative political advocacy group.

(…)

Demonstrators removed the barricades Sunday at the rally, tossing them into a pile nearby. After the speeches, the crowd wandered down to the nearby Lincoln Memorial and removed its barriers as well. When some officers tried to put them back up, protesters took them from the officers' hands and carried them away from the memorial.

"You look around though and you see these barricades and you have to ask yourself, is this any way that a commander in chief would show his respect, his gratitude to our military? This is a matter of shutdown priorities," Palin said.

Anti-Obama sentiments echoed throughout the crowd Sunday, with one protester yelling out "punk" to describe the president and one speaker saying Obama is not the president of "the" people but "his" people. Multiple signs read "Impeach Obama."

At least one vulgar sign could be seen, which was directed more toward Republicans. It read "You can't be a conservative and a p**sy too."
The protests are getting a lot of coverage from the usual conservative websites and, most interesting of all, appeared to be aimed more at Republicans on Capitol Hill than the Administration. Consider these tweets from National Review's Robert Costa:
Just as GOP leaders think about potentially bringing CR/DL deal to floor, conservatives, on Hill & off, hold firm http://t.co/QRzlHrjOcf

— Robert Costa (@robertcostaNRO) October 13, 2013
If you can't fathom my report about Right enthusiasm/#war mentality following memorial protests, go ask a righty lawmaker, or check out…

— Robert Costa (@robertcostaNRO) October 13, 2013
… front pages of Breitbart, Twitchy, Drudge, Blaze, Townhall, Daily Caller, etc

— Robert Costa (@robertcostaNRO) October 13, 2013
When I say "big story," I mean big story to those on Right on Hill who have some sway/decisions to make in the coming days

— Robert Costa (@robertcostaNRO) October 13, 2013
That's what I'm reporting: this vet/Palin/Cruz memorial protest story is going viral quickly on right, will shape House GOP scene on M & T

— Robert Costa (@robertcostaNRO) October 13, 2013
Costa is suggesting, of course, that the protests are likely to strengthen the resolve of recalictrant members of the GOP Caucus in the House, and to some extent in the Senate as well, as we get closer to the "drop dead" deadline of October 17th. Indeed, watching the Sunday morning shows today one could find plenty of examples of conservative Congressman insisting that the GOP still held the upper hand in the battle with Senate Democrats and the White House, including a few who still believed that Obamacare should be on the table going forward. It's an utterly ridiculous position, of course, but what matters at this point is what pressure these Republican legislators are feeling from their constituents and from the GOP base. A protest like this is clearly aimed directly at them as the hours tick away and they come closer to being forced to cast a vote that could very well end up solving our current manufactured crisis, or throwing the economy for a loop thanks to panic in the financial markets.
Is it idiotic? Of course it is, anytime you have people like Larry Klayman speaking and people carrying "Impeach Obama" signs, you know you've crossed the line into the crazy part of the conservative movement.  But that matters very little at this point. What impact this might actually have on how we move forward in the days to come remains to be seen, but for those legislators on the right looking for a reason to hold the line, they've just found one. What that means going forward is anyone's guess