American Studies Association Israel Boycott is Righteous but Wrongheaded
While I concur with the "intent, justice, legality, and morality" of the decision, I nonetheless oppose it.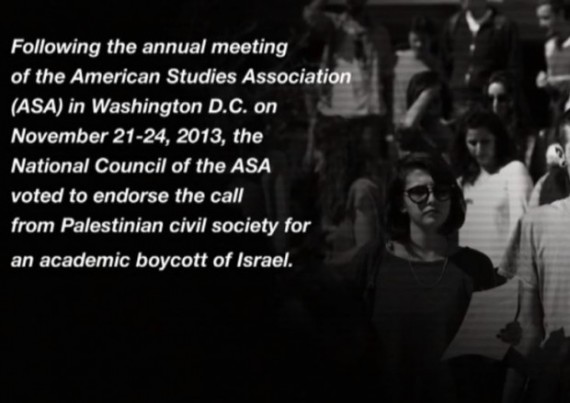 The always-insightful Paul Pillar lauds the "intent, justice, legality, and morality" of the controversial decision by the American Studies Association to boycott Israeli academic institutions.
The government of Israel, while paying lip service to the idea of a Palestinian state, occupies indefinitely, and continues to colonize, land that Israel conquered in a war it initiated 46 years ago and is home to Palestinian Arabs, and in so doing is depriving Palestinians not only of self-determination but of most of their political and civil rights as well as keeping them in economic subjugation.

The situation is commonly described, of course, as a bilateral conflict in which there are political and security concerns on both sides, which there are. But Palestinian leaders and the community of Arab states long ago accepted the idea of peace based on a Palestinian state limited to the 22 percent of the British mandate of Palestine left in Arab hands after earlier warfare in the 1940s. The shape of such a peace has long been clear. Israel is the occupier. It is easily the most powerful state in the region. It is in control. The Israeli government could make such a settlement a reality within weeks if it decided to. It instead prefers to cling to conquered land rather than to make peace, and to continue the colonization that threatens to put a peace out of reach.
He's less sure that the boycott is a good idea on practical grounds, especially since the very institutions being targeted are "probably where some of the more enlightened and liberal thinking occurs inside Israel. " Regardless, he comes down on the side of the action:
Perhaps enough such gestures will start to change the political climate in the United States that supports the policies that condone the violations of human rights. Perhaps the gestures will chip away at the "standard trope of U.S. politics…that Israel is America's major ally in the Middle East," as John Tirman of MIT puts it, when in fact "Israel's belligerent and persistent obstructionism is not the action of an ally."

That gets to another response why Americans in particular are justified in making the kind of gesture the ASA made, which has to do with how Israel's occupation and its policies in the occupied territory significantly damage U.S. interests. Bruce Riedel powerfully and succinctly reviews why the unresolved Palestinian problem "is a national security threat to America. Indeed, American lives are being lost today because of the perpetuation of the Israeli-Palestinian conflict." The reasons for this are, "First, this conflict creates anger, frustration and humiliation that fuel the enemies that are killing Americans today. Second, this conflict weakens our allies and friends, the moderates in the Islamic world, who are trying to fight our enemies." On the first of those points, other academic research has repeatedly shown how the continued Israeli occupation, and the U.S. condoning of it, fuels extremist violence of the al-Qaeda ilk against U.S. interests. The occupation is a topic on which considerations of justice and a realist's considerations of U.S. interests converge.
This has all been obvious for twenty-odd years, if not more, but the debate in American circles has not evolved very much beyond the knee-jerk.
Still, while I agree with Pillar that Israeli policy in the Occupied Territories is not only illegal and immoral but harmful to American interests, I disagree that a boycott of Israeli academic institutions by an American scholarly society is the right way to influence it.
First, it's exceedingly unlikely to achieve its desired effect. Not only does the fact that Israel enjoys almost unqualified bipartisan support from American policymakers render the ASA's action laughably insignificant but Israeli policymakers strongly believe their actions are necessary for the survival of Israel as a Jewish state.
Second, as Lawrence Summers, in one of his rare instances of being right, notes, "the idea that of all the countries in the world that might be thought to have human rights abuses, that might be thought to have inappropriate foreign policies, that might be thought to be doing things wrong, the idea that there's only one that is worthy of boycott, and that is Israel, one of the very few countries whose neighbors regularly vow its annihilation, that that would be the one chosen, is I think beyond outrageous as a suggestion." Not quite as outrageous as Summers' own suggestion that this amounts to anti-Semitism, to be sure, but it's problematic.
Third, I'm troubled by the notion of a scholarly organization taking sides in a political controversy. It's anathema to the notion of academic freedom, creating an orthodoxy and rendering  reputable scholars who disagree heretics.
Fourth, targeting fellow academics is especially troubling, in that it will make it more difficult for Israeli and Palestinian scholars—who, let's face it, have more at stake than US-based members of the ASA—to study and shed light on the problem at hand.