Anderson Cooper Is Gay, Almost Nobody Cares, And That's A Good Thing
We've reached the point where public figures coming out of the closet is barely news anymore, and that's a good thing.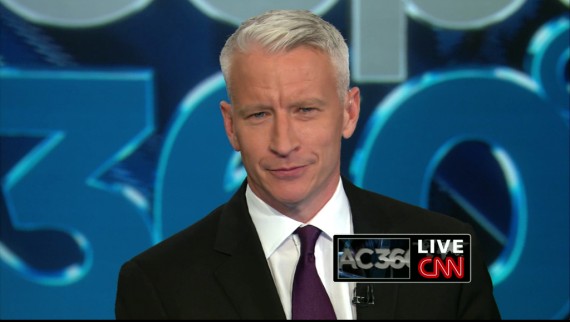 In an email that Andrew Sullivan republished in full on his website this morning, CNN host Anderson Cooper confirmed something that many people suspected to be true for many years now:
I've always believed that who a reporter votes for, what religion they are, who they love, should not be something they have to discuss publicly. As long as a journalist shows fairness and honesty in his or her work, their private life shouldn't matter. I've stuck to those principles for my entire professional career, even when I've been directly asked "the gay question," which happens occasionally. I did not address my sexual orientation in the memoir I wrote several years ago because it was a book focused on war, disasters, loss and survival. I didn't set out to write about other aspects of my life.

Recently, however, I've begun to consider whether the unintended outcomes of maintaining my privacy outweigh personal and professional principle. It's become clear to me that by remaining silent on certain aspects of my personal life for so long, I have given some the mistaken impression that I am trying to hide something – something that makes me uncomfortable, ashamed or even afraid. This is distressing because it is simply not true.

I've also been reminded recently that while as a society we are moving toward greater inclusion and equality for all people, the tide of history only advances when people make themselves fully visible. There continue to be far too many incidences of bullying of young people, as well as discrimination and violence against people of all ages, based on their sexual orientation, and I believe there is value in making clear where I stand.

The fact is, I'm gay, always have been, always will be, and I couldn't be any more happy, comfortable with myself, and proud.
It's a rather unremarkable piece of news, to be completely honest. Like I said, rumors about Cooper's sexuality had been circulating for years now despite the fact that he had never spoken about it publicly, so this isn't exactly breaking news. Nonetheless, the general impression I'm getting from Twitter and most of the blog posts that I've seen about this is mostly be characterized as a collective shrug. We seem to have come to the point in society where someone saying that they are gay isn't really seen as being any more remarkable than saying that they are left-handed. It's a fact about them, but not one that they ought to be judged on in one way or the other.
It wasn't always this way, of course. People like Rock Hudson kept their sexual orientation a secret precisely because it would have ruined their career if it had become public. When Ellen DeGeneres reveal she was a lesbian 15 years ago it became a major story in the media, led to the end of her ABC sit-com, and sent her career into a period of stagnation. For the most part, though, I would argue that we're now at the point where most Americans greet news like this with a shrug, if not of indifference then at least in recognition of the fact that it's not really news that they consider important, salacious, or scandalous. And that's a good thing. In the end, whether Cooper is gay or not is as irrelevant to the quality of his reporting as the question of whether he's left or right handed, or lactose intolerant. If we are reaching a point where the reaction to news like this is a collective shrug, then I would argue that we've made significant progress because in the end, it shouldn't matter who Cooper, or anyone else, loves and has a relationship with.
Of course, not everyone in America is so civilized. Consider, for example, this from Media Research Center founder Brent Bozell, found via John Cole:

We've come very far, and yet some of us have even further to go it seems.