Another Poll Shows Pat Roberts In Trouble In Kansas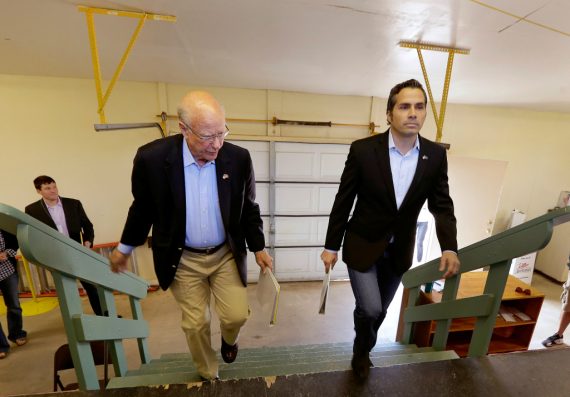 In a race that could determine control of the Senate next year, there's another poll showing three-term Senator Pat Roberts trailing Independent candidate Greg Orman in Kansas:
Independent Greg Orman is clinging to a narrow lead over Republican Sen. Pat Roberts, according to a new poll of the Kansas Senate race, a contest that could tilt control of the Senate.

Orman leads Roberts, 46 percent to 41 percent, according to the USA TODAY/Suffolk University poll of 500 likely voters, taken from Sept. 27 to Sept. 30. The poll carries a 4.4-point margin of error. About 11 percent of voters are undecided.

Orman's chances improved last month when underfunded Democrat Chad Taylor dropped out, in part at the urging of some national Democrats who see the better-funded Orman as a likelier choice to unseat Roberts in the deep-red state. Republicans, counting on a Roberts win to help them net a Senate majority, parachuted in top party strategists to help reverse Orman's momentum. But the new poll shows Roberts' early attacks haven't dented Orman's standing.

That's despite efforts by the GOP to paint Orman as a Democrat masquerading as an independent. The party has invoked Orman's past contributions to national Democrats, including President Barack Obama, and suggested he's soft on Obamacare and illegal immigration. Orman has parried those attacks by arguing that both parties are failing the American people and suggesting he won't be beholden to either. He has not committed to caucusing with one party or the other if he wins.
This is the fifth consecutive poll taken since Democratic nominee Chad Taylor announced his intention to drop out of the race to show Orman leading Roberts, and the RealClearPolitics average presently shows Orman with a 5.3 point lead over Roberts. While Orman's independent campaign is clearly appealing to voters at the moment, there are a number of other factors that are clearly hurting Roberts in his bid for a fourth term. Polling indicates that voters have soured on his job performance and that the attacks against him during the primary about his lack of connection to the state may have resonated more than the results of that primary seemed to indicate at the time. Additionally, Roberts is likely being hurt by general voter disdain for the Kansas GOP at the moment, as reflected in the fact that Governor Sam Brownback seems to be in even deeper trouble than Roberts in his re-election bid.  A final factor that could be big trouble for Roberts is the fact Tea Party groups in the state don't seem all too eager to rush to the Senator's support: 
Kansas Tea Party supporters are threatening to sit out the state's pivotal Senate election, potentially dealing another blow to the reelection hopes of Sen. Pat Roberts (R-Kan.).

Though schisms within the GOP base rarely have such an outsized impact on a general election contest, the lack of support from the conservative base could be devastating to the vulnerable Roberts's chances against surging independent Greg Orman.

Multiple sources tell The Hill that a group of Tea Party leaders in the state are meeting Wednesday to try to decide whether they should go to bat for the incumbent this fall or sit out of the race entirely.

Aware of the vulnerabilities it faces, the Roberts campaign has been engaged in a full-court press to mend fences with conservatives over the past few weeks and regain some of the trust lost during the bitter primary fight against radiologist Milton Wolf, whom the senator beat by a closer-than expected margin.

"It all comes back to whether or not there's an agreement reached. I don't know if there's going to be," said Steve Shute, a city councilman in Gardner, Kan., and Tea Party activist.

"The longer this delays, to find results, the greater risk there is that Kansas turns blue or purple," said Shute, who's been acting as a moderator between conservatives and the campaigns of Roberts and Kansas Gov. Sam Brownback (R).

Ever since Democratic nominee Chad Taylor was removed from the ballot, giving Orman a one-on-one shot at toppling the GOP senator, the Roberts campaign has been parading Republican establishment and Tea Party figures through the state to help boost the struggling Roberts.

Former Alaska Gov. Sarah Palin (R) campaigned for him last week and he nabbed the endorsement of rising conservative star Ben Carson on Tuesday. Sources also tell The Hill that Roberts bringing Sen. Ted Cruz (R-Texas) in to stump for him next month, another figure with serious conservative clout.

But for disaffected Tea Partyers in the state, it might not be enough. Many were livid over Palin's decision to campaign for Roberts, saying she should have reached out to grassroots supporters beforehand.

The endorsements, they say, won't convince them Roberts is worth saving. Conservatives want to secure a number of commitments from the campaigns of both Roberts and Brownback, who faces his own tough reelection fight.
The dilemma for Roberts, of course, is that the more he panders to the Tea Party groups in the state, the more he risks alienating the more moderate Republican and Independent voters that he needs to beat Orman. Some of those voters are likely part of the somewhat large segment of undecided voters that all of the polls in this race so far are finding, and the election will be decided based on which way they break in this race. So far, the signs are not looking good for Senator Roberts and unless he can turn things around soon, momentum is going to set in and Orman could be on his way to being the first non-Republican to win a Senate seat in Kansas since 1932.