AP Twitter Feed Hacked, Dow Plummets
Why does the stock market care if there is an explosion at the White House?

The Associated Press Twitter feed reported "Two Explosions in the White House and Barack Obama is injured." The account was hacked; the report was false. The stock market nonetheless tanked until the report was debunked.
NYT ("Hacked A.P. Twitter Feed Sends Erroneous Message About Explosions at White House"):
The Twitter account of The Associated Press was hacked on Tuesday and erroneously sent out a tweet saying there had been explosions at the White House, injuring President Obama.

Within a few minutes, Twitter suspended the account, and Julie Pace, the chief White House correspondent for The A.P., announced at a White House briefing that the account had been hacked.

Jay Carney, Mr. Obama's press secretary, confirmed that the president was unharmed.

Editors at The A.P. soon followed with a statement saying that "The (at)AP twitter account has been hacked. The tweet about an attack at the White House is false. We will advise more as soon as possible."

The Dow Jones industrial average plummeted more than 150 points when the news broke on Twitter — an indicator of traders' presence on the social media platform — before immediately recouping the losses after it became clear that there had been no incident at the White House.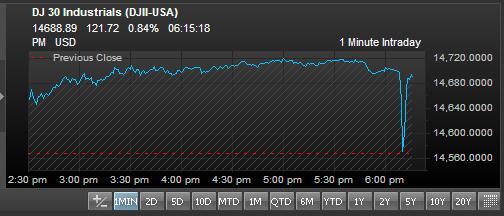 Aside from why AP doesn't practice better security or why investors would react based on a single, unconfirmed report from one source, the question that strikes me is: Why should President Obama's getting injured impact the value of 500 major companies?
Don't get me wrong: the president of the United States is an important fellow. And, certainly, I'm pleased that the democratically elected leader of my country's executive branch of government is safe.
But if, heaven forbid, an explosion incapacitated or even killed the president, we'd swear in Joe Biden, lower the flags to half staff, and continue to march. The country would mourn its fallen leader. If the attacker turned out to be a foreign terrorist, we might even launch major military action in response. But, at the end of the day, the value of  Microsoft, ExxonMobile, and JPMorganChase shouldn't be affected.