Army Looking for a Few Average-Looking Women
A leaked internal email has the Army in hot water with feminists.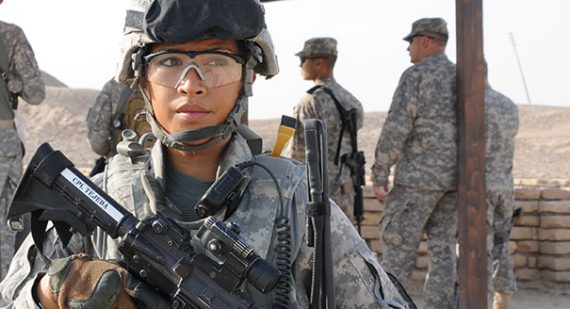 A leaked internal email has the Army in hot water with feminists.
POLITICO ("Army PR push: 'Average-looking women'"):
The Army should use photos of "average-looking women" when it needs to illustrate stories about female soldiers, a specialist recommends — images of women who are too pretty undermine the communications strategy about introducing them into combat roles.

That's the gist of an internal Army e-mail an Army source shared with POLITICO.

"In general, ugly women are perceived as competent while pretty women are perceived as having used their looks to get ahead," wrote Col. Lynette Arnhart, who is leading a team of analysts studying how best to integrate women into combat roles that have previously been closed off to them. She sent her message to give guidance to Army spokesmen and spokeswomen about how they should tell the press and public about the Army's integration of women.

"There is a general tendency to select nice looking women when we select a photo to go with an article (where the article does not reference a specific person). It might behoove us to select more average looking women for our comms strategy. For example, the attached article shows a pretty woman, wearing make-up while on deployed duty. Such photos undermine the rest of the message (and may even make people ask if breaking a nail is considered hazardous duty)," Arnhart said.

She wrote that a photo of a female soldier with mud on her face that news agencies used last spring "sends a much different message—one of women willing to do the dirty work necessary in order to get the job done."
The reaction to this story has been predictable: What does attractiveness have to do with how good a soldier someone is? And doesn't the Army showcase attractive male soldiers in its ads?
But this isn't a policy document but an internal conversation about messaging. And that fact of the matter is that, like it or not, the military is in a no-win situation when it comes to women. Those in charge of portraying female soldiers to the public have to work against longstanding stereotypes.
First, a large segment of the public thinks women have no place in the military, period, let alone in demanding combat jobs.
Second, "girly" and "battle-hardened" are diametrically opposed social constructs. The photo accompanying this post is the one that sparked the email. CPL Tejada may well be a highly competent soldier. Or, she may be a fictional character portrayed by a model in an advertisement. Yes, CPT Tejada (or "CPL Tejada") is an attractive woman. That's not the problem. Rather, the portrayal is of a soldier in combat camoflage, finger on the trigger, wearing makeup and lipstick. That don't exactly scream "tactical." Or even "serious." This simply not how the Army wants to present its female soldiers.  (Were this a group of soldiers in their Army Blue dress uniform, Tejada's presentation would be just right.)
But, as already noted, the Army is in a no-win situation. If it bends over backwards to find women who are less pretty, covered in mud, and otherwise more in keeping with our traditional image of what a soldier is supposed to look like they'll evoke the old stereotype that the only women who can succeed in the military are lesbians or otherwise less than fully female. That's not only unfair to our women soldiers but sends the wrong message from a recruiting standpoint.
It's worth noting, too, that the initiator of the email in question is a female bird colonel with almost twenty-five years of service. It's highly unlikely that she's sexist. Rather, she's spent a whole career battling stereotypes and is now responsible for helping the Army navigate them.