Athletes Are Ruining Sports!
Players have taken control of the NBA from the owners. That's bad for fans. But probably a good thing.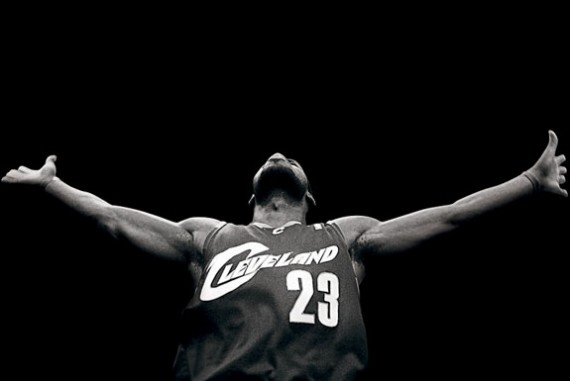 ESPN's Rick Reilly, an eleven-time National Sportswriter of the Year, has noticed that the players are taking over the NBA. And he's not happy.
This is what the NBA has become: very tall, very rich twenty-somethings running the league from the backs of limos, colluding so that the best players gang up on the worst. To hell with the Denvers, the Clevelands, the Torontos. If you aren't a city with a direct flight to Paris, we're leaving. Go rot.

There's no rule against it, so they do it. Ray Allen and Paul Pierce beg Kevin Garnett to please come to Boston. LeBron James, Dwyane Wade and Chris Bosh connive to play in Miami. At his wedding in New York City this past July, Carmelo Anthony, Amare Stoudemire and Chris Paul toasted to all three playing in New York someday. Stoudemire switched this past summer. Anthony was traded there Monday. And Paul is set to enter free agency next season, bags already packed.

Great for Spike Lee. Sucks for the game.

"The question is, will the fans support players whose egos are bigger than the game?" asks Denver Nuggets coach George Karl, who suddenly finds himself coaching a locker room full of nobodies. "Will the fans support all these players and agents manipulating things? Because if they don't, if the switch [by fans] is abrupt enough, the league could be at a crisis point."

Hello, David Stern? Did you leave a wake-up call for the 21st century? Your clubs need to be able to protect their great players with a franchise tag, as the NFL does. If that isn't priority No. 1 in your lockout talks, you need the Wite-Out.

[…]

The grinding unfairness of it all: The NBA used to work on a turn system. You will lose, but if you hang in there, you'll be rewarded with a very high draft pick like an Anthony, and your turn at glory will arrive.

Not anymore. The superstars are in charge now. Now, you lose and you get a pick, and that pick immediately starts texting his pals to see where they'll all wind up in three years. Pretty soon, you're back losing again.

Get ready, Oklahoma City.

You wonder why the NFL continues to pull away from the NBA in this country? Three words: Green Bay Packers. Two more: Indianapolis Colts. The NFL finds a way to let cities that don't happen to have a Versace store hang on to their great players like, oh, say, Peyton Manning.
Reilly's absolutely right about what's happening. And I agree that it's bad for fans. But I don't see a cure that's not worse than the disease.
Major League Baseball has had the same problem longer than the NBA, but nobody really noticed. In MLB, which unlike the NBA and NFL has no salary cap, owners can bid whatever they want for the best free agents. And only a handful of teams have the resources to pay the really big bucks. So, the best players tend to wind up going to the Yankees and the Red Sox, with the Cubs, Dodgers, White Sox, and a couple of others bidding for the rest.
But fans see the problem there as being tied to the owners, not the players. We all understand that, if offered a choice between $250 million for ten years with the Yankees or $75 million for five years with the local team, we'd be in pinstripes.
In the NBA, though, there's a soft salary cap. Every team has essentially the same amount of money to spend and the same max salary it can offer to superstars. Most players, then, would rather play in a world class city than in the hinterlands. Not only are the marketing opportunities much better there but the lifestyle choices available to an obscenely rich 26-year-old are simply more appealing. So, everyone pretty much wants to be in New York, Los Angeles, Boston, Dallas, Miami, and Chicago. And, preferably, with the Knicks or Lakers, not the Clippers or Nets.
The NFL is a much more tightly controlled cartel. Owners share most revenue 32 ways, ensuring competitive balance. And their salary cap is hard, so there's very little wiggle room, aside from creative use of signing bonuses. Plus, the union has given teams various "tags" to restrict free agency at the cost of paying very high salaries to those so designated.
And that's great, if you're a fan. I very much want to see teams be rewarded for smart drafting and to keep their best players around for the duration of their careers. That's how it was in the Good Old Days.
The problem with that is that it treats players like indentured servants. Sure, they're well compensated. But all the leagues have amateur drafts, wherein they bid on the services of young players coming out of college and high school. The players have very little leverage: They either go to the team that drafted them or they don't play. So, you might have spent your whole life in East Texas rooting for the Dallas Cowboys and be forced to migrate to Philadelphia and play for the hated Eagles. Or, you might have grown up in Boston dreaming of playing for the Celtics but have to live out your hoop dreams playing for the Toronto Raptors.
Worse yet, you might buy a house in your new city and be traded like some unwanted MRE side dish to a new team in a new city. In some cases, two or three times in a single season!
If you're Baron Davis, you can be shipped from your hometown LA Clippers off to the purgatory of Cleveland, where even hometown boy LeBron James didn't want to live.
Free agency, in addition to allowing players to get paid what they're worth on the open market, allows them some say over where they and their family will live. The NFL takes that away from its superstars. That's good for the fans. But it's horribly unfair to the players.
But, even in the NFL, players are starting to realize they have leverage. Oh, sure, the occasional 1st round quarterback (John Elway in 1983 and Eli Manning in 2004) has threatened to not report to the team that drafted them and managed to force trades. But we've actually seen a string of players doing that over the last couple of years, with Jay Cutler being the most prominent case.
The best the leagues can do to entice players to stay with their original teams is something like the Larry Bird Rule that used to do the trick in the NBA: an ability for the player's team to pay more money than other teams are allowed to bid. But, if the player decides he'd rather take a little less money to play somewhere that he thinks affords him a better lifestyle or a better opportunity to win a championship, the fact that Cleveland and Toronto and Oklahoma City are less attractive is just a fact franchises there should have to live with.
The bottom line is that players are human beings, who ought to have the right to take their talents to South Beach — or wherever they're wanted. Just like fans can do.