Banning Trump From Office
The January 6 Committee recommends invoking the Insurrection Clause.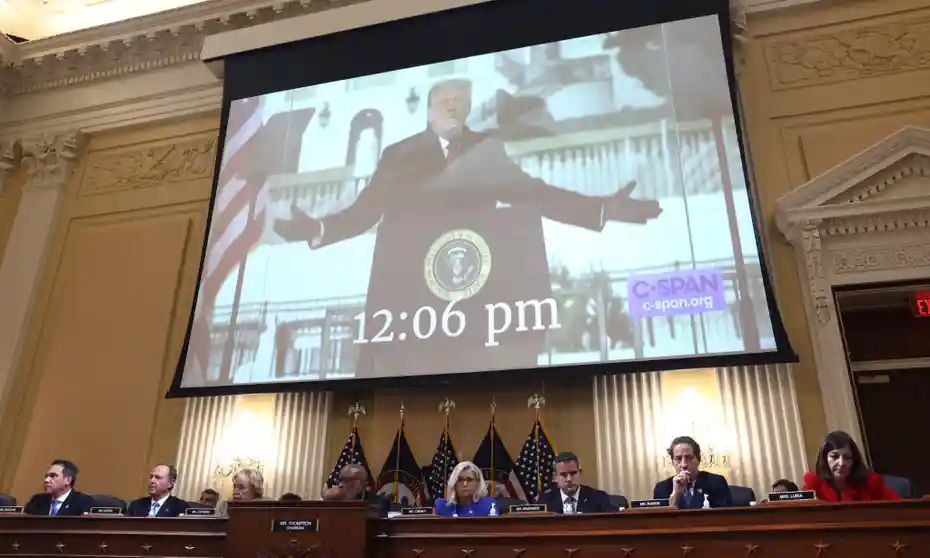 WaPo ("Jan. 6 report recommends Congress ban Trump from running again"):
The House select committee investigating the Jan. 6, 2021, attack on the Capitol released its final 845-page report Thursday, the culmination of an exhaustive 18-month investigation into the violent insurrection and President Donald Trump's role inciting it.

The report finds that Trump actively inspired his supporters to commit violence in his name as he attempted to remain in office despite losing the 2020 election. It comes nearly two years after a pro-Trump mob of supporters stormed the Capitol to stop the counting of votes for election winner Joe Biden, and follows a unanimous vote by the committee Monday to refer Trump to the Justice Department for criminal investigation.

The report, released as Trump begins his bid for reelection, recommends that Congress consider banning the former president from holding office again, citing the 14th Amendment, which bars those who have "engaged in an insurrection" or offered "aid and comfort to the enemies" of the Constitution. It also details how ahead of the Jan. 6 attack, red flags about potential deadly violence were ignored. The committee behind the report will disband within days.
We've discussed this possibility before. I'm skeptical it can be enforced absent a criminal conviction.
The 14th Amendment was, of course, passed in the aftermath of the Civil War and that provision was rather clearly a direct response to that conflict. Whether someone who had previously taken an oath to the US Constitution participated in that insurrection was cut and dried. (And a blanket amnesty for all Confederate soldiers was passed in 1872, so the ban didn't last long even in the original instance.)
It seems rather obvious, though, that to apply the ban to subsequent insurrections would require conviction of a related crime. Otherwise, an act of Congress banning a specific person from office would seem to be an unconstitutional Bill of Attainder. While some might argue that disqualification from office isn't a criminal punishment, it has the effect of branding people criminals without a trial. I don't see how that would be legal. (A POGO op-ed disagrees.)
Writing on various attempts to bar Republican Congressmen who egged on protestors from office, Harvard Law professor Ronald Sullivan argues "lawyers seeking disqualification have a steep hill to climb in all of these cases – especially when their arguments based on the 14th Amendment collide with the First Amendment and its protection of free speech." Judges hearing those cases apparently agreed.
A FindLaw explainer declares that "legal scholars are split on whether the disqualification clause applies to the presidency." A plain reading of it would seem to answer that in the affirmative:
No person shall be a Senator or Representative in Congress, or elector of President and Vice-President, or hold any office, civil or military, under the United States, or under any State, who, having previously taken an oath, as a member of Congress, or as an officer of the United States, or as a member of any State legislature, or as an executive or judicial officer of any State, to support the Constitution of the United States, shall have engaged in insurrection or rebellion against the same, or given aid or comfort to the enemies thereof. But Congress may by a vote of two-thirds of each House, remove such disability.
But Josh Blackman, for example, argues that the President, as an elected official, is not an officer of the United States.
Now, it's likely a moot point, anyway, given that Republicans will have a majority in the House starting January 3rd. While there are surely some number of Republican Representatives who would like to be rid of Trump, I can't imagine man—if any—would go along with a controversial ban.
Sadly, the impeachment hearings were likely Congress' last bite at the apple. It's now up to the Justice Department and, most likely, the voters to decide if Trump gets to be President again.