Barack Obama Continues To Vote "Present" On Same-Sex Marriage
Not exactly an example of moral leadership.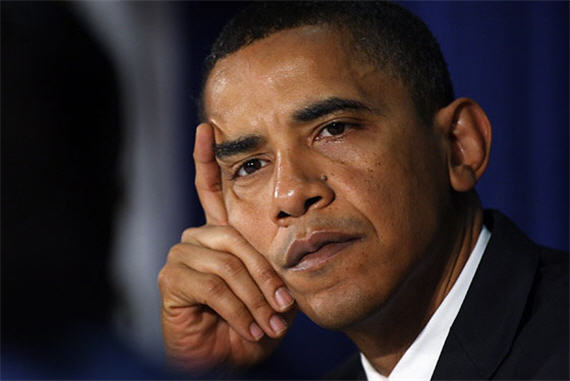 During yesterday's press conference, the President's odd kabuki dance around the issue of same-sex marriage was on full display:
After months of saying his position on same-sex marriage is "evolving," President Obama traded that language on Wednesday for comments that stopped just short of endorsing the notion that gay people have the right to marry.

But if his personal evolution is complete, Mr. Obama, who has previously opposed same-sex marriage, is not saying so.

"I think what you're seeing is a profound recognition on the part of the American people that gays and lesbians and transgender persons are our brothers, our sisters, our children, our cousins, our friends, our co-workers, and that they've got to be treated like every other American," Mr. Obama said at a news conference. "And I think that principle will win out."

The president went on: "I think we're moving in a direction of greater equality and — and I think that's a good thing."

Mr. Obama used those same words — "a good thing" — to describe the debate that led to last week's passage of a law making same-sex marriage legal in New York.

But when asked if he personally supported such marriages, the president demurred. "I'm not going to make news on that today," he said.

Mr. Obama later held a Gay Pride reception at the White House on Wednesday evening, where he did not address the issue directly. Dan Savage, a columnist who arrived with his husband, wore a button that said "evolve already."
You can see a great example of just how much Obama is trying to play Artful Dodger on this issue in this clip from yesterday:
Dana Milbank is as frustrated as Dan Savage quite obviously was:
At the core of Obama's stance is a logical inconsistency: He believes gay Americans should be fully equal under the law, but by opposing gay marriage he supports a system that denies same-sex couples some 1,300 federal rights and benefits that married couples receive. The civil unions Obama favors as an alternative have little meaning in federal law.

Few questioned Obama's (or Clinton's) civil-union dodge during the 2008 presidential campaign, because gay marriage was politically impossible in most parts of the country. But the vote by the New York legislature — including the Republican-controlled Senate — and national polling have shown that marriage equality, though still politically difficult, is within reach.

For Obama, this is less about the issue than about leadership. Even if he backed gay marriage, it wouldn't become legal without Congress rewriting the federal definition of marriage, which currently demands "a legal union between one man and one woman." But if Obama really believes, as he says, that a class of Americans is suffering unconstitutional discrimination, you'd think he would take a stand as a matter of principle. Instead, to borrow a phrase one of his advisers applied to the administration's Libya policy, the president is once again "leading from behind."
In a piece written before the press conference, Andrew Sullivan defends the President against charges that he's been too timid on this issue:
Some now want this president to be Andrew Cuomo, a heroically gifted advocate of marriage equality who used all his skills to make it the law in his state. But the truth is that a governor is integral to this issue in a way a president can never be. Civil marriage has always been a state matter in the US. That tradition goes all the way back; it was how the country managed to have a patchwork of varying laws on miscegenation for a century before Loving vs Virginia. The attack on this legal regime was made by Republicans who violated every conservative principle in the book when they passed DOMA, and seized federal control over the subject by refusing for the first time ever not to recognize possible legal civil marriages in a state like Hawaii or Massachusetts. Defending this tradition is not, as some would have it, a kind of de facto nod to racial segregation; it is a defense of the norm in US history. And by defending that norm, the Obama administration has a much stronger and more coherent case in knocking down DOMA than if it had echoed Clinton in declaring that the feds could dictate a national marriage strategy.
Sullivan's point is well-take. He also points out that this President also ended Don't Ask, Don't Tell, ended the travel ban on  people who are HIV positive and, announced that his Administration would not defend DOMA's Section Three because they believed it to be unconstitutional.  So the argument that he has abandoned a constituency that was behind him from the start really doesn't hold water. Nonetheless, it's the President who has brought this on himself. He's said that his position on same-sex marriage is "evolving," as if this is some kind of science experiment. More recently, though, he's started using rhetoric about equality that makes you think that the next thing that will come out of his mouth will be "…..and that's why I fully support the right of gays and lesbians to legally marry the person of their choice." Instead, you get the dodging.
Is it pure political cyncism, or is it another example of his inability to be a leader?
I'm not sure I know the answer to that question, but it's pretty clear that it's phony. At this point, I don't think anyone seriously doubts that, in his heart of hearts, Barack Obama supports same-sex marriage, but doesn't want to say so publicly. That doesn't strike me as the way to act regarding an issue you believe has to do with freedom and equality, values that the President continually refer to in his speeches. What it strikes me as being, though, is plain and simple cowardice.