Baseball Legend Yogi Berra Dies At 90
A true legend has passed.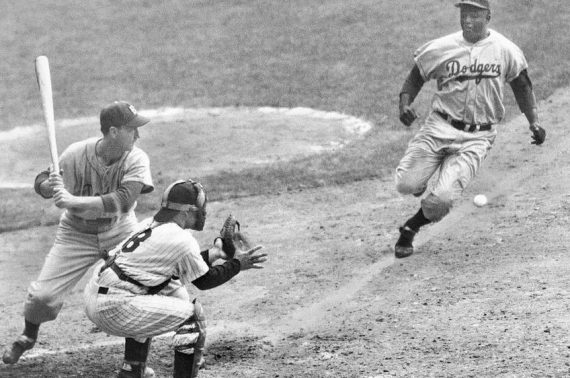 New York Yankees great and baseball legend Yogi Berra passed away last night at the age of 90:
Yogi Berra, one of baseball's greatest catchers and characters, who as a player was a mainstay of 10 Yankee championship teams and as a manager led both the Yankees and Mets to the World Series — but who may be more widely known as an ungainly but lovable cultural figure, inspiring a cartoon character and issuing a seemingly limitless supply of unwittingly witty epigrams known as Yogi-isms — died on Tuesday. He was 90.

His death was reported by the Yankees and by the Yogi Berra Museum and Learning Center in Little Falls, N.J. Before moving to an assisted living facility in nearby West Caldwell, in 2012, Berra had lived for many years in neighboring Montclair.

In 1949, early in Berra's Yankee career, his manager assessed him this way in an interview in The Sporting News: "Mr. Berra," Casey Stengel said, "is a very strange fellow of very remarkable abilities."

And so he was, and so he proved to be. Universally known simply as Yogi, probably the second most recognizable nickname in sports — even Yogi was not the Babe — Berra was not exactly an unlikely hero, but he was often portrayed as one: an All-Star for 15 consecutive seasons whose skills were routinely underestimated; a well-built, appealingly open-faced man whose physical appearance was often belittled; and a prolific winner — not to mention a successful leader — whose intellect was a target of humor if not outright derision

That he triumphed on the diamond again and again in spite of his perceived shortcomings was certainly a source of his popularity. So was the delight with which his famous, if not always documentable, pronouncements, somehow both nonsensical and sagacious, were received.

"You can observe a lot just by watching," he is reputed to have declared once, describing his strategy as a manager.

"If you can't imitate him," he advised a young player who was mimicking the batting stance of the great slugger Frank Robinson, "don't copy him."

"When you come to a fork in the road, take it," he said, giving directions to his house. Either path, it turned out, got you there.

"Nobody goes there anymore," he said of a popular restaurant. "It's too crowded."

Whether Berra actually uttered the many things attributed to him, or was the first to say them, or phrased them precisely the way they were reported, has long been a matter of speculation. Berra himself published a book in 1998 called "The Yogi Book: I Really Didn't Say Everything I Said!" But the Yogi-isms testified to a character — goofy and philosophical, flighty and down to earth — that came to define the man.

(…)

The character Yogi Berra may even have overshadowed the Hall of Fame ballplayer Yogi Berra, obscuring what a remarkable athlete he was. A notorious "bad ball" hitter — he swung at a lot of pitches that were not strikes but mashed them anyway — he was fearsome in the clutch and the most durable and consistently productive Yankee during the period of the team's most relentless success.

In addition, as a catcher he played the most physically grueling and concentration-demanding position on the field. (For a respite from the chores and challenges of crouching behind the plate, Berra, who played before the designated hitter rule took effect in the American League in 1973, occasionally played the outfield.)

Stengel, the Hall of Fame manager whose shrewdness and talent were also often underestimated, recognized Berra's gifts. He referred to Berra, even as a young player, as his assistant manager and compared him favorably to star catchers of previous eras like Mickey Cochrane, Gabby Hartnett and Bill Dickey. "You could look it up" was Stengel's catchphrase, and indeed the record book declares that Berra was among the greatest catchers in the history of the game, some say the greatest of all.

Berra's career batting average of .285 was not as high as that of his Yankee predecessor Dickey (.313), but Berra hit more home runs (358) and drove in more runs (1,430). Widely praised by pitchers for his astute pitch-calling, Berra led the American League in assists five times, and from 1957 through 1959 went 148 consecutive games behind the plate without making an error, a major league record at the time — though he was not a defensive wizard from the start.

Dickey, Berra explained, "learned me all his experience."

On defense, he certainly surpassed Mike Piazza, the best-hitting catcher of recent vintage — and maybe ever. Johnny Bench, whose Cincinnati Reds teams of the 1970s were known as the Big Red Machine, and Berra were comparable in offensive production, except that Bench struck out three times as often. Berra whiffed a mere 414 times in more than 8,300 plate appearances over 19 seasons — an astonishingly small ratio for a power hitter.

Others — Carlton Fisk, Gary Carter and Ivan Rodriguez among them — also deserve consideration in a discussion of great catchers, but none was clearly superior to Berra on offense or defense. Only Roy Campanella, a contemporary rival who played for the Brooklyn Dodgers and faced Berra in the World Series six times before his career was ended by an auto accident, equaled Berra's total of three Most Valuable Player awards. And though Berra did not win the award in 1950 — his teammate Phil Rizzuto did — he gave one of the greatest season-long performances by a catcher that year, hitting .322, smacking 28 homers and driving in 124 runs.

(…)

Beyond the historic moments and individual accomplishments, what most distinguished Berra's career was how often he won. From 1946 to 1985, as a player, coach and manager, Berra appeared in a remarkable 21 World Series. Playing on powerful Yankee teams with teammates like Rizzuto and Joe DiMaggio early on and then Whitey Ford and Mickey Mantle, Berra starred on World Series winners in 1947, '49, '50, '51, '52, '53, '56 and '58. He was a backup player on the championship teams of 1961 and '62. (He also played on World Series losers in 1955, '57, '60 and '63.) All told, his Yankee teams won the American League pennant 14 out of 17 years. He still holds Series records for games played, plate appearances, hits and doubles.

No other player has been a champion so often.

Lawrence Peter Berra was born on May 12, 1925, in the Italian enclave of St. Louis known as the Hill, which also fostered the baseball career of his boyhood friend Joe Garagiola. Berra was the fourth of five children. His father, Pietro, a construction worker and a bricklayer, and his mother, Paulina, were immigrants from Malvaglio, a northern Italian village near Milan. (As an adult, on a visit to his ancestral home, Berra took in a performance of "Tosca" at La Scala. "It was pretty good," he said. "Even the music was nice.")

As a boy, Berra was known as Larry, or Lawdie, as his mother pronounced it. As recounted in "Yogi Berra: Eternal Yankee," a 2009 biography by Allen Barra, one day in his early teens, young Larry and some friends had gone to the movies and were watching a travelogue about India when a Hindu yogi appeared on the screen sitting cross-legged. His posture struck one of the friends as precisely the way Berra sat on the ground as he waited his turn at bat. From that day on, he was Yogi Berra.

An ardent athlete but an indifferent student, Berra dropped out of school after the eighth grade. He played American Legion ball and worked odd jobs. As teenagers, both he and Garagiola tried out with the St. Louis Cardinals and were offered contracts by the Cardinals' general manager, Branch Rickey. But Garagiola's came with a $500 signing bonus and Berra's just $250, so Berra declined to sign. (This was a harbinger of deals to come. Berra, whose salary as a player reached $65,000 in 1961, substantial for that era, would prove to be a canny contract negotiator, almost always extracting concessions from the Yankees' penurious general manager George Weiss.)

In the meantime, the St. Louis Browns — they later moved to Baltimore and became the Orioles — also wanted to sign Berra but were not willing to pay any bonus at all. Then, the day after the 1942 World Series, in which the Cardinals beat the Yankees, a Yankee coach showed up at Berra's parents' house and offered him a minor-league contract — along with the elusive $500.

Berra's professional baseball life began in Virginia in 1943 with the Norfolk Tars of the Class B Piedmont League. In 111 games he hit .253 and led the league's catchers in errors, but he once had 12 hits and drove in 23 runs over two consecutive games. It was a promising start, but World War II put his career on hold. Berra joined the Navy. He took part in the invasion of Normandy and, two months later, in Operation Dragoon, an Allied assault on Marseilles in which he was bloodied by a bullet and earned a Purple Heart.

In 1946, after his discharge, he was assigned to the Newark Bears, then the Yankees' top farm team. He played outfield and catcher and hit .314 with 15 home runs and 59 runs batted in 77 games, though his fielding still lacked polish; in one instance he hit an umpire with a throw from behind the plate meant for second base. Nonetheless, the Yankees summoned him in September. In his first big league game he had two hits, including a home run.
Yogi Berra's first appearance in a Major League game came on September 22, 1946, just a few weeks before the season ended, and while the Yankees didn't make the World Series that year it wasn't long before they took the form of the team that dominated baseball for most of the 1950s, and Berra was a big part of that. Before he played baseball, though, Berra had served in World War II, serving as a gunner's mate on an attack transport ship during the D-Day invasion in 1944. Among his most notable achievements as a player were the fact that he caught the only Perfect Game pitched in World Series history to date. As a manager, he's the only person to take teams from both the National and American Leagues to the World Series, leading the Yankees to the championship series in 1964, and the Mets in 1973. Neither team won, but both teams took the series a full seven games.
For years after he finished his playing career, Berra remained a fan favorite at Yankee Stadium, including in the mid-1980s when he managed the team during what can charitably be called a long dry spell. That managerial stint led to a feud between Berra and Yankees owner George Steinbrenner after Steinbrenner fired Berra just 16 games into the 1984 season. Berra would not appear at Yankee Stadium again for another 15 years, when he and Steinbrenner finally buried the hatchet. From then on, Berra was a regular presence at Old Timer's Day and other special events at the stadium, and even during his last appearance at the new stadium in 2014 he was cheered as loudly as he had been in his heyday, this time by fans who most likely weren't even born when he finished his last season as a player in 1963. Berra's wife had died in 2014, though, and when Berra himself started missing appearances at the stadium that he normally would've been expected at, it seemed as though his own health was deteriorating.
As far as popular culture is concerned, Yogi Berra will probably be remembered most for his malapropisms, many of which have likely been improperly attributed to him. For baseball fans in general, and Yankee fans in particular, though, Berra will be remembered as one of the best players of his generation and, in his later years a great ambassador for the game. Even in the later years when Yogi needed a golf cart to get out to the field on Old Timer's Day, players from all generations would clamor to get a picture with him. It was always amusing to see superstars in their own right like Derek Jeter act like the kid who just saw their favorite baseball player. It was also always clear that Yogi loved the game, and didn't really mind the attention. He'll be missed everywhere in baseball, but in the Bronx most especially.