Beer Don't Get No Respect
Why does wine get so much more written treatment than beer?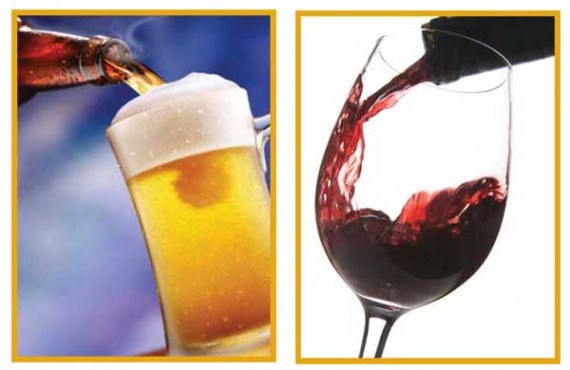 When I saw the headline, "The Problem With Guides to Beer Drinking: There Just Aren't Enough" on The Atlantic's Twitter feed, I was wondering which antecedent the enough referred to: guides or beer drinkers? Author Clay Risen argues it's the former:
America is a beer-drinking country — we consume about 10 times as much per capita as wine — but you'd never know it from the state of beer-related journalism. Most newspapers have a wine columnist, but few have a part-timer for beer; the New York Times turns to its wine writer, Eric Asimov, for the occasional write-up. That's not to say there aren't great beer writers, or great beer magazines, books, and blogs. But compared with wine, they're few and far between — and, to put it as kindly as possible, not exactly aimed at the mainstream, non-beer-obsessed public.

This is a problem, especially during the current craft-beer renaissance. Newcomers to wine can follow a reliable guide like Asimov or the Wall Street Journal's Lettie Teague; good luck finding their equivalents (i.e., deeply knowledgeable but layman-accessible) in the world of beer. And while it's possible to find entire shelves of authoritative books on the Napa wine scene or the history of cabernet sauvignon, anyone looking for a comparable resource on brown ales or wet-hopping will find, at best, an ever-changing Wikipedia page.
What follows is a discussion of a newly published Oxford Companion to Beer. What's more interesting to me, though, is the question implicit in Risen's setup: Why does beer get such short shrift compared to wine?
While most will likely point to the snob factor associated with wine, I'd guess that it's a related issue: that wine is so much more expensive than beer. It's not so much that wine's high cost and therefore relative exclusivity supports a snobbish interest in writing about it but rather that beer's relative affordability makes reading about it less necessary.
At the retail level, a decent pinot or cabernet is very difficult to find under $20 a bottle and it's not at all hard to spend $100 if one is so inclined. (For the record, I am not. Somewhere around $35 is all I'm willing to spend at retail; one naturally adjusts somewhat in a restaurant.) At those prices, most of us are deterred from grabbing a random bottle based on a scan of the label. Instead, various wine ratings and the like are looked to for clues.
Conversely, where there are high alcohol and boutique beers that are ridiculously expensive, most of us can find a very wide variety of interesting beers in the range of $8 to $15 for six bottles. Even at the bar and restaurant level, beer is typically between $5 and $8 a pint. So, most of us are willing to risk disappointment in trying new beers and will leap based on nothing more than what category of beer it is and "I've never had that one before."