Paul Ryan's $350 Wine v. John Edwards' $400 Haircut
So, apparently, Paul Ryan has expensive tastes in wine.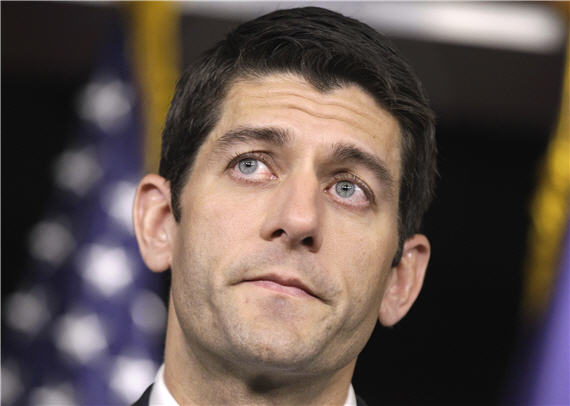 So, apparently, Paul Ryan has expensive tastes in wine.
Susan Crabtree for TPM ("Rep. Ryan Tastes The Grapes Of Wrath"):
Rep. Paul Ryan (R-WI), a leading advocate of shrinking entitlement spending and the architect of the plan to privatize Medicare, spent Wednesday evening sipping $350 wine with two like-minded conservative economists at the swanky Capitol Hill eatery Bistro Bis.

[…]

Susan Feinberg, an associate business professor at Rutgers, was at Bistro Bis celebrating her birthday with her husband that night. When she saw the label on the bottle of Jayer-Gilles 2004 Echezeaux Grand Cru Ryan's table had ordered, she quickly looked it up on the wine list and saw that it sold for an eye-popping $350, the most expensive wine in the house along with one other with the same pricetag.

Feinberg, an economist by training, was even more appalled when the table ordered a second bottle. She quickly did the math and figured out that the $700 in wine the trio consumed over the course of 90 minutes amounted to more than the entire weekly income of a couple making minimum wage.

"We were just stunned," said Feinberg, who e-mailed TPM about her encounter later the same evening. "I was an economist so I started doing the envelope calculations and quickly figured out that those two bottles of wine was more than two-income working family making minimum wage earned in a week."

She was outraged that Ryan was consuming hundreds of dollars in wine while Congress was in the midst of intense debates over whether to cut seniors' safety net, and she didn't know whether Ryan or his companions was going to pay for the wine and whether the two men were lobbyists. She snapped a few shots with her cell phone to record the wine purchase.

[…]

The clash became especially heated when Feinberg asked the men if they were lobbyists.

"F—- her," one of them replied and stood up in a menacing way, according to Feinberg's account. Feinberg said her husband then "puffed out his chest" in response before the manager and a waiter came over and Feinberg decided she had said her piece and it was time to leave.

Ryan does not dispute most of the details of Feinberg's account, although he told TPM the two men are economists, not lobbyists, and characterized Feinberg as "crazy" and possibly drunk. For her part, Feinberg said she believes the economist at the table who got out his seat to challenge her was the one intoxicated.
So . . . this woman interrupts a private dinner to snap pictures of their wine bottle and then berate them over who they were? "Crazy" is certainly one word for it.
TPM caught up with Ryan after a vote outside of the Speaker's lobby. In further explaining his side of the story, Ryan said he only had one glass of wine out of the two bottles but decided when it came time to pay the bill that he should pay for one of the bottles of wine out of an abundance of caution. He even produced the receipt for the meal, which you can view here. The receipt shows a charge to Ryan's credit card for $472 — $392 for his meal and the bottle of wine and a generous $80 tip.

"I didn't order – they ordered," Ryan told TPM. "I had one glass, uh, with my water, and when [Feinberg] was talking about how expensive it was, I didn't even know [the price]."
Ryan's version of events strikes me as quite plausible. He's having dinner with some people on expense account, they order the most expensive bottle of wine in the house, and then a second. Certainly, two bottles of wine isn't out of the question when multiple people are having dinner. Because of Congressional lobbying rules, he chips in to avoid exceeding the gift limit and is shocked to see how much the wine was.
Ryan: "I think it's stupid to pick up that much for a bottle of wine under any circumstance."

TPM: But you had to pay for it…

Ryan: "Yeah, I was like this is ridiculous. Who buys wine that expensive? It surprised me, and I think it's stupid under any circumstance to pay anything close to 100 dollars for a bottle of wine.
The Atlantic's Josh Green, though, sides with Feinberg here and brings up a familiar parallel.
Remember John Edwards's $400 haircut? That turned out to be quite a problem for him. It looks like Paul Ryan is about have a similar problem on his hands.

[…]

If there's any justice in the world, Ryan ought to get at least as much grief for this as Edwards got. And if I were President Obama's adviser, I'd suggest that he add $350 wine to that line about Republicans defending corporate jets and hedge-fund fat cats.
Aside from outrageous price tags, the two incidents have next to nothing in common.
First, Edwards' haircuts were being paid for (as it turns out, along with a lot of other things) out of campaign funds. Ryan's wine was paid for by Ryan out of personal funds. (Indeed, if he only had one glass, he also paid for three glasses of his companions' wine.)
Second, Edwards' $400 haircut story had so much traction because it reinforced the image that he was less than the manliest of men and spent far too much time caring for his pretty hair. What's the parallel here? Republicans like wine?
Third, the "looks bad" factor is somewhat different. Edwards' whole campaign was based on how he'd come up from poverty as the son of a mill worker and had spent his life fighting for the little man. A $400 haircut rather undercuts the everyman image. Yes, Ryan is proposing draconian cuts in federal programs for the less fortunate. So there's a natural "well, that's easy for you to say, Mr. I Can Spend $472 For One Meal" factor. But there's nothing hypocritical about it unless his expensive wine is on the taxpayer's dime.