Bernie Sanders Is Either Delusional, Or He's Lying To His Supporters
Bernie Sanders is continuing to let his supporters believe he has a chance to win the Democratic nomination. He is either delusional, or he is lying to his supporters.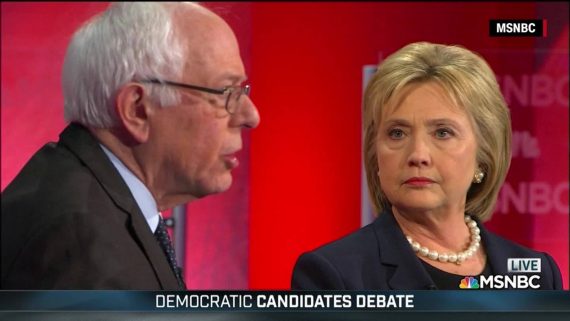 Before the night is over on Tuesday night, Hillary Clinton will have garnered enough delegates to win the Democratic Presidential Nomination on the first ballot, but don't tell that to Bernie Sanders, who is vowing that the Philadelphia convention will be a 'contested convention':
LOS ANGELES — Bernie Sanders urged news organizations on Saturday to hold off on declaring a victor in the Democratic presidential race following Tuesday's primaries and vowed to soldier on to the party's convention in July.

Sanders comments come as his rival, Hillary Clinton, is poised to effectively clinch the nomination following the close of the polls Tuesday in California, New Jersey, and four other states.

But the Vermont senator insisted that the delegate count is fluid. And he expressed confidence that he could persuade some "super delegates"— the party leaders who are not locked into voting for a particular candidate — to peel away from Clinton in the "six long weeks" before Democrats gather in Philadelphia.

"Now, I have heard reports that Secretary Clinton has said it's all going to be over on Tuesday night. I have heard reports that the media, after the New Jersey results come in, are going to declare that it is all over. That simply is not accurate," Sanders said at a news conference here.

Sanders then added, with emphasis, that the "Democratic National Convention will be a contested convention."

Sanders's defiant analysis served as a kickoff for a whirlwind day of campaigning throughout the Los Angeles area. He later made an unannounced stop at Echo Park to shake hands with weekend revelers and held a town-hall meeting that focused on immigration policy.

Sanders ended the day at the Los Angeles Memorial Coliseum, where he spoke beneath the stadium's famed Olympic flame, which fluttered in the wind above a crowd of more than 13, 000.
Reality, of course, is far different from the fantasies that Bernie Sanders is feeding to his supporters. As thing stand right now, Hillary Clinton is within less than 100 delegates of clinching the nomination. This includes both the 2,323 delegates included in the RealClearPolitics Delegate Count, the delegates that are likely to be awarded to her as a result of her overwhelming win in yesterday's Virgin Island Caucuses, and the delegates she is likely to win as a result of today's primary in Puerto Rico. The final victory that is likely to put her over the top will be her expected win in New Jersey on Tuesday night, where her current overwhelming lead in the polls indicates that she is likely to win the substantial portion of the 161 Garden State delegates up for grabs.  Yes, this will include both pledged delegates that Clinton has won during the course of the campaign and the the roughly to-date 547 "Superdelegates" that have pledged to support Clinton at the convention. Theoretically, it is possible that some portion of these "Superdelegates" could change their mind between now and July, but the odds that they are going to back anyone other than the person who has earned the most popular votes, won the most delegates, and won the most states are exceedingly low to say the least.
Given all of this, it would be absurd for the news networks to ignore the fact that Hillary Clinton has passed the milestone she needed to in order to become the first female nominee for President of a major American political party. The numbers will be right there in front of their faces and not making note of it would be absurd under the circumstances. Granted, we may see the networks be cautious about making such a call early in the evening given the fact that California's polls will remain open for several hours after New Jersey's close, as will the polls in North Dakota, South Dakota, Montana, and New Mexico. However, if it is clear that Hillary Clinton has surpassed the threshold needed to win the nomination then the media is going to acknowledge that fact at some point during the evening, and most certainly after the night is over regardless of the outcome in the remaining states.
Notwithstanding all of this, Sanders continues to insist that he can still win the nomination by persuading some percentage of the "Superdelegates" supporting Hillary Clinton to switch their support to him, but even the idea that a small number of them would do so is an absurd idea that's barely worth entertaining. Even if Sanders manages to pull off a win in California on Tuesday, something that appears to be increasingly unlikely given that Hillary Clinton continues to hold at least a marginal lead in the Golden State. A Clinton loss in that state won't look good, obviously, but it's also not going to matter when it comes to determining who the nominee will be, and in the end that's all that matters.
It's understandable on some level why Sanders is saying these things. His campaign has come a long way, and accomplished far more than most analysts and pollsters expected that he would. Keeping up the current level of enthusiasm through Tuesday, or through next Tuesday's primary in the District of Columbia, would be difficult for Sanders to do if he admitted defeat. At the same time, though, claiming that you are going to pursue a contested convention when it's already clear what the outcome is going to be is nothing short of delusional, and if Sanders already knows this then he is outright lying to his supporters and giving them hope where no real hope exists. Additionally, the longer he holds out from endorsing Clinton and working to heal the rift between his supporters and hers the more he risks damaging Democratic chances in the fall and the less influence he's likely to have vis a vis the issues he claims to care about.
The ball is in your court Senator, what to do with it is your choice.