Birx: Wear a Mask 'Even with Family'
Confusing advice is unlikely to be heeded.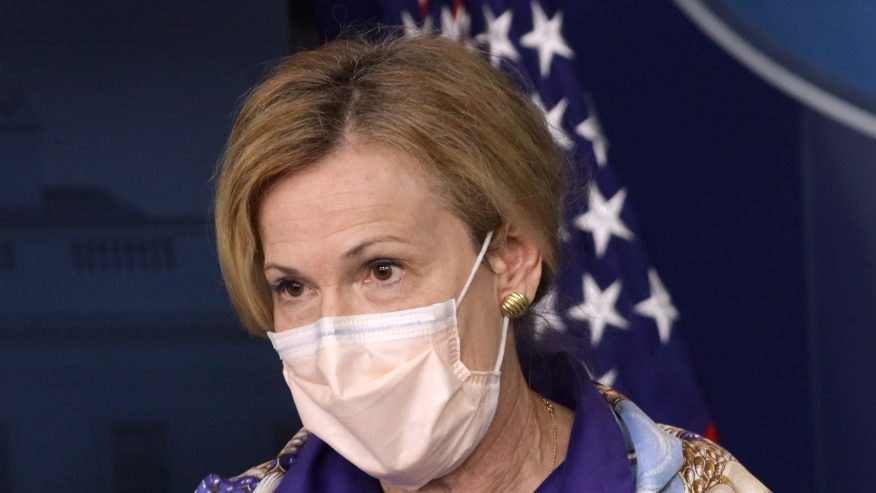 Dr. Deborah Birx, who is coordinating the US Federal Government's response to the pandemic, is mixing some confusing advice in with a reminder to keep our guard up.
CNN ("The US just topped 6 million coronavirus cases in about 7 months. What happens next is up to you, Birx says"):
Many Americans are fed up with this pandemic, and some have let their guard down – especially when spending time with friends or family.

But that's the opposite of what needs to happen, said White House coronavirus task force coordinator Dr. Deborah Birx.

"We know we can't always be perfect. We know that we'll put this message out about private gatherings and something will happen and you'll realize you have been in a situation, you've been around people, you didn't have your mask on," Birx said."

That is the time to make sure you're protecting others in your household and around you by wearing a mask when you're around them, even if they're family."

Birx urged Americans to take personal responsibility, especially if they want to help keep economies open."Right now, we gain freedom through wearing our masks and socially distancing," she said.
The general advice is sensible and comports with my understanding. While I've slowly taken more risk in going out over the weeks that Virginia has phased out the lockdown, I'm still wearing my mask when out in public and trying to practice social distancing. We started back up at school last week and we're taking prudent measures there as well.
But the notion that we're supposed to wear a mask "even with family" is confusing. I've searched a bit and have been unable to find a transcript of her full remarks, including on the State Department website. One hopes and presumes she means family members who aren't part of one's household but it's not being reported that way in the press.
It's bad enough that we're getting awful messaging from the President and that he's pressuring even the CDC to issue unhelpful guidelines. But Birx seems to be trying to do the right thing here. She needs to make sure her messaging is crystal clear.