Why are Masks Political?
Leadership matters (as does culture).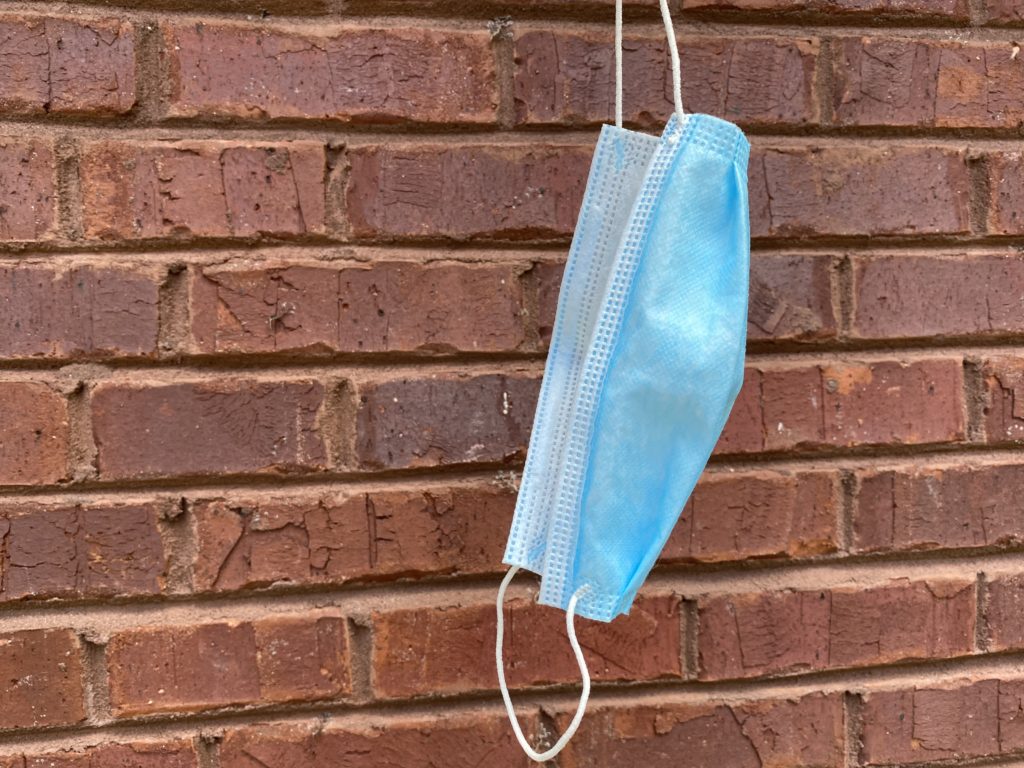 In recent weeks I have had more than one conversation, both in-person and online, with friends, family, and colleagues about mask-wearing. Quite frequently someone will say something to the effect of "I don't understand why this has to be political." Setting aside that to a political scientist the first thing that comes to mind when someone says something along those lines is "everything is political," let's look at two variables: culture and leadership.
Without a doubt, the fact that American political culture is fiercely independent often in a very simplistic "you can't tell me what to do" kind of way is a major contributor. Examples of this that are quite well-known and also analogous to mask-wearing are using seat belts and wearing bicycle and motorcycle helmets.
To go anecdotal before sharing data, I recall when seat belt laws were going into effect in the 1980s that my grandparents would gripe incessantly about having to use them. Early on they would just drape them over their arms or laps to make it look like they were wearing them in case the police saw them (so as to avoid a ticket). Later, when the shoulder strap was unavoidable they would clip it in such a way as to relieve the unbearable pressure of the strap across their body (and in a way that made the passive restraint system essentially pointless). They would regale us with tales of people who crashed into lakes and drowned because they couldn't get out of their seat belts or others who would have lived had they just been thrown free of the car (exactly why I can't recall–perhaps it was on fire).
Those attitudes were pretty prevalent at the time. Note the following from a 2013 book by Coons and Weber:
In the 1980s, for instance, the initial introduction of seatbelt laws in various states elicited objections and grassroots movement against the policy…In the early 1980s, only about 25 percent of Americans supported fines for riding without seatbelts…

Source: Coons, Christian and Michael Weber. 2013 Paternalism: Theory and Practice. Cambridge: Cambridge University Press, p 213.
The passage goes on to note that by 1988 support was at 54% and was at 87% in a 2005 poll.
A National Highway Traffic Safety Administration study from 2008 tells a similar tale in terms of usage: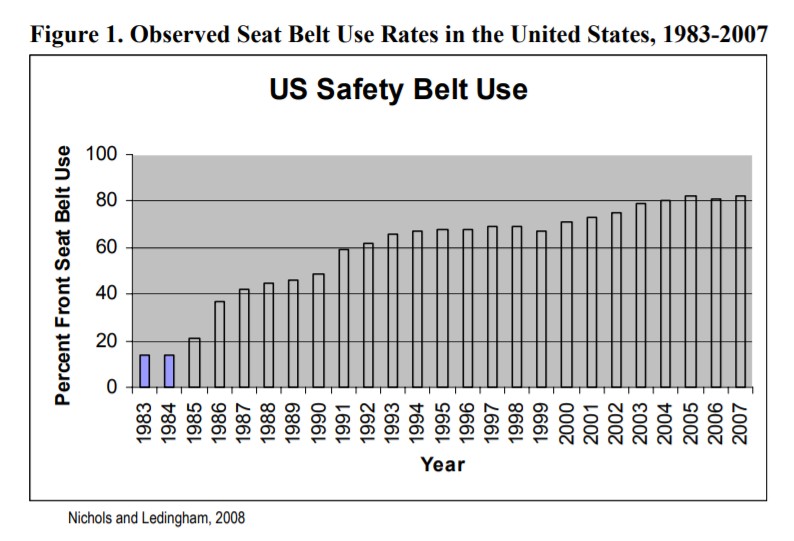 It should be noted that both changes in attitude and practice came about as a result of a significant national consensus concerning the public health benefits of seat belts.
Although it is worth noting I found a 2002 essay (when looking for polling data) from the Foundation for Economic Education that claimed such laws "infringe a person's constitutional rights" and contains this passage which sounds very much like my grandparents' laments:
While seat-belt use might save some people in certain kinds of traffic accidents, there is ample evidence that in other kinds, people have been more seriously injured and even killed only because they used seat belts. Some people have been saved from death in certain kinds of accidents only because a seat belt was not used. In those cases, the malicious nature of seat-belt laws is further revealed: such persons are subject to fines for not dying in the accident while using a so-called safety device arbitrarily chosen by politicians.
No specific evidence is given, by the way. And the above also resonates with some anti-mask folks who claim, sans basis or evidence, that masks represent unspecified health risks.
Back to the FEE seat belt rant:
The state has no authority to subject people to death and injury in certain kinds of traffic accidents just because it hopes others will be saved in other kinds of accidents merely by chance. The state has no authority to take chances with a person's body, the ultimate private property.
Echoes of current objections to masks can be heard in the above.
Meanwhile, back to the NHTSA study:
NHTSA's most recent estimates are that lap/shoulder belts reduce the risk
of fatal injury to front-seat passenger car occupants by 45 percent and the risk of moderate-to-critical injury by 50 percent (NHTSA, 2007b). Seat belts are even more effective for light-truck occupants, reducing the fatality risk by 60 percent and the moderate-to-serious injury risk by 65 percent. In 2006, seat belts saved an estimated 15,383 lives of vehicle occupants age 5 and older (NHTSA, 2007b). Shinar (2007) summarizes 9 original studies on belt effectiveness.
At any rate, one could replicate complaints about "freedom" in regards to motorcycle and bicycle helmet alongside empirical proof that such laws reduce injuries and save lives.
Of course, mask-wearing is less about keeping the mask wearer safe as it is a broader goal of reducing transmission of the virus that causes Covid-19. It is perhaps, therefore, more analogous to campaigns that started in the 1970s to stop people from smoking in public and to the basic elimination of smoking sections in planes, restaurants, and other public settings on the predicate that not only is smoking bad for the smoker, but it is also bad for the non-smokers who have to breathe smoke-tainted air. Those of us of a certain age will immediately know the jingle that goes along with the phrase "you mind very much if they smoke."
All these examples are public health policies that required some level of infringement of personal liberty in public. Wear a seat belt on public roads, ditto helmets when riding on public streets, don't smoke in public places (in all cases, do what you want on private property). And in all cases, it took substantial leadership and consensus to achieve. And in all cases the infringement on "personal liberty" redounded both the benefit of the person being infringed as well as to the general public by cutting down on the various social costs created by those behaviors.
But, of course, that is what public health measures are all about (as is governing in general): balancing personal choice and public benefits.
Side note: being an adult should mean understanding that life isn't all about you.
And that brings us to masks and this current moment. Based on the above trip down memory lane, it should not be a surprise that some significant portion of Americans would object to being told to wear masks regardless of who was telling them.
All of the items above were based on the scientifically demonstrated public health benefits of each policy. They were also backed by massive public service campaigns and had the support of substantial numbers of political leaders. Of course, on the flip side, there was also plenty of political opposition and some of these changes took decades to fully achieve (e.g, the American Heart Association was singing about minding people smoking in the early 70s, but deep changes to smoking in workplaces and other public locales did not fully come into play until the 90s, if not later in some isolated cases).
This context of resistance to being told what to do means that for mask-wearing, social distancing, and other Covid-19 mitigation behaviors to be successful we need significant, responsible, and focused leadership, especially at the federal level. This is especially true in an era of intense partisan polarization.
Indeed, the question really isn't "why are masks political" but rather why are they partisan?
Note the following from Pew Research: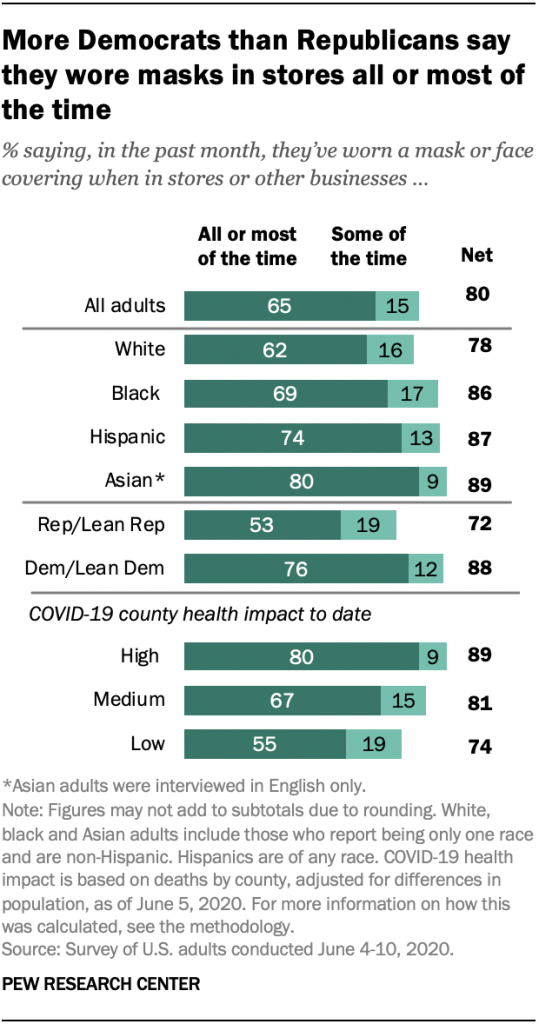 The answer to "why are masks partisan?" has multiple facets. To be fair, the GOP is more likely to have libertarian-leaning folks, or simply those who don't trust government/don't like to be told what to do. Likewise, Democrats see themselves, in the main, as being pro-science, and therefore more likely to comply with what they perceive as science-based arguments (setting aside whether that is true or not, it certainly is the self-perception of Democrats, and it clearly influences behavior). Also, the fact that Covid-19 outbreaks were more prevalent in urban, and therefore more Democratic, locations also could have some explanatory effects (and probably other variables I have not considered).
But, of course, in the context of all of that is the simple fact that the leader of the GOP, Donald Trump, has not taken this pandemic seriously.
A simple illustration just from yesterday makes the point: Trump held an event at Mount Rushmore that did not require masks nor social distancing. Further, he made only a passing reference to "the virus" without any reference to the fact that the country has been registering record daily cases.*
The message that Trump sent to the nation yesterday was clear: enjoy the Fourth of July as per normal. Gather in large crowds without protection or mitigation procedures. Indeed, let's all collectively ignore the increase in cases. Move along, nothing to see here.
His events in Tulsa, OK and Arizona sent the same message.
That is an utter failure of leadership.
It is an abdication of responsibility.
I am a college dean at a modest-sized regional university. I know that I have to model the behavior that I think is appropriate on campus and that I have to actively support good public health procedures. It helps support the actions of those who are already on board with such rules and encourages the skeptical to participate. If come the Fall students see me in the hallways sans mask, what signal am I sending?
If I, given my relatively minor leadership role, have a responsibility to model certain behaviors, how much more significant is it for the President of the United States to be cognizant of his public actions? Everything he does sends a signal, whether he likes it or not (or cares or not).
I noted this back in March when I observed that Trump was clearly not going to model social distancing at his daily briefings.
Indeed, Trump has never taken the pandemic seriously.** He has decidedly not promoted mask-wearing or mitigation save in passing. Indeed, not only has he barely worn a mask, he has avoided being photographed wearing on. He does not practice social distancing. He does not signal any seriousness about the pandemic at all.
So when we ponder why mask-wearing has become so partisan the answer is that the ground was already fertile for such a response by many Americans, but that the utter failure in leadership exhibited by the president has made it several orders of magnitude more so. Trump sent signals to Republicans governors as to how to behave, and they followed suit often creating conflicts with mayors and county-level leaders trying to mitigate the spread of the virus.
To that point, and as per the Pew chart above, the partisan effects have been clear from the beginning. James Joyner wrote about it early on in March, Coronavirus Has Been Politicized to Dangerous Effect, and I noted how it affected state-level responses in early April: Partisan Effects on Response to Covid-19.
As a time when we need a unifying leader we got nonsense and confusion. Instead of a national campaign to attack the pandemic, we were given hundreds of different voices. And hence, as I noted recently, we got the downside of American exceptionalism:
That graph represents, among other things, an utter failure of leadership. It is not a coincidence that the US and Brazil lead the world in total cases, as both countries have leaders who have not taken the pandemic seriously.*** In terms of cases per million population, the US is 13th and Brazil 16th as of this writing (all from Worldometer). If you look at at least moderate-sized countries with a population of at least five million, the US is only behind Chile and Peru and Brazil is right after the US.
Leadership matters and the entire approach to the pandemic by the Trump administration has been an objective failure. And part of that failure has been heavily contributing to the politicization of the disease in general, and to mask-wearing specifically.
This means that we are in this for the long-run, which is not comforting.
---
*Based on transcripts at the White House web site, C-SPAN and Rev.com, I cannot find any references to "coronavirus," "Covid-19," "pandemic" or even things like "invisible enemy," "Wuhan virus," or "Kung Flu." Instead, the best I could find was this lone reference at the 2:52 mark: "Let us also send you our deepest thanks to our wonderful veterans, law enforcement, first responders, and the doctors, nurses, and scientists working tirelessly to kill the virus."
**Here are a dozen posts on that topic:
***In regards to Brazil, I recommend The Daily from July 2: "What Went Wrong in Brazil."