Partisan Effects on Response to Covid-19
Leadership matters (as does sources of news).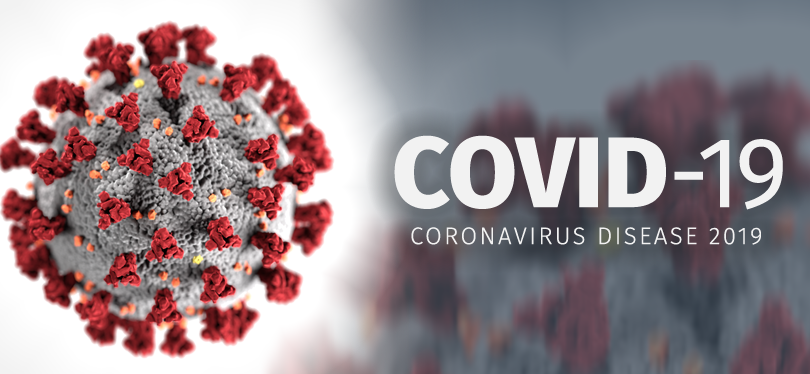 A little less than a month ago, James Joyner wrote a post (Coronavirus Has Been Politicized to Dangerous Effect) that noted that a survey that seemed to indicate partisan differences in the response to the pandemic (specifically in regards to personal hygiene). The basic thesis was that it appeared that self-identified Democrats were responding with more seriousness that Republicans and that this was due to a combination of media diet and how leaders from the two parties were responding. This led to some heated discussion in the comments section.
I am not going to pretend to be able to comprehensively address the question of partisan effects on behavior in a simple blog post, but I will note that there is a substantial amount of evidence that indicates that, yes, partisanship has clearly been an important factor in the response to this pandemic.
For example, it appears to be the case that many Republican politicians (especially governors) have been less willing to engage in measures that would slow the spread of the virus–and this seemed to be especially true during the period that President Trump was either downplaying the disease or making promises about reopening the economy quickly (a simple example would be Texas Lt. Gov. Patrick's weird declarations about sacrificing the elderly just over a week ago).
My own governor, Kay Ivey of Alabama, who has at least closed face-to-face instruction for public schools and has closed non-essential businesses, has resisted going to shelter-in-place. As she stated a week ago today:
Gov. Kay Ivey said Thursday she had no plans to issue a stay at home or shelter-in-place order any time soon.

The governor made a similar statement on a call for reporters on Monday and said she was working in consultation with public health experts "to determine the best course for Alabama.

"Y'all, we are not Louisiana, we are not New York State, we are not California," she said. "Right now is not the time to order people to shelter in place."

Source: "Coronavirus: Ivey says 'right now is not the time' for Alabama-wide shelter-in-place order" The Montgomery Advertiser
But, of course, WaPo noted the next day with the not especially comforting headline: "Alabama governor won't issue stay-at-home order because 'we are not California.' By population, it's worse."
There is also the problem of wanting to avoid being Louisiana or New York and how to accomplish that feat.
The following is still quite stunning:
After resisting a statewide stay-at-home order for days, Georgia Gov. Brian Kemp (R) succumbed to the pressure and issued one on Wednesday. Part of the reason, he said, was that he had just learned some new information.

Kemp said he was "finding out that this virus is now transmitting before people see signs."

"Those individuals could have been infecting people before they ever felt bad, but we didn't know that until the last 24 hours," he said. He added that the state's top doctor told him that "this is a game-changer."

Source: "Georgia Gov. Brian Kemp, who resisted strict coronavirus measures, says he just learned it transmits asymptomatically" WaPo
I must confess that I have known about the possibility of asymptomatic transmission for at least 6 weeks (probably longer–time is hard to account for at the moment). It is stunning to me that he was not aware (and yes, I realize he could be lying here–and he could easily have dismissed this fact earlier because it did not fit into his preferences). But I have been hearing daily stories every morning on Morning Edition about this virus since its initial outbreak in Wuhan, as well as about the possibility of asymptomatic transmission the whole time, so it is utterly bizarre to me that Kemp is just now learning this.
We could also talk about the responses of other specific red state governors but will leave it at these two examples (but one could look to Florida and Mississippi for further data points).
News consumption is clearly an issue:
One difference that stands out within party is based on the media diet, particularly on the right. Among 30 news outlets asked about in an earlier survey, Republicans who got political news only from outlets whose audiences lean right politically are more likely than Republicans with other media diets to think the news media have greatly exaggerated the risks associated with the virus and to think COVID-19 was created intentionally in a lab.

Source: "Americans Immersed in COVID-19 News; Most Think Media Are Doing Fairly Well Covering It" Pew Research Center.
The most dramatic piece of evidence that deeply red state reactions have not only been different but dramatically so is this map from the NYT (the scale is hard to read, but the colors measure when average distances traveled decreased and red means it had not descread by March 26) :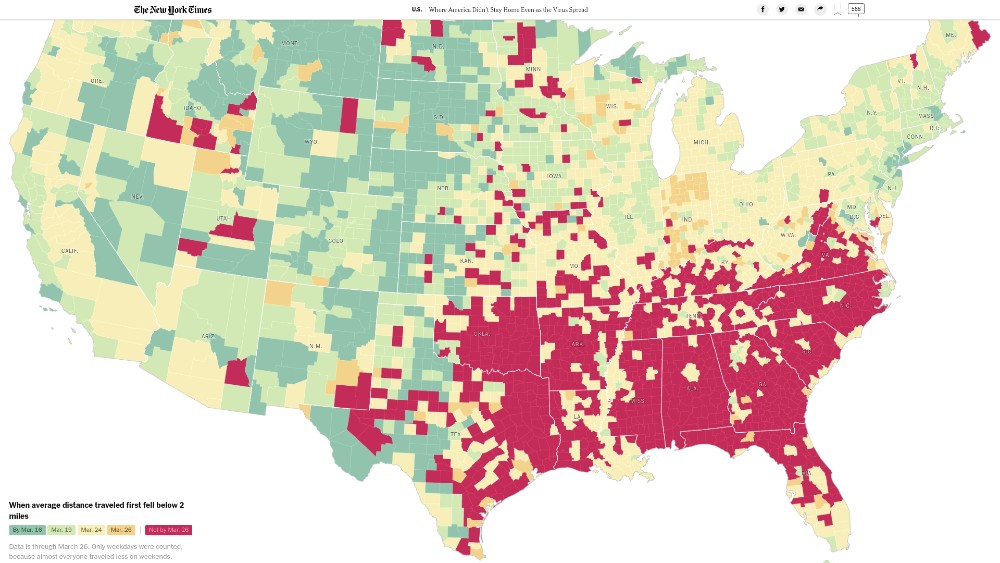 Another key map (the darker the color, the more people are closer to normal travel):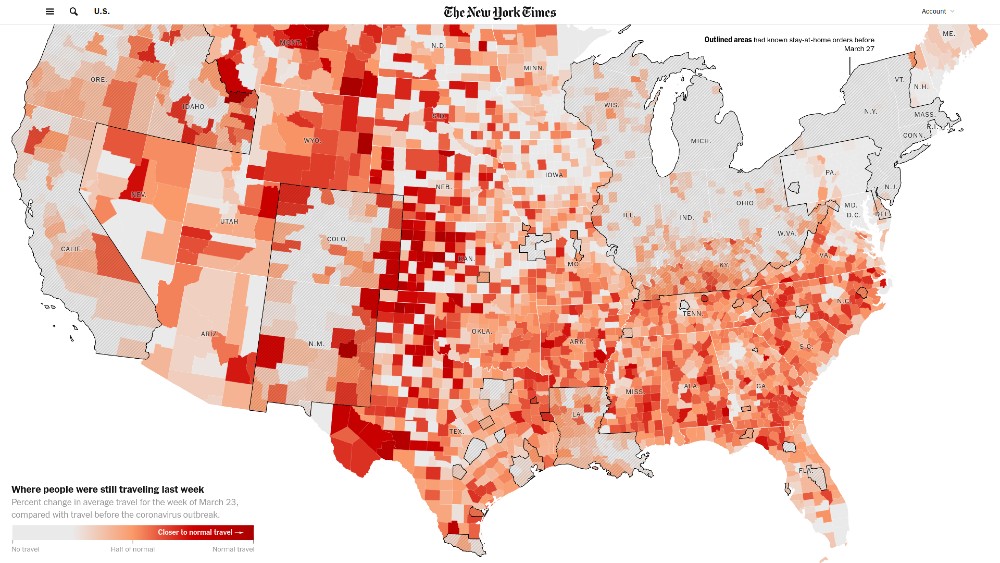 The piece is here (Where America Didn't Stay Home Even as the Virus Spread). This map honestly worries me, as it shows that in the southeastern United States we have not been taking this situation sufficiently seriously and that the consequences could be dire. I am especially concerned about Florida as they have only just now stopped normal operations (the stay at home order goes into effect today at midnight and still allows for religious gatherings to take place).
Lest anyone still needs convincing about the dangers of gatherings, please see this NYT story: Days After a Funeral in a Georgia Town, Coronavirus 'Hit Like a Bomb'.
With a population of only 90,000, Dougherty County has registered 24 deaths, far more than any other county in the state, with six more possible coronavirus deaths under investigation, according to Michael L. Fowler, the local coroner. Ninety percent of the people who died were African-American, he said.

The region's hospitals are overloaded with sick and dying patients, having registered nearly 600 positive cases. Last week, Gov. Brian Kemp dispatched the National Guard to help stage additional intensive care beds and relieve exhausted doctors and nurses.
According to a friend of mine with connections to those events, one family lost three members to the disease.
I could go on, but I think it is clear that, as we discussed a month ago, partisan filters matter and they have consequences at the moment that are of great significance.