Trump's "Joke" about Testing
The gaslighting will continue until morale improves.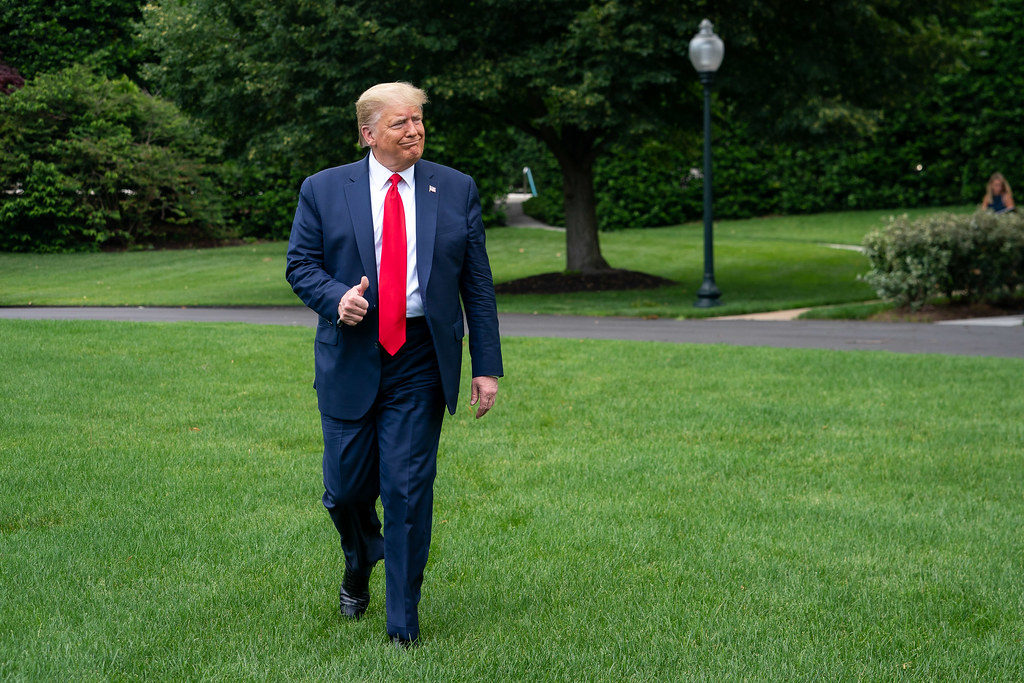 As noted in James Joyner's post about yesterday's event in Tulsa, Trump stated the following:
At his campaign rally in Tulsa on Saturday night, Trump mocked the need for coronavirus tests and called widespread testing a "double-edged sword."

"Here's the bad part," he said. "When you do testing to that extent, you're going to find more people, you're going to find more cases. So I said to my people, 'Slow the testing down, please!' "
Here's the video:
Of course, this is being played off as a "joke." Here's Peter Navarro this morning:
NAVARRO: "Come on now, Jake, you know it was tongue in cheek. That was tongue in cheek, please."

TAPPER: "I don't know that it was tongue in cheek at all. He has said similar things for months."

NAVARRO: "We've got over 30 million people unemployed and we've seen over 100,000 people die because of the China, Wuhan virus. Let's talk about some serious issues, Jake. I don't want to go there."

TAPPER: "I think that testing is a very serious issue. I'm not the one making jokes about it. You're the one that said the president was being tongue in cheek."

NAVARRO: "Come on, it was a light moment."
Now, was Trump being mocking? Yes. Did some of the crowd laugh? Yes. Do I think he ordered less testing? No, but only because he doesn't control testing (plus I never assume any of Trump's performative dialogs are actually real recitations of actual conversations).
But, more importantly, his goal here is to downplay the pandemic as well as to misuse data to try and make his administration look better.
The mocking in the full clip, such as when he describes a child this sniffles who will be better in "fifteen minutes," is clear. He is not making a joke, nor is he really making a point about policy, he is mockingly downplaying a pandemic in a way that has real consequences for public health.
And while he loves to take credit for the absolute number of tests, he does not understand (and/or hopes his audience does not understand) the difference between absolute number of tests and tests as a function of population. (Indeed, previous deployment of the term "per capita" by Trump suggest that he doesn't know what it means).
So, yes leader in number of tests: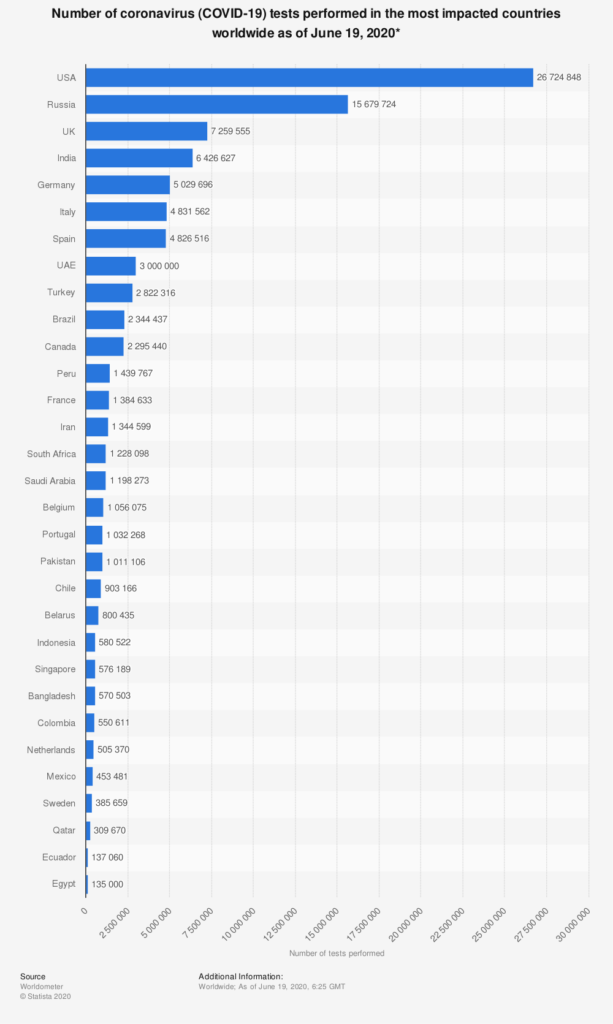 But, not in terms of per million population where we are not a world leader (when Belarus is outpacing you, you can't be deemed a world leader). Indeed, we need to do better.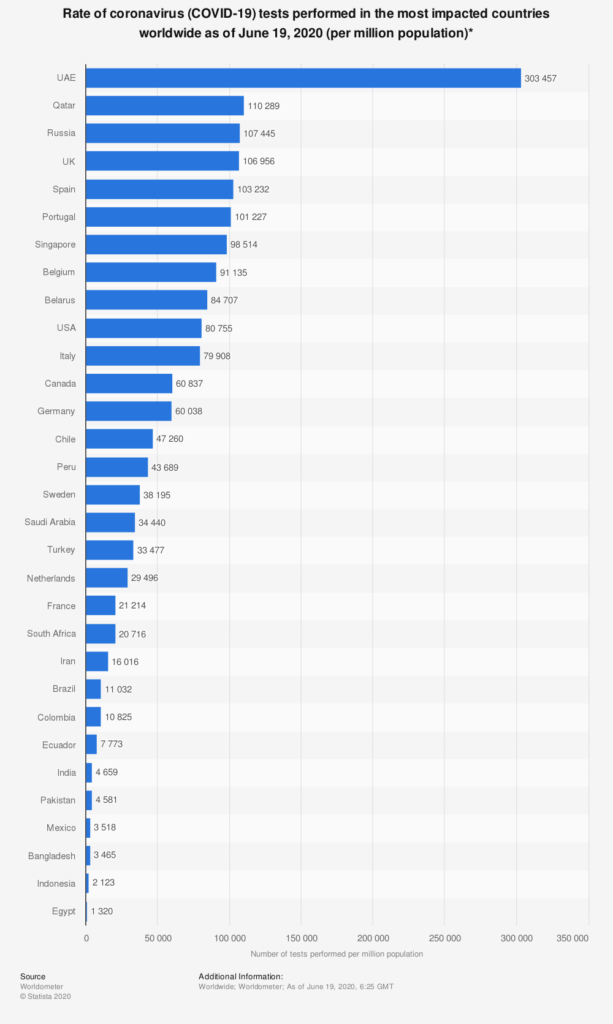 The narrative that the number of cases doesn't really matter ignores the reality that each case, whether detected or not, means the potential for spread increases.
Further, if one thinks that the virus is not as dangerous as many think, then more tests to reveal that maybe the disease is both more widespread and yet with less effect than feared would be a good thing. It other words, if we test and find out far more people have the disease than we thought, we might find out that mortality is not as bad as we thought it was or that our fears about hospital resources were unfounded.
There should be no scenario wherein we wouldn't want more testing. Indeed, if we really could determine who is infected and who isn't all of these other guidelines and practices wouldn't be necessary. The ignorance and irresponsibility here is truly something to behold.
One thing is certain: there is a narrative out there that we have more cases because we have more testing (as if that is supposed to be comforting). This has been Florida Governor DeSantis' line.
The bottom line, of course, is that cases exist regardless of testing. Testing just confirms the existence of an infection. The more we know, the more we can make better policy. What gets lost in all of this is the potential for asymptomatic spread. This isn't that hard to understand, but since Trump wants to downplay, obfuscate, and needlessly politicize the situation, we have some level of chaos on the public health scene.
Public policy matters and the lack of a unified message on how to address this challenge has consequences:
Mocking the idea of testing, downplaying the importance of detection, and engaging in crowd construction in service of ego are all highly irresponsible actions, none of which can be ascribed to leadership or even bare minimum competence.