Trump Rally Flops Bigly
The President gave a delusional rant to a half-empty stadium thanks to some crazy kids.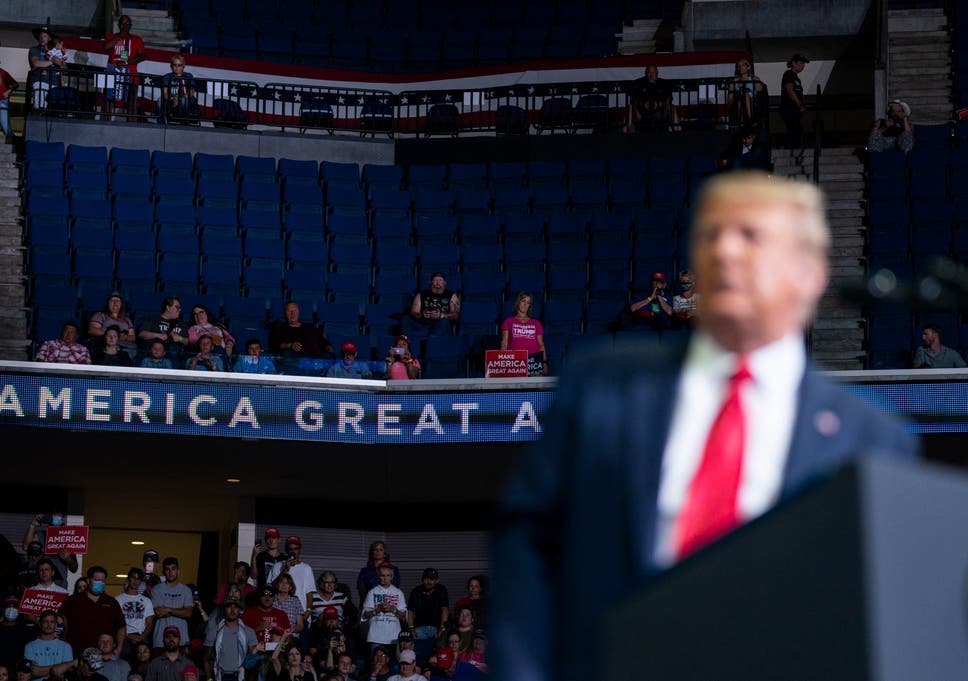 While my wife and I were watching a 2016 stand-up special by Saturday Night Live's Michael Che being promoted by Netflix, President Trump was addressing a sparse crowd in Tusla. It seems we made the right choice.
WaPo ("Trump rallies in red-state America — and faces a sea of empty blue seats"):
He threatened violence against protesters, endangered his supporters by flouting health recommendations and endured a 110-day, coronavirus-induced dry spell, but when President Trump finally stepped back onto his rally stage Saturday night in Tulsa, he saw a sea of blue seats.

The thousands of empty arena chairs, after his campaign had hyped overflow crowds and ticket requests totaling more than 1 million, symbolized the beleaguered state of Trump's presidency and of his quest to win a second term.

To a nation broken by a pandemic and a recession — and with a racial justice movement roiling communities across the country — Trump offered neither reconciliation nor rapprochement.

Instead, he put up a fight.

Trump belittled the seriousness of the coronavirus, mocked heath experts and recalled, "I said to my people, 'Slow the testing down,' " because as more tests are conducted, more infections are discovered. And the president uttered a racially insensitive term in describing the "many" alternate names for the novel coronavirus that originated in China.

With cities coast to coast pulsating in protest of racial injustice, Trump used his bully pulpit to exacerbate the chaos and division in hopes of capitalizing on the nation's fraying bonds. He condemned what he called "this cruel campaign of censorship" and, in reference to the debate over removing monuments and memorials to Confederate generals, declared: "They want to demolish our heritage. . . . We have a great heritage. We're a great country."

Trump's rallies have long been singular events in U.S. politics, but rarely have so many currents charging through the country converged as they did Saturday at the BOK Center in Tulsa. The president's appearance in Oklahoma, where coronavirus cases have surged and local officials have discouraged mass gatherings, was itself an act of defiance.

[…]

If Trump had settled on a new message for this relaunch phase of his campaign, it was difficult to discern. His 101-minute address was rambling and discordant, ranging from some of his favorite hits, such as attacks on CNN and the "fake news" to dark imagery about "Joe Biden's America" as overrun by rioters and looters to a lengthy monologue explaining his slow and unsteady walk down a ramp and two-handed sip of water last weekend at the U.S. Military Academy at West Point.

The president spun an alternate reality of the national crises over which he presides. In Trump's telling, he has been the victim against dangerous villains old and new. He portrayed presumptive Democratic nominee Biden as a hapless captive to "the left-wing mob."

Trump basked in the raucous, mask-free adulation of thousands of supporters, some of whom traveled long distances to take in the show, though the crowd filled about half of an arena that holds 19,000. The campaign built a second stage for Trump to address an expected overflow crowd of thousands, but with no attendees, the speech there was scrapped, and workers quickly got to dismantling the stage.
Apparently, the tiny crowd was at least partly the result of an epic social media "prank."
NYT ("TikTok Teens and K-Pop Stans Say They Sank Trump Rally"):
Brad Parscale, the chairman of Mr. Trump's re-election campaign, posted on Twitter on Monday that the campaign had fielded more than one million ticket requests, but reporters at the event noted the attendance was lower than expected. The campaign also canceled planned events outside the rally for an anticipated overflow crowd that did not materialize.

Tim Murtaugh, the Trump campaign's spokesman, said protesters stopped supporters from entering the rally, held at the BOK Center, which has a 19,000-seat capacity. Reporters present said there were few protests.

TikTok users and fans of Korean pop music groups claimed to have registered potentially hundreds of thousands of tickets for Trump's campaign rally as a prank. After @TeamTrump tweeted asking supporters to register for free tickets using their phones on June 11, K-pop fan accounts began sharing the information with followers, encouraging them to register for the rally — and then not show.

The trend quickly spread on TikTok, where videos with millions of views instructed viewers to do the same, as CNN reported on Tuesday. "Oh no, I signed up for a Trump rally, and I can't go," one woman joked, along with a fake cough, in a TikTok posted on June 15.

Thousands of other users posted similar tweets and videos to TikTok that racked up millions of views. Representatives for TikTok did not immediately respond to requests for comment.

"It spread mostly through Alt TikTok — we kept it on the quiet side where people do pranks and a lot of activism," said the YouTuber Elijah Daniel, 26, who participated in the campaign. "K-pop Twitter and Alt TikTok have a good alliance where they spread information amongst each other very quickly. They all know the algorithms and how they can boost videos to get where they want."
I'd seen a handful of references early in the week on Twitter to people signing up for the rally with no plans to attend but hadn't anticipated that it would be such a widespread practice. One presumes campaign staffs will learn from this and figure out how to prevent this in the future. But an epic embarrassment for a President who enjoys crowing about his "ratings" and huge crowds.