Bob Barker, 1923-2023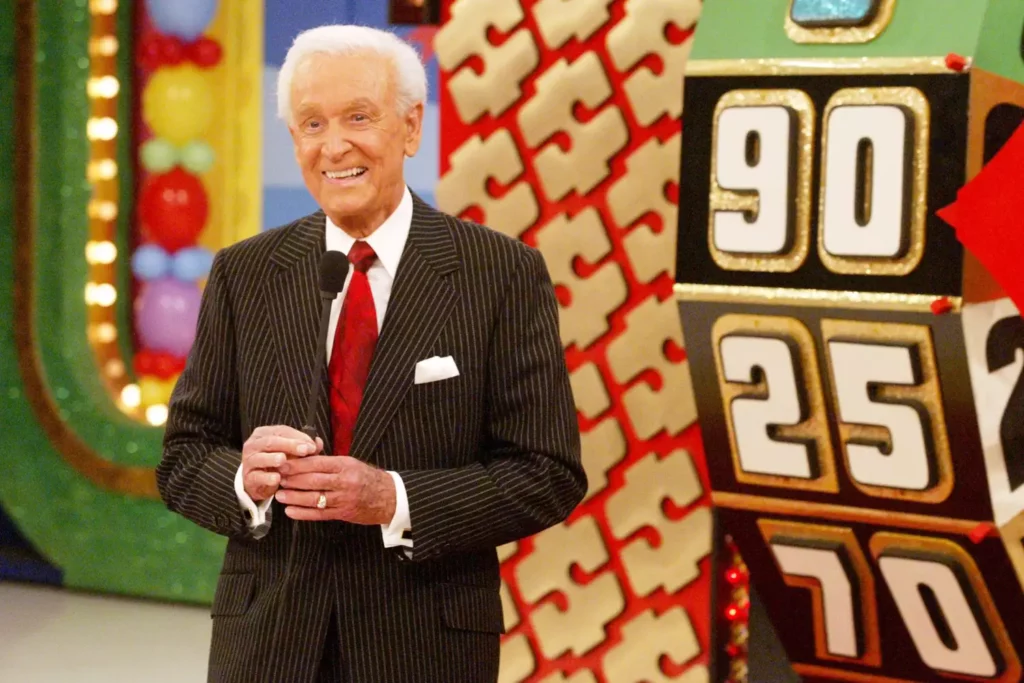 New York Times, "Bob Barker, Longtime Host of 'The Price Is Right,' Dies at 99"
Bob Barker, whose warmth and wit as the host of "The Price Is Right" for nearly four decades beckoned legions of giddy Americans to a stage promising luxury vacations and brand-new cars, died on Saturday at his home in the Hollywood Hills section of Los Angeles. He was 99.

[…]

Mr. Barker, who was also a longstanding and prominent advocate for animal rights, was a fixture of daytime television for half a century — first as the host of "Truth or Consequences," from 1956 to 1974, and, most famously, starting in 1972, on "The Price Is Right," the longest-running game show on American television.

He began his 35-year stint as host of "The New Price Is Right," as it was then known, when it made its debut on CBS as a revised and jazzed-up version of the original "The Price Is Right," which had been on the air from 1956 to 1965. (The "New" was soon dropped from the name.) He was also host of a weekly syndicated nighttime version from 1977 until it was canceled in 1980.

[….]

Mr. Barker won 14 Daytime Emmy Awards as host of "The Price Is Right" and four more as executive producer (as well as a lifetime achievement Emmy in 1999). He once said that the show had lasted as long as it did because "all our games are based on prices, and everyone can identify with that." He added, however, that he personally never knew the price of anything, and that if he were ever a contestant on such a show he would be "a total failure."

Mr. Barker was widely known for his longstanding dedication to the cause of animal rights. He quit as master of ceremonies for both the Miss USA and Miss Universe pageants in 1988 because they gave fur coats as prizes. He also protested the mistreatment of animals by their trainers on the sets of various movies and television shows. He ended every installment of "The Price Is Right" by saying: "Help control the pet population. Have your pet spayed or neutered."

Robert William Barker was born on Dec. 12, 1923, in Darrington, Wash. His father, Byron, was a power line foreman who in 1929 died from complications of injuries he had received in a fall from a pole several years earlier. Shortly thereafter, his mother, Matilda (Tarleton) Barker, took a job teaching in Mission, S.D, on the Rosebud Indian Reservation.

"Cowboys tied up their horses at hitching rails," Mr. Barker recalled of those years. "It was like I was growing up in the Old West."

When Mr. Barker was 13, his mother married Louis Valandra, a tire salesman, and they moved to Springfield, Mo. He received a basketball scholarship to Drury College in Springfield but dropped out to enlist as a Naval Aviation cadet when World War II broke out.

He was waiting for a combat assignment when the war ended, and he was discharged as a lieutenant junior grade. He returned to Drury, majored in economics and graduated summa cum laude in 1947.

Even before he earned his degree, Mr. Barker had begun his first radio job, at KTTS in Springfield, where he was a disc jockey, a news writer, a sportscaster and a producer. After college he worked at WWPG in Palm Beach, Fla., and KWIK in Burbank, Calif.

In 1945, he married Dorothy Jo Gideon, his high school sweetheart, who once explained the secret of their marriage this way: "I love Bob Barker. And Bob Barker loves Bob Barker." She died in 1981, and Mr. Barker never remarried.

[…]

Mr. Barker's big break came in 1956 when the producer Ralph Edwards heard him on KNX, a Los Angeles radio station, and asked him to audition for "Truth or Consequences," a long-running game show (it had begun on radio in 1940) on which contestants were required to perform wild stunts. He got the job, and he and Mr. Edwards became lifelong friends.

Mr. Barker was still the host of "Truth or Consequences" when he was offered "The Price Is Right" in 1972, and for two years those jobs overlapped. For a long time after that he was among the busiest people on television, with duties that also included hosting the Rose Bowl parade and the Pillsbury Bake-Off for most of the 1970s and '80s.

He occasionally showed up in movies as well, almost always as a comically exaggerated version of himself. His most memorable appearance was in the 1996 comedy "Happy Gilmore," in which he gleefully engaged in a brawl with the title character, a boorish hockey player turned golfer played by Adam Sandler.
Washington Post, "Bob Barker, unflappable 'Price is Right' emcee, dies at 99"
Bob Barker, an unflappable television emcee who rode the airwaves into American living rooms for half a century, hosting holiday parades and beauty pageants, luring contestants into ludicrous stunts on the game show "Truth or Consequences" and presiding over the materialistic bacchanal of "The Price is Right," died Aug. 26 at his home in Los Angeles. He was 99.
[…]
By the time he stepped down in 2007 after 35 years with "The Price Is Right," Mr. Barker had completed a remarkable run as a television master of ceremonies.
Tall, self-assured, deeply tanned — and eventually snowy-haired — he moved easily from radio in the late 1940s to television during its infancy and was a daytime star well into the internet age. In addition to his game show duties, he was the longtime host of major events including the Macy's Thanksgiving Day Parade, the Pillsbury Bake-Off and the annual Rose Parade in Pasadena, Calif.
[…]
Mr. Barker said the most challenging part of his job was protecting himself from elated game-show participants summoned to "Contestants' Row" with the announcer's signature catchphrase "Come on down!" He suffered broken toes when a hopping contestant landed on his foot and dental damage when a short contestant locked him in a bear hug and jumped up and down under his chin.
"I once had a Samoan woman pick me up as if I were a child and just throw me around," he told the Minneapolis Star Tribune in 2007. "Frankly, I was terrified, but I thought, 'Well, that will never happen again.'
"Believe it or not, the next year another Samoan came to Contestants' Row, got on stage, picked me up and threw me around," he continued. "Now another year or so passes, and a third Samoan shows up. I had her raise her right hand and swear that if she got on stage, she would not lay a hand on me. Well, she got on stage. She won a car and picked me up higher than either one of the other two had.
Barker died just four months of his 100th birthday, generating many variations of the "close without going over" joke on social media. Barker retired in 2007, and I'd probably not seen the show more than a handful of times in the 20 years before then, but "The Price is Right" was certainly a staple in our house, along with so many other game shows, when I was growing up.
I know that he stopped coloring his hair long ago but my enduring image of him is more like this: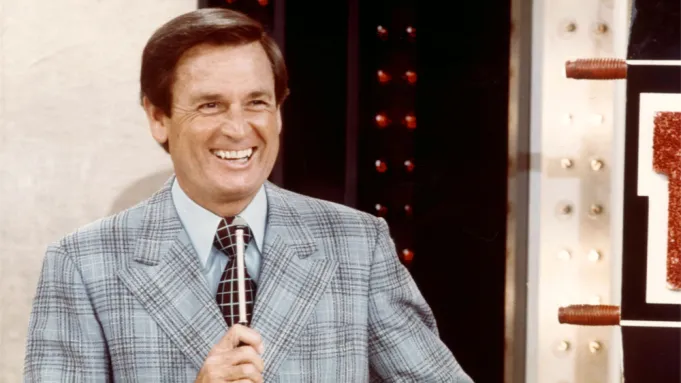 Hosting nationally televised game shows for fifty-five years is simply remarkable. While the audience was mostly housewives, small children, and those having sick days, that's just an incredibly long time to maintain a connection with such a wide swath of the public.