Bob Woodward's 'White House Threatened Me' Grandstanding
Bob Woodward once again has Washington abuzz with a White House scoop. This one is BS.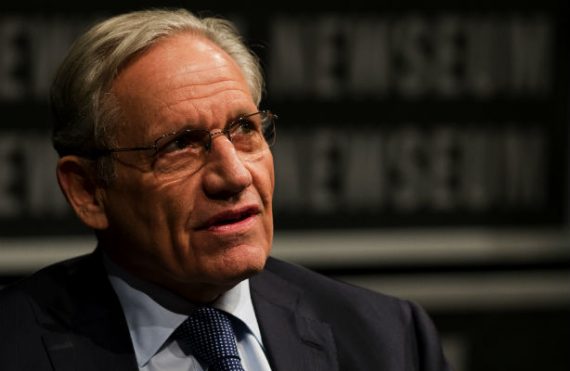 Bob Woodward's charge that the White House threatened him for writing a column pointing out that the sequester was their idea has everyone talking. Woodward naturally has a heightened sensibility about such things from his days breaking the Watergate story. But it's an absurd story that doesn't pass even simple scrutiny.
POLITICO's Mike Allen and Jim Vandehei ("Exclusive: The Woodward, Sperling emails revealed") have the email exchange between Woodward and Gene Sperling, director of Obama's National Economic Council:
From Gene Sperling to Bob Woodward on Feb. 22, 2013

Bob:

I apologize for raising my voice in our conversation today. My bad. I do understand your problems with a couple of our statements in the fall — but feel on the other hand that you focus on a few specific trees that gives a very wrong perception of the forest. But perhaps we will just not see eye to eye here.

But I do truly believe you should rethink your comment about saying saying that Potus asking for revenues is moving the goal post. I know you may not believe this, but as a friend, I think you will regret staking out that claim. The idea that the sequester was to force both sides to go back to try at a big or grand barain with a mix of entitlements and revenues (even if there were serious disagreements on composition) was part of the DNA of the thing from the start. It was an accepted part of the understanding — from the start. Really. It was assumed by the Rs on the Supercommittee that came right after: it was assumed in the November-December 2012 negotiations. [Emphasis mine-JJ] There may have been big disagreements over rates and ratios — but that it was supposed to be replaced by entitlements and revenues of some form is not controversial. (Indeed, the discretionary savings amount from the Boehner-Obama negotiations were locked in in BCA: the sequester was just designed to force all back to table on entitlements and revenues.)

I agree there are more than one side to our first disagreement, but again think this latter issue is diffferent. Not out to argue and argue on this latter point. Just my sincere advice. Your call obviously.

My apologies again for raising my voice on the call with you. Feel bad about that and truly apologize.

Gene
Contra Joe Scarborough and most of the conservative blogosphrere, it strikes me as patently obvious, even as someone who thinks Woodward's interpretation of the administration role in the sequester is exactly right, that Sperling is simply trying to persuade Woodward that he's missing the forest for the trees.  And, indeed, Sperling's right.  (Yes that seems contradictory. See Sunday's post, "The Sequester, Moving Goalposts, and the 2012 Elections" for a more thorough discussion.)
Sperling's email is respectful, even overly deferential, and clearly seeking to explain the White House's version of events. Which, frankly, is obviously correct and has been my understanding of the nature of the sequester from the very beginning of the standoff.  Woodward rightly points out that it was the White House that came up with the sequester as a device. It's worth pointing that out, considering that the White House is (rather successfully) portraying it as something that was 100 percent Republican in origin. But it was always the case that 1) the sequester was intended to be so onerous to both Democrats and Republicans that they'd have no choice but to compromise to avoid the self-imposed disaster and 2) that the administration wanted tax hikes (er, revenues) as part of that deal. Always. It was the whole point.
Furthermore, Woodward's initial reply certainly reads to me like he understood Sterling's intent:
From Woodward to Sperling on Feb. 23, 2013

Gene: You do not ever have to apologize to me. You get wound up because you are making your points and you believe them. This is all part of a serious discussion. I for one welcome a little heat; there should more given the importance. I also welcome your personal advice. I am listening. I know you lived all this. My partial advantage is that I talked extensively with all involved. I am traveling and will try to reach you after 3 pm today. Best, Bob [Again, emphases all mine – JJ]
So, sometime between responding to Sperling Saturday and generating this story Wednesday, Woodward went from thinking the pushback was a "welcome" part of "a serious discussion" and that the "regret" warning was "welcome" and "personal advice" to crying "they threatened me" and "it's like Nixon all over again." It's nonsensical grandstanding from someone who's been taking heat from White Houses for over four decades.
The nature of email communication, as most of us have learned over the years, is such that it's subject to misinterpretation. It lacks some interpersonal cues that we get in face-to-face interactions. So, I'd like to give Woodward the benefit of the doubt here.
But there's a clue beyond the words themselves that strikes me as rather powerful: Sterling put this "threat" in an email to Bob Woodward.  I don't know Gene Sperling from Adam. For all I know, he's the kind of jerk who tries to use his position of power to intimidate reporters. (I have no reason to think he is, mind you; I'm just saying those people exist and it's not inconceivable Sterling is among their number.) But he's also a pretty bright guy who's been around the block a few times. Do you really think he'd be dumb enough to email a threat to Bob Stinkin' Woodward?
UPDATE: John Lee Hooker weighs in with some pertinent thoughts.
UPDATE II: Ron Fournier, a longtime AP political reporter now with National Journal, testifies from personal experience that some senior Obama White House officials do engage in intimidation of reporters. He files this under the headline "Why Bob Woodward's Fight With The White House Matters to You," but doesn't offer any insights that change my mind on this particular brouhaha.