Boxer's Electoral Rebellion
A look back at the last time there was a challenge to a slate of electors.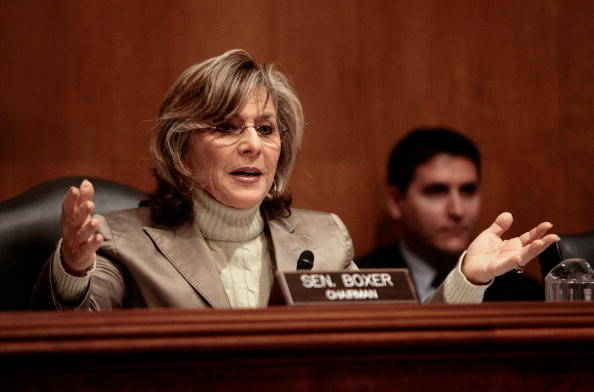 My previous post noted that the last time at least one member of the House and one Senator agreed to challenge a slate of electors was in 2005 when Senator Barbara Boxer (D-CA) joined in with a group of House Democrats to trigger a debate and vote on Ohio's slate. This was only the second time in history that such a challenge had taken place under the 1877 law that created the process. The first being in 1969 over an unfaithful elector.
I detailed in my last post why I think Boxer's actions were substantially different from Hawley's, but since I know it going to come up over the next several weeks, I thought it would be interesting to note some of the details.
First, it should be noted that the objections were explicitly not about overturning the results. Note the following from SF Chronicle at the time: Boxer delays presidential vote count with protest / Senator, colleague object to Ohio tally — Electoral College confirmation held up.
Boxer and fellow Democrat Rep. Stephanie Tubbs Jones of Cleveland, relying on widespread reports of voting problems on Nov. 2, stopped the count of Electoral College votes with a formal objection to the Ohio results. Their protest, which they said wasn't aimed at overturning Bush's victory over Democratic Sen. John Kerry, triggered a debate in the House and Senate on election reform.
Second, John Kerry, who lost the election to Bush, did not support the action (let alone lobby for it, as Trump has done).
Third, there was very little in the way of party support, as the NYT write-up at the time (Congress Ratifies Bush Victory After Challenge) noted:
The challenge cast a spotlight on divisions among Democrats, with party leaders and many in the rank and file distancing themselves from the effort, while black and liberal lawmakers embraced it. The Democratic presidential nominee, Senator John Kerry of Massachusetts, did not support the objection, nor was he on hand to witness it. He was in the Middle East, meeting with troops.

In the end, the House voted 267 to 31 against the challenge. In the Senate, where the vote was 74 to 1, Mrs. Boxer stood alone.
Ultimately, the issue of comparing Boxer's actions and Hawley's is going to be about the overall behavior of the parties then and now. In 2005, Boxer's challenge was treated as a largely fringe action. In 2021, we appear to be on track for a major embrace of Hawley's action by the GOP.
There are some superficial similarities between then and now:
In many ways, the debate came about because of the relentless efforts of a small group of third-party activists, liberal lawyers, Internet muckrakers and civil rights groups, who have been arguing since Election Day that the Ohio vote was rigged for Mr. Bush.

In the weeks since, those groups have organized rallies and public hearings in Ohio protesting the vote, filed lawsuits contesting Mr. Bush's victory and demanded a statewide recount that resulted in Mr. Bush's margin of victory shrinking by 300 votes, to about 118,450. They also protested in Washington on Thursday.
However, in stark contrast to now:
But even Democratic officials in Ohio said that while they wanted improved election practices, they worried that the party was wasting time and money refighting the last election.

"There was a point where this served a purpose," said Susan Gwinn, chairwoman of the Athens County Democratic Party in Ohio. "But I think we passed that. We need to move on."
I will admit, I do not recall the challenge nor, really, the controversy surrounding Ohio (save that it was close). I had forgotten there was a recount. I was actively blogging at the time, but since my old site is kaput, I can't go back and check the archive. As best I can tell, James Joyner did not blog about Boxer's challenge either.