Braves, Barves, And Intellectual Property Law
An object lesson in the problems with our intellectual property laws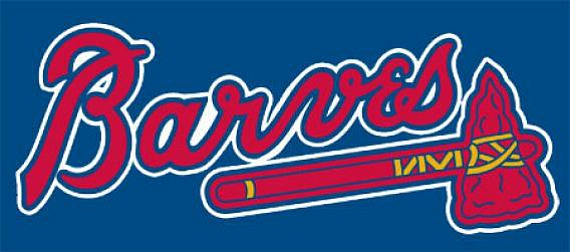 Matthew Yglesias passes along this story about a baseball fan who tried to turn an online joke meme into a business idea, only to run up against the ever-protective Intellectual Property lawyers that work for Major League Baseball:
Everett Steele is an Atlanta Braves fan. He goes to games, he wears Braves apparel, he tweets about the team to his 16,000-plus Twitter followers. He's a big enough fan that when he started noticing people misspelling the team's name as "Barves" online, he spent time and money making it a meme.

Steele started making Barves jokes on Twitter, and others quickly joined in. So he and his wife, who jointly run a social media marketing firm, began printing t-shirts featuring the joke team name and selling them on the internet. Being a fan and a community-minded guy, he decided to donate all proceeds to the Atlanta Braves Foundation, which supports nonprofits around the Atlanta metro area.

Seems harmless enough, right? Beneficial, even, to have a superfan turn a joke into financial support for good causes? Not to Major League Baseball, it doesn't. Within a few days of the first local media stories about the Barves products, the Steeles received a cease-and-desist letter from the league for infringing on the trademark it holds over a script team name (no matter the spelling) above a tomahawk.
Yglesias comments:
This is a reminder that beyond economics, there's a substantial freedom issue involved in these intellectual property cases. It's conceivable that if Steele were to try to litigate this that he'd ultimately prevail on first amendment grounds. But in practice that would be very expensive, so any firm large enough to have lawyers on retainer has a lot of latitude to intimidate people with cease-and-desist letters. And yet this kind of thing never seems to make it into things like an Index of Economic Freedom or get denounced as a form of tyranny. But by even the narrowest negative liberty conception of freedom, a law saying that you can't print a T-shirt with a "BARVES" logo on it is a substantial restriction of liberty.
This is a well-taken, and there is a possibility that Steele would be able to prevail in litigation with the defense that the "Barves" concept is a parody, which is generally considered permissible even when it is direct rip-off of someone's copyright or trademark. Parody, for example, is the reason that Weird Al Yankovic is legally permitted to make his own versions of songs by artists ranging from Michael Jackson to Coolio. Yankovic has always had a policy of asking permission before releasing a parody, but legally, he most likely wouldn't be required to do so. Similarly, one could argue that Steele's "Barves" t-shirts are a protected parody even though they use the same script-and-tomahawk design that the official Braves logo does. Of course, Steele likely doesn't have the resources to fight Major League Baseball in United States District Court, which is why these cease and desist letters are typically so effective. When you're given the choice between stopping what you're doing immediately or trying to defend yourself in Court against a team of lawyers from one (or more) of the biggest law firms in the country, there are few people who are going to be able to afford the fight. That's not to say that MLB and the Braves might not have a good legal argument of their own, but so does Steele, only because of the cease-and-desist letter we'll never know what the legal answer to the dispute actually is. Perhaps it's good business, but it's bad public relations and a bad way to treat the fans on whom your entire business model depends.
The other issue that this story brings up is how short-sighted businesses can be sometimes. Steele clearly wasn't trying to cut in on the market for authentic Braves merchandise with these t-shirts. He was trying to make a something out of joke that had gone viral on the Internet. Moreover, the proceeds would have gone to a charity linked to the Atlanta Braves. Instead of strong-arming a fan like this, one would think that the Braves and the powers-that-be would see this as an opportunity to generate some goodwill with the fans. However that isn't how copyright and trademark owners think. Instead, they view something like this as a threat because of the precedent it might set, and they use the threat of major, expensive, federal litigation as a cudgel to get what they want even when they might not even have a legal right to stop the activity in question. It is, in other words, yet another reason why our Intellectual Property laws need to be seriously reexamined.