Brave's Merida Gets Disney Princess Treatment
Critics are assailing Disney for turning "Brave" protagonist Merida into just another princess.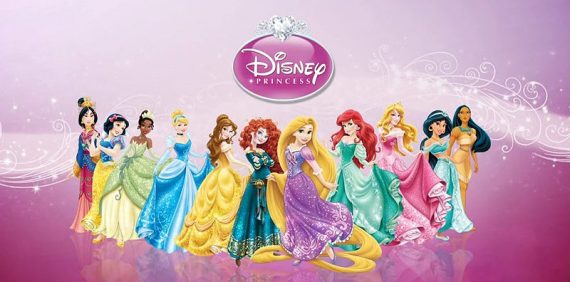 Critics are assailing Disney for turning "Brave" protagonist Merida into just another princess.
Rhiannon Lucy Cosslett ("Disney's makeover of its Brave princess is cowardly"):
It was only a matter of time before Disney transformed Merida, the heroine of Brave, hailed by many as their first feminist princess, into a female archetype. The Princess franchise, which came into being in the early 2000s when then-chairman Andy Mooney saw the marketing potential in presenting celebrated Disney princesses as a unit, isn't known for its nuanced portrayal of modern femininity. The cartoons have never encouraged ambition in little girls, with character traits limited to marriageability (Jasmine, Cinderella), beauty (Belle, or Snow White, whose appearance is such that jealous women seek to annihilate her), or submission to drastic physical changes in order to attract a man (Ariel). Disney princesses never really did have much to offer. Until Merida.

To be "crowned" Disney's 11th princess, the Scottish, red-headed Merida (who refuses to marry the prince) has been treated to the kind of airbrush job that magazine pages habitually go in for. Suddenly her waist is slimmer, her eyes are doe-like with heavy lashes, and she's subtly grown breasts. As Peggy Orenstein, author of Cinderella Ate My Daughter, pointed out: "In the end, it wasn't about being brave at all. It was about being pretty."

It's unsurprising that those parents who initially praised Disney for its creation of a princess who looked like a real girl are dismayed, to the point where A Mighty Girl, a resource site that helps parents find books and toys that encourage positive feminine role models, has launched a petition. Already it has received more than 100,000 signatures.
As the father of two little girls, I sympathize. We want them to have strong role models. On the other hand, with my oldest firmly in the Disney Princess phase at 4, I can hardly argue with the company making this marketing decision with their merchandising.
Until a couple years ago, I was blissfully unaware of the whole Disney Princess phenomenon. Not only is it not marketed to boys, it didn't exist until the late 1990s, by which time I was approaching middle age. Essentially, according to the Wikipedia entry, incoming chairman of consumer products Andy Mooney noticed while "attending the company's first Disney on Ice show . . . that several young girls attending were dressed in princess attire that was not authentic Disney products." So, he launched the line, retconning Snow White, Cinderella, Aurora (Sleeping Beauty), Ariel (the Little Mermaid), Belle (the beauty of "Beauty and the Beast"), and Jasmine (from "Aladdin") as a group of princesses.
Subsequent movies have more deliberately targeted the line, with Pocahonas, Mulan, Tiana ("The Princess and the Frog"), Rapunzel, and Merida not only creating more characters but also diversifying them racially and ethnically for the sake of both inclusiveness and merchandising.
According to the entry, "Despite limited advertising and no focus groups, the various Disney Princess items released became a huge success. Sales at Disney Consumer Products rose from $300 million in 2001 to $3 billion in 2006." One can hardly argue with that success.
Given that I'm not the target audience for the movies and my girls are still a bit young for them (they're just too long and plot intensive), I don't have any commentary on the suitability of the various princesses as role models. I gather, though, that they're progressively more assertive and heroic than the early ones. That's not surprising, considering that "Snow White" was released in 1937 and "Cinderalla" in 1950, both based on very old fairy tales.
Regardless, my 4-year-old loves Disney Princess costumes, dolls, and other paraphernalia. We're about to take our third Disney vacation (a second trip to Disney World in Orlando in the span of a just over a year, with a Disney cruise over Thanksgiving). She gets giddy when she sees the actresses dressed up as the various princess characters.
Occasionally, she tells me she wants to be a princess when she grows up. While I've advised her to keep her career options open, I'm not at all worried about this nefarious influence. She is, after all, 4. If she's still dressing up as Cinderella or Ariel at 14, I'll consider intervention.
And, even while in her princess phase, she's also a huge fan of Peter Pan, Jake of "Jake and the Neverland Pirates," and of pirates in general. She has various costumes, stuffed animals, playsets, and swords related to those characters as well. And, no, I don't stay up late at night worrying that she'll grow up an live a life of nautical crime.