Winnie the Pooh and Bambi Enter Public Domain
But only the original books, not the Disney adaptations.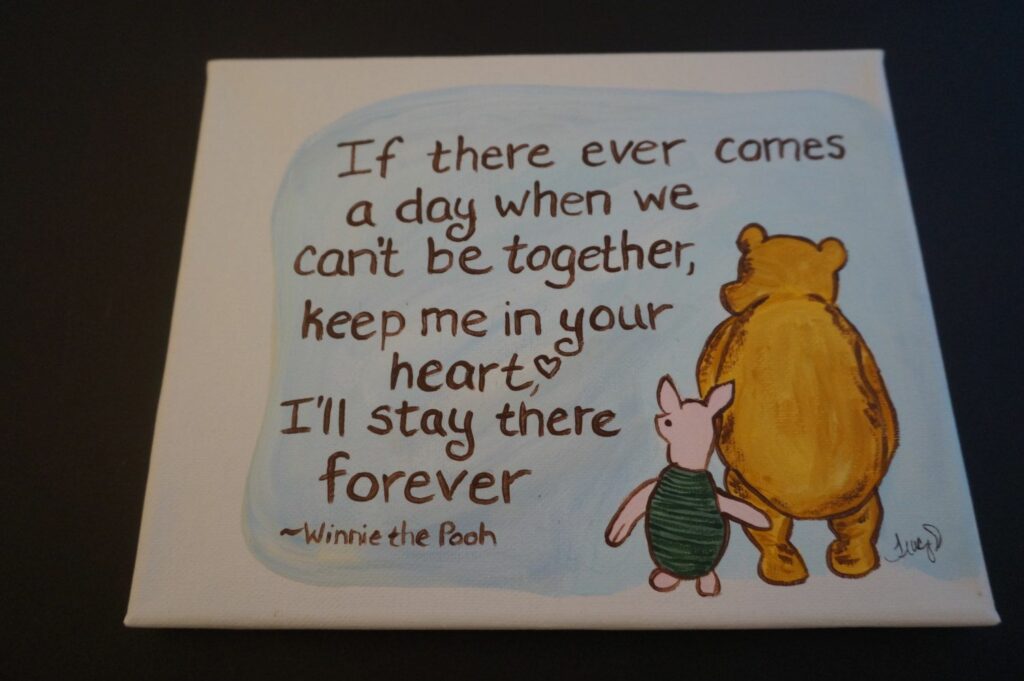 KSL ("'Winnie The Pooh' and more: 22 notable creative pieces head to public domain in 2022"):
Winnie and all his friends, from Tigger to Piglet, are moving to a new home.

New Year's Day marks the first day that thousands of classic pieces of art lose copyright or intellectual property rights as they enter a collective space known as the public domain. In the U.S., literature, music, movies and other creative pieces have 95 years before they end up in this collection of past art.

The 2022 list is led by the A.A. Milne children's classic "Winnie the Pooh" and Ernest Hemingway's first novel, "The Sun Also Rises." Hemingway's first collection of short stories, "In Our Time," entered the public domain last year.

Another children's classic character, Felix Salten's "Bambi," as well as works by Langston Hughes, Dorothy Parker and William Faulkner are also entering the public domain.

But there are some film gems entering this year, including Buster Keaton's "Battling Butler" and "The Son of the Sheik," the final film of early film star Rudolph Valentino before his sudden death at the age of 31.

All sound recordings published before 1923 are also heading to the public domain. That's the result of interesting public domain rules, according to Jennifer Jenkins, the director of Duke University's Center for the Study of the Public Domain.

She notes that the country's copyright law didn't include sound recordings until 1972, meaning sound recordings could have been included in the 95-year window starting in 1972. But Congress, in 2018, passed the "Music Modernization Act" that shortened the window for pre-1972 recordings.

It's estimated that includes over 400,000 recordings entering the domain in 2022, according to the Association For Recorded Sound Collections. That includes renditions of the World War I anthem "Over There," recorded in 1917 and 1918.

Jenkins says there's a good reason for the public domain. First, it allows community theaters and youth orchestras to learn from and present these pieces without dealing with costly licensing fees. Thousands of books can be made available through print or online, making them more accessible.

"This helps enable access to cultural materials that might otherwise be lost to history. 1926 was a long time ago. The vast majority of works from 1926 are out of circulation," Jenkins wrote, in a public domain report. "When they enter the public domain in 2022, anyone can rescue them from obscurity and make them available, where we can all discover, enjoy and breathe new life into them."

This annual collection also fosters new art to emerge because current authors, musicians, playwrights, directors and artists can build off the work in the public domain. One of the most recent examples of this is the remake of "West Side Story," which recently hit theatres. The 1950s musical was influenced by William Shakespeare's "Romeo and Juliet."

"Who knows what the works entering the public domain in 2022 might inspire?" Jenkins adds. "As with Shakespeare, the ability to freely reimagine these works may spur a range of creativity, from the serious to the whimsical, and in doing so allow the original artists' legacies to endure."
On her Duke Law page, Jenkins adds,
The public domain is also a wellspring for creativity. The whole point of copyright is to promote creativity, and the public domain plays a central role in doing so. Copyright law gives authors important rights that encourage creativity and distribution—this is a very good thing. But it also ensures that those rights last for a "limited time," so that when they expire, works go into the public domain, where future authors can legally build on the past—reimagining the books, making them into films, adapting the songs and movies.

[…]

Just as Shakespeare's works have given us everything from 10 Things I Hate About You and Kiss Me Kate (from The Taming of the Shrew) to West Side Story (from Romeo and Juliet), who knows what the works entering the public domain in 2022 might inspire? As with Shakespeare, the ability to freely reimagine these works may spur a range of creativity, from the serious to the whimsical, and in doing so allow the original artists' legacies to endure.
She also notes, as our late co-blogger Doug Mataconis repeatedly did, these works "were supposed to go into the public domain in 2002, after being copyrighted for 75 years. But before this could happen, Congress hit a 20-year pause button and extended their copyright term to 95 years. Now the wait is over." Alas, she warns,
Despite overwhelming evidence that term extension does more harm than good, countries are still extending their copyrights. The public domain remains under threat. This makes an understanding of its vital contributions—to creativity, access, education, history—all the more important.

The verdict is in: adding an extra 20 years to the US copyright term was a "big mistake." This is not a quote from someone who is equivocal about copyright; it is a quote from the former head of our Copyright Office. Indeed, there is a consensus among policymakers, economists, and academics that lengthy copyright extensions impose costs that far outweigh their benefits. Why? The benefits are minuscule—economists (including five Nobel laureates) have shown that term extension does not spur additional creativity. At the same time, it causes enormous harm, locking away millions of older works that are no longer generating any revenue for the copyright holders. Films are literally disintegrating because preservationists can't digitize them. The works of historians and journalists are incomplete. Artists find their cultural heritage off limits. (See studies like the Hargreaves Review commissioned by the UK government, empirical comparisons of the availability of copyrighted works and public domain works and economic studies of the effects of copyright (other articles are here and here).)

Yet, incredibly, countries are lengthening their copyright terms—not as a result of reasoned debate, but to comply with trade deals that require harmonization of copyright terms. With harmonization, there is a catch: countries are always made to harmonize with the longer term, never the shorter term, even if the shorter term is a better choice for both economic and policy reasons. At the moment, because of such trade agreements, Canada and New Zealand have both agreed to extend their copyright terms from an already long life-plus-50 to a longer life-plus-70 years, even though the Canadian term extension would "cost Canadian education millions of dollars and would delay works entering the public domain for an entire generation" and the New Zealand extension "would cost around $55m [NZ dollars] annually" without "any compelling evidence that it would provide a public benefit." 16  This is irrational. It would be more efficient to simply levy a new tax on the public and give the proceeds to the small percentage of copyright holders whose works are still making money after a life-plus-50 term. The term extensions not only transfer wealth to a tiny subset of rights owners, but also threaten to lock away the remaining works from future creators and the public.

Works from 1926 are finally entering the public domain, after a 95-year copyright term. However, under the laws that were in effect until 1978, thousands of works from 1965 would be entering the public domain this year. In fact, since copyright used to come in renewable terms of 28 years, and 85% of authors did not renew, 85% of the works from 1993 might be entering the public domain! Imagine what the great libraries of the world—or just internet hobbyists—could do: digitizing those holdings, making them available for education and research, for pleasure and for creative reuse. Under current copyright terms we will have to wait until 2061.
Longtime readers will recall that this was Doug's position as well. While I think life-plus-50 is likely enough, I would also be amenable to a provision that made the protection a moving target if the work was being built upon by the creator or his heirs. So, since Pooh et al received a sequel, The House at Pooh Corner, two years later, it seems reasonable to extend the copyright to the collection accordingly. Similarly, since J.R.R. Tolkien's son, Christopher, continues to produce new works based on his father's creations, it seems reasonable to me for the family to continue to retain copyright.
But, yes, it's bizarre to keep out of print works that are being neglected by the rightsholders locked up for so long. Especially since there's actual harm being done. Jenkins again:
Unfortunately, part of this iceberg has already melted. The fact that works from 1926 are legally available does not mean they are actually available. After 95 years, many of these works are already lost or literally disintegrating (as with old films and recordings 13 ), evidence of what long copyright terms do to the conservation of cultural artifacts. One of the films from 1926 we considered featuring was The Great Gatsby, an adaptation of the 1925 novel. But that film has reportedly been lost to history. 14  For the material that has survived, however, the long-awaited entry into the public domain is still something to celebrate.

Another part of the iceberg includes works from 1926 and later that may already be in the public domain because the copyright owners did not comply with the "formalities" that used to be necessary for copyright protection. 15  Back then, your work went into the public domain if you did not include a copyright notice—e.g. "Copyright 1926 Ernest Hemingway"—when publishing it, or if you did not renew the copyright after 28 years. Current copyright law no longer has these requirements. But, even though those works might technically be in the public domain, as a practical matter the public often has to assume they're still copyrighted (or risk a lawsuit) because the relevant copyright information is difficult to find—older records can be fragmentary, confused, or lost. That's why Public Domain Day is so significant. On January 1, 2022, the public will know that works published in 1926 are free for use without tedious or inconclusive research.
Alas, in a separate essay, she notes that it gets complicated in cases where rightsholders have licensed or otherwise allowed others to make creative use of the materials. In the case of both Pooh and Bambi, of course, Disney comes into play.
Disney, of course, still has copyrights in later books and movies. But the 1926 book itself enters the public domain. This means that anyone can post the book online, or print cheap educational editions. You can start your creative engines too—the plot, dialogue, and settings in that book are open for future creators. So too are the characters, including the appearance and traits of the original Winnie-the-Pooh, Piglet, Eeyore, Rabbit, Kanga, Roo, Owl, and Christopher Robin. (Not Tigger, though: Tigger was not introduced until 1928 in The House at Pooh Corner and that book does not enter the public domain until 2024.) Anyone can adapt the 1926 book into a play, musical, or film, or write a prequel or sequel. Want to write a story about how Pooh and friends stay sane during a pandemic? (Eat more honey!) Or a story in which Pooh and friends tackle online bullying? Now you can, without having to seek a license from Disney. 2  This is how the public domain supports creativity.

That said, some rightsholders have tried to interfere with legal reuses of public domain material. The owners of the Sherlock Holmes, Tarzan, and Zorro properties did this after the original works began to enter the public domain. Will Disney follow suit, or will it enforce only the rights it still owns? Many see this as a test drive for what it will do when Steamboat Willie enters the public domain in 2024. A lot has changed since 1926—not only has Winnie the Pooh become a multi-billion dollar franchise, but copyright and trademark rights have expanded. We live in a world of mega-brands, of franchised characters and comic book universes. But what happens when mega-brands and the public domain collide?
After a lengthy analysis of the case law, she observes,
The copyright over the original book has expired. But Disney still retains trademark rights to use the words "Winnie the Pooh" on all sorts of products including books, movies, TV shows, video games, and a wide range of merchandise. And until recently they also had Federal trademark registrations over images of the Pooh characters. If you make your Winnie the Pooh sequel, can Disney use trademark law to interfere?

Let's begin with Disney's trademark over the words "Winnie the Pooh." As mentioned earlier, trademark law is all about preventing consumer confusion, so Disney might claim that consumers will think your new book or movie is a Disney-sponsored product. On the one hand, there are non-Disney versions of Snow White and Cinderella that people do not think emanate from Disney. Is "Winnie the Pooh" so closely associated with Disney that people would assume Disney is behind new productions? Either way, one way to dispel any claim of confusion is to add a disclaimer making it clear that your creation is not produced or sponsored by Disney. One court noted: "When a public domain work is copied, along with its title, there is little likelihood of confusion when even the most minimal steps are taken to distinguish the publisher of the original from that of the copy. The public is receiving just what it believes it is receiving—the work with which the title has become associated. The public is not only unharmed, it is unconfused." 8 

Even without the disclaimer, putting "Winnie the Pooh" on toys or onesies is different from using "Winnie the Pooh" to describe the content of a new creative work. With the latter, First Amendment protection for freedom of expression comes into play and there are trademark defenses that allow you to use "Winnie the Pooh" in a title. A case called Rogers v. Grimaldi explains specifically that people are allowed to use trademarks in the title of an expressive work as long as the term has some artistic relevance to the new work and does not explicitly mislead as to the source of the work. (This is why when Mattel sues people for using "Barbie" in the titles of songs and photographs, they lose in court.) The policy underlying this rule is that trademark law should only apply to artistic works when the public interest in avoiding consumer confusion outweighs the public interest in free expression. Thus, the disclaimer should be unnecessary. But if you wish to put the matter beyond doubt, a disclaimer would do so.

What about possible claims by Disney that your use of the images of the Pooh characters causes consumer confusion? Here it is important to distinguish between using the Pooh images as a brand identifier on the kind of merchandise Disney's trademarks cover and using the images of Pooh in a reprinted book or a new movie or cartoon. In theory, even on a shirt or a lunchbox, if that image of a bear or donkey is merely decorative, as opposed to being a brand-indicator, then there is no trademark problem. But that inquiry is fact-specific. Easier simply to avoid something that could be seen as competing and branded merchandise. Using those original Shepard drawings in a comic book or animation is different—this is not the kind of use that misleads as to the source of a product. It is something that copyright expiration plainly allows. 9 
The real question, it seems to me, is whether there's enough money to be made in selling Pooh merchandise that fits within these limits to offset the cost and aggravation of fighting Disney. I suspect the answer is No. Jenkins "hopes" they won't fight but, of course, they will.
Still, she makes the obvious point:
In fact, Disney's own beloved works show just how valuable the public domain is. Many of its animated classics were remakes of public domain books and folk tales. Works from Alexandre Dumas, Charles Dickens, Gabrielle-Suzanne de Villeneuve, Jules Verne, Lewis Carroll, The Brothers Grimm, Victor Hugo, Charles Perrault, Hans Christian Anderson, Carlo Collodi, Mark Twain, English folklore, and The Book of One Thousand and One Nights fed Disney's The Three Muskateers, A Christmas Carol, Beauty and the Beast, Around the World in 80 Days, Alice in Wonderland, Snow White, The Hunchback of Notre Dame, Sleeping Beauty and Cinderella, The Little Mermaid, Pinocchio, Huck Finn, Robin Hood, and Aladdin, to name a few. When it got into a dispute with the rightsholders of Bambi, Disney even filed an unsuccessful lawsuit claiming that the book had gone into the public domain much earlier. Let us hope that Disney remembers its own debt to the public domain when Pooh, and later the Steamboat Willie version of Mickey Mouse, enter the realm from which it has drawn so heavily!
Good luck with that.
Mental Floss' Jake Rossen comments on the issue as well, drolly concluding, "If you'd like to write a story teaming up [Sherlock] Holmes with Winnie the Pooh to help solve the murder of Bambi's mother, now you can."
Here's a list of the most notable works entering public domain, courtesy KSL:
Literature
Music and spoken word recordings and compositions
Movies