New Beatles Material Being Released Solely To Extend Rights Under Copyright Laws
An example of how copyright laws have been perverted to protect corporate interests rather than encourage artistic creativity.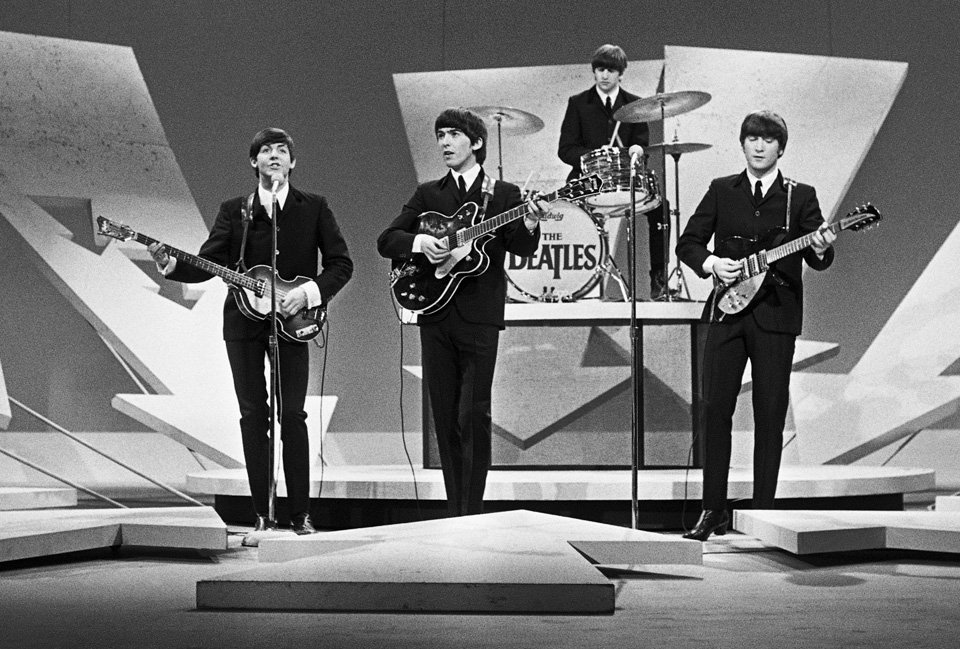 Related to Matt Bernius's post about U.S. Copyright laws and the fact that so little material will be entering the the public domain in the coming years, we learn today that tomorrow a slew of previously unreleased material by The Beatles will be released on iTunes not so much as a favor to the fans, but to due to the oddities of European Copyright Laws:
Apple, the company set up by John, Paul, George and Ringo, is set to release a new 59-track album next week, just in time for the festive season – and it's all thanks to EU copyright laws.

Although it will not include some of the more fabled Beatles recordings – such as Carnival Of Light, or a 28-minute version of Helter Skelter – Beatles enthusiasts will no doubt be excited by the prospect of alternate versions of early classic such as A Taste Of Honey and She Loves You.

The release has been prompted by copyright laws, which mean that unreleased music loses its copyright – and can therefore be taken for free and even sold by others – after 50 years.

The album, to be released next Tuesday by Universal Music, will include performances recorded for the BBC and studio outtakes.

The Beatles Bootleg Recordings 1963 will also include demonstration recordings of two songs that the band eventually gave to other artists.

This will see Lennon and McCartney's Bad To Me, which became a number one hit for The Dakotas, and Lennon's piano demo of I'm In Love, released by the same band, available on iTunes.

BBC sessions of familiar songs such as From Me To You and I Saw Her Standing There, all made half a century ago, are included on the track list, which has appeared on Norwegian-based Beatles blog, WogBlog.

The website, which reported the release, suggested that the collection is an effort to give the material copyright protection and stop it falling into the public domain.
TIm Worstall at Forbes explains the copyright angle for all of this:
The background is as follows. There's two different (actually more than that but these two are important) copyrights on a piece of music. One is the songwriter's copyright and that lasts until 70 years after the author's death. So John Lennon's songs are copyright until 2050 and Paul McCartney's until 70 years after his hopefully long delayed death. There will be a strange period when their songs for the Beatles, which were registered as Lennon/McCartney, will be half in and half out of copyright. There will still be payments made to Paul McCartney's estate but not to Lennon's. Just a little oddity there.

The other copyright is on sound recordings. This is the specific version of that song that was recorded by certain musicians at a certain time and place. Sound recording copyright has, historically, only lasted for 50 years. So those recordings from 1963 are just about to go out of copyright. Except, the European Union has just changed the law. As a result of a campaign fronted by Cliff Richard the sound recording copyright was extended to 70 years. But the recordings must have been released for that 20 year extension to apply. And thus we're getting this new album of live in the radio studio and TV show stuff from the Beatles. A release purely on Apple's iTunes does indeed count as a release and so that's why they're doing it. If they didn't release these songs then anyone who already had a bootleg version (and there's tens of thousands of copies around) could release it themselves, even charge for it.
On one level, I suppose that Beatles fans can thank the copyright laws for giving Apple (the record company) the incentive to release things that had been sitting in their vaults for decades and otherwise might never have been or released, or perhaps released years from now. Before this decision, they were in roughly the same position as fans of other recording artists ranging from The Doors to Frank Sinatra who have had to sit on the sidelines for years waiting for American record companies to, slowly but surely, release vaulted material ranging from alternate studio takes of classic songs to live recordings of concerts that have never seen the light of day before. In the case of some artists, of course, such as The Grateful Dead to Sinatra, many of those live recordings have been spread and shared underground via bootleg recordings, many of which have been of far poorer quality than the recordings that record companies are sitting on for one reason or another.
Notwithstanding the benefit to fans of being able to access previously inaccessible recordings, though, this strikes me as a fairly good example of what Matt is talking about in his post. Merely by releasing these recordings on iTunes, the holder of the copyright on sound recordings is suddenly able to extend their copyright over those recordings for at least another twenty-five years. The analogies to the various methods by which Disney and other media companies have utilized American copyright laws to keep even their oldest material out of the public domain for the foreseeable future are, of course, rather obvious. Nobody wants to deny artists and copyright holders the rights that they are entitled to by law, but as examples like this and those that Matt cites show, these entities have such deep pockets that they are able to influence legislatures around the world to keep extending the protections seemingly in perpetuity. That's not what copyright laws were originally not intended for, at least not here in the United States, and they strike me as an excellent example of what has variously been called either "crony capitalism" or "corportism," and it's had a pernicious impact on our political system and our culture.