Beatles 'Get Back' Documentary
A long peek at history in the making.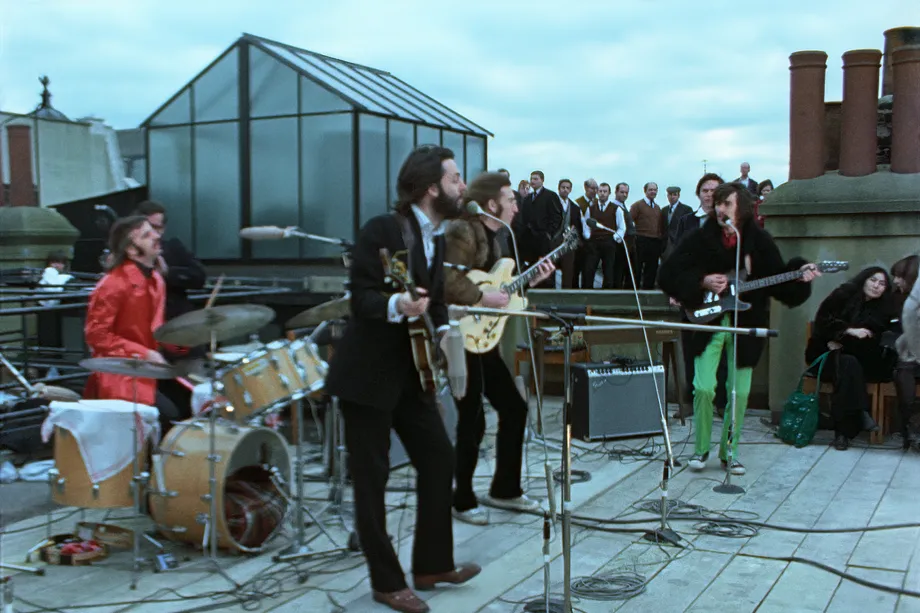 I watched Peter Jackson's nearly-eight-hour treatment of the nearly half-century-old footage of the session that led to the Beatles' last public performance and their final two albums over the course of several days. As someone who became a fan of the group in junior high years after the breakup, it's interesting to go into a virtual time machine. Like Jackson's Lord of the Rings trilogy, it could, however, have been condensed into something considerably shorter without much loss.
Watching it unfold, I was at first struck with the sheer audacity of the initial project: let's film a documentary of us writing fourteen songs from scratch and getting them down so that we can record a live album on national television in three weeks. Oh: and the band hasn't done a public performance in more than two years. Really?
Watching the dynamics of a band that I knew was on the verge of a breakup was rather discomfiting. McCartney seems most of the time the only member of the band interested in doing the hard work necessary to meet the ambitious timeline which, ultimately, they fail to do. George Harrison comes off as a whiny dolt, unhappy because he's a junior partner in a group where two others write almost all the songs. And poor Ringo seems just happy to be there but contributes next to nothing to the effort. Most of the time, he's not even playing drums.
And, like most everyone, I found seeing genius at work, such as this segment where Paul McCartney seems to invent what would be "Get Back" out of thin air, simply remarkable:
And it's not just non-creatives who had that reaction. WaPo's Travis Andrews rounded up the reaction of several notable songwriters:
Jeff Tweedy, solo musician and frontman of Wilco: I don't think of it like any other viewing experience I've had in my life. It's really kind of intense and bizarre. … I spontaneously burst into tears a few times just being able to see the exact moment a take I've listened to a thousand times was put down.

Adam Weiner, frontman of Low Cut Connie: I loved watching how a true band processes anxiety and irritation and boredom into great art. … Most [bands] are one person with a vision and the people they play with, or maybe a partnership and the people cast roles around them. There are very few true bands where each player, singer, creative person is actually part of the process. The Beatles were one of them.

[…]

Kevin Morby, rock and folk musician: One of my big takeaways is the underlying tension and the poetry that goes into a band, and how complicated that is. … I feel like John Lennon is completely checked out but also simultaneously plugged in. He's like, "I don't care what happens to me, and I don't care what happens to this band, but I can't help being amazing." And Paul is like, "I get that, John, but I have to steer the ship. Someone has to steer it." Ringo is kind of relaxed, sitting back and knows when to plug into the conversation at exactly the right moment. And then George, I kind of feel for him.

Don McLean, rock musician: What I thought was interesting is I saw another clip where George told them he had a new song called "Something" and he seemed a little scared to play a song for [Lennon and McCartney].

Andy Shauf, rock musician: The things they did with songwriting and pop songwriting — those things didn't exist yet. Watching the documentary was like being able to put yourself in the mindset of, "This is fresh." You're in the room with them, but you're also in that current moment with them when the right way to sing this song or that song doesn't exist — yet.

Katie Crutchfield, rock musician who performs as Waxahatchee: They're like, "Okay, we're just going to show up and then we're going to write a record in a few weeks. … I love that framework of the documentary, that element of the ticking clock.

[…]

The fact that they were the most famous band on Earth didn't seem to matter much in the room when they were just working.
The much-discussed dynamic between John Lennon and Yoko Ono was in full display and, even with modern sensibilities, I found it even weirder than expected. It's simply bizarre for one's girlfriend to be a constant presence in a songwriting and rehearsal session that stretches over weeks. She periodically screeches hideous sounds into the microphones. But, interestingly—and contrary to my previous understanding—McCartney and the others seem largely comfortable with it all.
Amanda Hess, now at the NYT, started off agreeing but ultimately found the whole thing delightful ("The Sublime Spectacle of Yoko Ono Disrupting the Beatles"):
Early in "The Beatles: Get Back," Peter Jackson's nearly eight-hour documentary about the making of the album "Let It Be," the band forms a tight circle in the corner of a movie soundstage. Inexplicably, Yoko Ono is there. She perches in reach of John Lennon, her bemused face oriented toward him like a plant growing to the light. When Paul McCartney starts to play "I've Got a Feeling," Ono is there, stitching a furry object in her lap. When the band starts into "Don't Let Me Down," Ono is there, reading a newspaper. Lennon slips behind the piano and Ono is there, her head hovering above his shoulder. Later, when the group squeezes into a control room at the studio, Ono is there, wedged between Lennon and Ringo Starr, wordlessly unwrapping a piece of chewing gum and working it between Lennon's fingers. When George Harrison walks off, briefly quitting the band, there is Ono, wailing inchoately into his microphone.

At first I found Ono's omnipresence in the documentary bizarre, even unnerving. The vast set only emphasizes the ludicrousness of her proximity. Why is she there? I pleaded with my television set. But as the hours passed, and Ono remained — painting at an easel, chewing a pastry, paging through a Lennon fan magazine — I found myself impressed by her stamina, then entranced by the provocation of her existence and ultimately dazzled by her performance. My attention kept drifting toward her corner of the frame. I was seeing intimate, long-lost footage of the world's most famous band preparing for its final performance, and I couldn't stop watching Yoko Ono sitting around, doing nothing.

[…]

And yet there is something depressing about the recasting of Ono as a quiet, inconspicuous lump of a person. Of course her appearance in the studio is obtrusive. The fact that she is not there to directly influence the band's recordings only makes her behavior more ridiculous. To deny this is to sap her of her power.

From the beginning, Ono's presence feels intentional. Her gauzy black outfit and flowing, center-parted hair lend her a tent-like appearance; it is as if she is setting up camp, carving out space in the band's environment. A "mundane" task becomes peculiar when you choose to perform it in front of Paul McCartney's face as he tries to write "Let It Be." When you repeat this for 21 days, it becomes astonishing. The documentary's shaggy run-time reveals Ono's provocation in all its intensity. It's as if she is staging a marathon performance piece, and in a way, she is.

[…]

Ono simply never leaves. She refuses to decamp to the sidelines, but she also resists acting out stereotypes; she appears as neither a doting naïf nor a needling busybody. Instead she seems engaged in a kind of passive resistance, defying all expectations of women who enter the realm of rock genius.
In between is some commentary about sexism and anti-Asian slurs that shaped the contemporaneous narrative around the John-Yoko dynamic. And, of course, she's right. But, even nearly half a century later, I would find it odd if a colleague's spouse showed up in one of my seminars or staked out a seat in a staff meeting. It's simply weird. The band had work to do and Yoko contributed nothing but distraction.
Neil Steinberg of the Chicago Sun-Times disagrees with my assessment of the length proclaiming the "Beatles' 'Get Back' long but worth it."
Amazing that a show can be that long and slow-moving — almost nothing happens in the way of dramatic development; George Harrison gets in a snit; there's that concert to plan — yet also so compelling. My wife and I hurried to the TV after dinner to watch the second and third episodes, as if it were some kind of cliffhanger.

[…]

That is one of the most appealing aspects of the documentary. It isn't some faded Kodachrome footage that's been decaying in a barn for 50 years and someone dug up. It's so crisp, you feel like you're in the room, on a stool next to Yoko Ono, drinking tea.

There are also no talking heads in the the series, no experts weighing in, explaining What It All Means, beyond a few expository cards at the opening and later explaining key events off camera.
Terry Norman of the Pittsburgh Post-Gazette dubs it "The long and winding Beatles documentary we've all been waiting for."
The Beatles have always been a hard act to follow. Director Peter Jackson's three part documentary "Get Back" makes it clear that they'll remain an impossible act to follow until our species gets around to making another leap in consciousness.

If you're a fan, prepare to have all your theories about the last days of the Beatles annihilated. If you're not a fan, prepare to be enlightened.

"Get Back" now streaming on Disney+ is such an audacious piece of work that there's no way a public afflicted with attention deficit disorder can digest it all, even in two-plus hour installments spread over three nights.

For every sublime moment featuring Paul McCartney generating riffs for an instant classic like "Get Back" at will while George Harrison yawns and Ringo Starr listens attentively, there's three times as many scenes of mundane studio cross-talk highlighting the minutiae of being a rock band on a deadline.

Despite Jackson's much criticized penchant for narrative bloat, I can't think of another instance in which a group's creative process has been captured in such a compelling and interesting way. For all of its dull stretches, "Get Back" is electrifying more times than not.

[…]

Because the viewers are finally privy to the secret of the Beatles' lyrical genius — the liberal use of nonsense verses and assorted babble with the right number of syllables to lock down melodies until the lyrics are workshopped — we quickly become acclimated to whatever gibberish is offered in the name of efficiency. And what glorious gibberish it is.

What's inspiring is that the Beatles never lost faith in their ability to pull classics from out of the ether even when they're on edge and anxious about so many things following the death of their long-time manager Brian Epstein.

Sometimes their interpersonal dynamics left something to be desired as evidenced by George Harrison's decision to quit the band after long simmering resentments about McCartney's de facto leadership of the band boiled over as the cameras rolled.

"If he doesn't come back by Tuesday, we get Clapton," Lennon quips. He might only have been half-joking at that point. That incident provided a perfect cliffhanger leading into episode 2.

A heart-to-heart about the situation between Lennon and McCartney with intimations about their power struggle was captured by a hidden microphone in a flower pot.

"You have always been boss," McCartney tells Lennon, the band's founder, as if to reassure him. "Now I've been sort of [the] secondary boss," he says acknowledging the legitimacy of Harrison's complaint that he's assumed Epstein's role and disrupted the band hierarchy.

"We're all guilty about our relationship to one another," Lennon says. "[My] goals, they're still the same: self-preservation."

All of the silly arguments about Lennon and McCartney's respective contributions to this album are conclusively settled by the evidence included in the film itself. Most of the time, McCartney was teaching Lennon and his bandmates the songs that were destined to become classics. 

Whatever the band's prior history may have been, Paul McCartney was the acting boss and the band's most essential composer during those sessions. 

While his partners were often distracted with discussions about album cover designs and concert locations, McCartney was quietly composing classics like "Let it Be" and "The Long and Winding Road" on a piano in a corner.
Which was another thing that struck me: all of the band members were serious musicians. I knew Lennon and McCartney were world-class songwriters and Harrison a terrific guitar player and Starr an excellent drummer. But Lennon, McCartney, and Starr are all seen playing the piano with competence—although certainly not Billy Preston's flair. And all of them clearly read music and understand notes; they're not just playing by ear.
Norman is also struck by the thing that hit me almost from the outset:
While there was some passive-aggressive backbiting at times, there was more love and respect on hand than previously advertised. These four men who had known each other since they were teenagers, loved each other and were still having a lot of fun together.
Lennon was clearly ready to move on to other things musically and more interested in Yoko than the recording session. And Harrison was ready to break out on his own where his not-insignificant talents as a singer and songwriter wouldn't be overshadowed by two prodigies. But, yes, John and Paul had been playing together since they were 16 and 15 and George and Ringo joined a couple years later. And, despite all they had accomplished, they're still only in their late 20s when these sessions take place.
The documentary culminates in the famous rooftop concert and the comedic if reluctant intervention of the police that we've all seen snippets of. (The incredible politeness of the officers is something to behold, in sharp contrast with all the turmoil here in recent years. And, no, it doesn't seem that they were merely cowed by the fact it was The Beatles they were dealing with.) WaPo's Marisa Iati reports that it wasn't that big a deal at the time:
It was Jan. 30, 1969, and the world-renowned rock band decided to stage a performance on the roof of its Apple Corps building in London for family, friends and film cameras. The 42-minute show became the grand finale of the band's documentary, "Let It Be."

It was also the last public performance that the most commercially successful band in history would ever give. As police shut down the show for causing a ruckus, John Lennon declared: "I'd like to say thank you on behalf of the group and ourselves, and I hope we passed the audition."

"It wasn't an audition," said Beatles historian Mark Lewisohn. "But they always had the perfect lines."

[…]

But the band's rooftop performance didn't capture much attention at the time. That evening's BBC News bulletin didn't mention it, Lewisohn said, and the next day's newspapers ran stories about it on the inside. People who gathered on the street during the show couldn't see the band and weren't even sure it was the Beatles.

But to those who watched from atop the office on Savile Row and from nearby rooftops, the lunchtime performance was a chance to see a band that was just as sharp and strong as ever. The Beatles were candid with the cameras because they knew the film's editing was within their control, Lewisohn said. The album and documentary project, initially called "Get Back," were meant to showcase the band's music without studio artifice.

[…]

The show's setup was meant to create the feel of a live performance but with the sound quality of a studio recording. Cables running from the roof to the basement studio captured the music, and speakers were tilted downward toward pedestrians on the street. The band played "Get Back," "Don't Let Me Down," "I've Got A Feeling," "The One After 909" and "Dig A Pony" — some of the tracks multiple times.

Although the Beatles had not performed live in more than two years, Lewisohn said the show went off without a hitch.

"Their timing is perfect, and their harmonies are perfect, and the musicianship was perfect, and everything worked," he said.

[…]

After they recorded their album "Abbey Road," the Beatles went their separate ways in August 1969. Shortly after they publicized the split the next April, they released the album "Let It Be," with songs they had sung on the rooftop and on other days that month. A documentary by the same name featured film from the rooftop concert and chronicled the album's creation.

The release of both projects was forever clouded by coinciding with the announcement that the Beatles would not play together again, Lewisohn said. But on the day of the rooftop concert, no one would have been able to tell that the band's days were numbered. Like many of their shows before it, the performance was brilliant, Lewisohn said.
That the band's recording career only lasted seven years and yet they still remain far and away the top-selling rock act of all time is remarkable, indeed. Taylor Swift, for example, has been atop the charts twice as long and only sold a third the albums.