Brooks-Broder Derangement Syndrome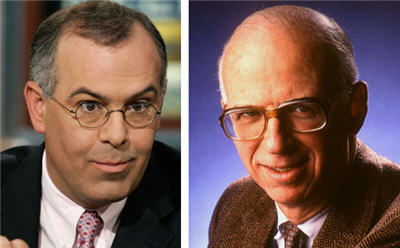 Mike Rappaport "hates" David Brooks and finds him "a despicable character."  Why?  He lets John Hinderaker explain:
Brooks . . . knows where his bread is buttered. He makes his living as a "conservative" who can reliably be counted on to sell out conservatives and Republicans at every opportunity.
In this instance, Hinderaker is reacting to Brooks' characterization of Sarah Palin's "death panel" hyperbole as "crazy."
What's the evidence that Brooks thinks Palin's straw man is actually solid argumentation?  He doesn't say. Presumably, Hinderaker (and apparently Rappaport) think it's something that all good conservatives believe and that, since Brooks represents himself as a conservative, he must believe it, too, but be lying about it.  (That neither Hinderaker or Rappaport think Brooks is really a conservative, let alone a good one, is immaterial, apparently, in their psychoanalysis.)
I see much the same venom from the other side of the aisle toward David Broder.  Even though Broder doesn't even pretend to be a progressive activist, "Broderism" is a slur word to denounce columnists who take the stance that conservatives sometimes have good points.
It's as if True Believers presume that everyone else is like them.  It's fine to be a True Believer on the other side but 90 percent friends are heretics who must be burned at the stake.  It's simply inconceivable that someone who is generally conservative, as Brooks is, might simply have a different cultural background and not share some of the assumptions of the dominant Social Conservative wing of the movement.  Nor, apparently, does it occur to people for whom Inside the Beltway and elite are slurs that there actually is such as thing as Inside the Beltway elite thinking.
Hinderaker's assessment is particularly bizarre, too, in its misapprehension of the punditry game — particularly coming from one who plays it so well.  Brooks and Broder are at a decided disadvantage precisely because of their moderation.  While "Crossfire" was canceled some time back, the style it pioneered is the predominant one in the industry.  Charlie Rose-style or Jim Lehrer-style conversation is a fringe relegated to public television; the money is in being the next Glenn Beck or Keith Olbermann.