Build Back Better Than Nothing
Joe Manchin has come around on a pared back BBB, surprising just about everyone.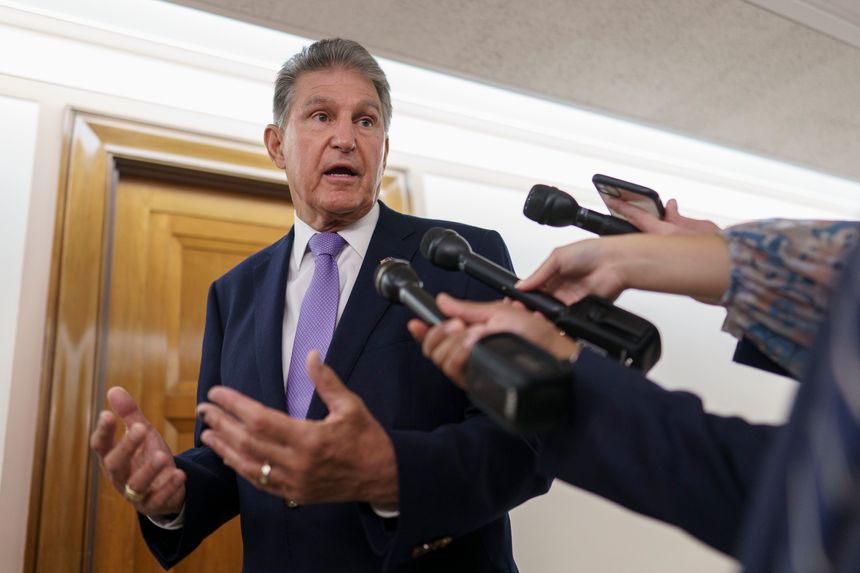 POLITICO ("Manchin's latest shocker: A $700B deal"):
Joe Manchin and Chuck Schumer looked at loggerheads after their talks on a sweeping climate, tax and health care bill ran aground nearly two weeks ago. In fact, they were working on Washington's best-kept secret.

On July 18, four days after Manchin and Schumer's talks seemed to fizzle out with only a limited health care deal, Manchin reached out to Schumer to see if he was amenable to picking things back up. By Wednesday afternoon, they had a deal on a bill that includes energy and tax policy, a turnaround after the two deadlocked on Democrats' marquee party-line agenda.

"It's like two brothers from different mothers, I guess. He gets pissed off, I get pissed off, and we'll go back and forth. He basically put out statements, and the dogs came after me again," Manchin said in an interview on Wednesday. "We just worked through it."

All throughout last week, Manchin stayed quiet about the talks even as most senators, staffers and journalists had moved on: "I didn't know if it could come to fruition. I really didn't know, OK, so why talk about something, again, build people's hopes up? I got the ire of everybody."

That ire turned into jubilation within the Democratic Party by Wednesday night after Manchin and Schumer announced what they dubbed "the Inflation Reduction Act of 2022," which is slated for the Senate floor next week. There's still significant concerns to be dealt with over whether it can meet chamber rules for avoiding a filibuster, and Sen. Kyrsten Sinema (D-Ariz.) hasn't signed off yet — but Manchin's deal with Schumer amounts to the best news for Democrats in weeks.
So, presuming those obstacles can be overcome, what's actually in the bill?
The Manchin-Schumer deal includes roughly $370 billion in energy and climate spending, $300 billion in deficit reduction, three years of subsidies for Affordable Care Act premiums, prescription drug reform and significant tax changes. Manchin said the bill was at one point "bigger than that" but that's where the two Democrats settled.
NYT ("Manchin, in Reversal, Agrees to Quick Action on Climate and Tax Plan") comes up with different numbers:
The package would set aside $369 billion for climate and energy proposals, the most ambitious climate action ever taken by Congress, and raise an estimated $451 billion in new tax revenue over a decade, while cutting federal spending on prescription drugs by $288 billion, according to a summary circulated Wednesday evening.
As to how pumping another $700 billion into the economy reduces inflation:
it would reduce the federal deficit by about $300 billion, while seeking to push down the cost of health care, prescription medicines and electricity.
WaPo ("Manchin says he has reached deal with Schumer on economy, climate bill") adds:
The new bill provides billions in home energy rebates to help Americans make their homes more energy efficient and new tax credits for lower- and middle-income Americans to buy new and used electric vehicles. It provides a bevy of tax credits to boost solar panels, batteries and other technologies, while discouraging emissions, and implements a new program that would make it more costly to emit methane, a potent greenhouse gas.
As to the making of the sausage:
The accord came in part because Schumer, Pelosi and Biden also agreed to seek and pass new legislation easing the federal permitting rules for pipelines and other infrastructure in the coming months. Such regulatory changes have to be tackled separately from Democrats' spending package, given the rules under which lawmakers hope to advance their forthcoming bill. Manchin has in particular prioritized a drilling project in Alaska and a natural gas pipeline that runs through West Virginia.

"Our persistent and increasing dependence on foreign energy and supply chains from countries who hate America represents a clear and present danger and it must end," Manchin said in a statement.

To further win his support, some Democratic senators in recent days also sought an intervention from Larry Summers, the former treasury secretary who has been sharply critical of Biden's earlier stimulus law, according to two people familiar with the matter, who spoke on the condition of anonymity to describe private conversations. Summers was among the economists who first warned that inflation would rise.

The two men spoke this week, and Manchin listened as Summers talked in detail about why Democrats' proposed economic package — including its energy provisions — would not lead to higher prices, the people said. Manchin has on occasion consulted with Summers throughout the last year, and the senator's allies have been adamant that his views have been consistent throughout the negotiations. A spokeswoman for Summers declined to comment.
Naturally, the progressive caucus is less than thrilled:
the health-care proposal marks a significant departure from the once-in-a-generation insurance overhaul that some Democrats wanted. Initially, lawmakers sought a major expansion of Medicare along with other new benefits for seniors, and they labored to close the gap that threatens to keep millions of low-income Americans from affording any care. They had to abandon their plans to satisfy Manchin's broader cost concerns, though Democratic leaders said Wednesday that they would not give up their long-term goals.

"In light of the discussions of the past year, this agreement is a remarkable achievement," Pelosi said in a statement. "We will continue to fight for priorities not contained in this legislation — because more must be done on behalf of America's working families and to save the planet."
Given the alternative—nothing—one presumes they will settle for half a loaf.
Democrats had to make similar sacrifices to win Manchin's support on other measures, including those meant to cover costs and reduce the deficit. The deal omits the major tax increases on wealthy Americans and corporations that Biden had endorsed during the 2020 election, but it does impose a 15 percent minimum tax on companies, aiming to crack down on those that pay nothing to the federal government.

"Rather than risking more inflation with trillions in new spending, this bill will cut the inflation taxes Americans are paying, lower the cost of health insurance and prescription drugs, and ensure our country invests in the energy security and climate change solutions we need to remain a global superpower through innovation rather than elimination," Manchin said.
More on the sausage-making from the above-linked POLITICO report:
Talks with Biden stalled last December on the more sweeping Democratic bill known as Build Back Better, Manchin recalled Biden telling him: "Joe, it's not going to help for me to be involved in this … if you can do anything, good. If not, I understand."

"You know, as an old senator, he understands things are a little rough at times," Manchin said.
In the end, Manchin agreed to pretty much what he always said he'd agree—and a little bit more.
Following Manchin's stated interest in limiting a party-line domestic policy bill to health care and lowering prescription drug prices without more information about inflation, Democrats were expecting to pursue a bill that did not include climate or energy provisions. But Manchin and Schumer quietly continued negotiating behind the scenes, mostly through staff, leading to the surprise breakthrough while Manchin was sidelined with Covid.

"There was no pressure. The easiest thing for me to do is walk away and do nothing … just stay away," Manchin said. "That was not the case, because it was not the right thing."

The agreement mirrors roughly what Manchin first laid out earlier this year as his goals for the party-line bill, albeit with a more limited tax title. Democrats plan to raise revenues for the legislation by imposing a 15 percent corporate minimum tax, increasing IRS enforcement, reducing drug prices and closing the so-called carried interest loophole.

[…]

Another twist: Manchin said the final deal does not leave out new incentives for electric vehicles, which he'd resisted in what became a major sticking point in the negotiations. Manchin said the bill gives incentives to make new car batteries in America "and not only be able to assemble them, but be able to extract the minerals that we need, critical minerals, in North America."
I'm skeptical of a blanket minimum tax but support the broader goal of ensuring that corporations pay the taxes they owe. Otherwise, based on the descriptions at least, I support the other measures. Ending the carried interest loophole, in particular, is long overdue.
How big a surprise was this announcement? It seems that almost nobody knew it was coming:
Sinema learned of the deal on Wednesday afternoon and had no immediate comment. When asked about the agreement, Majority Whip Dick Durbin (D-Ill.) replied: "That's news to me." Others declined to comment, saying they had yet to see the details. Sen. Chris Van Hollen (D-Md.) said his "first clue" was Manchin's press release.

"There were hints, but nobody wanted to say anything until it was landed," said Sen. Sheldon Whitehouse (D-R.I.). "But it's good that it's landed."
Manchin has managed to far surpass Sinema in being the focus of media coverage in recent months, so it wouldn't shock me if she threw a wrench into things to get back in the limelight. I suspect she'll ultimately vote for essentially this package.
And even some progressives are saying the right things:
After months of rocky negotiations — and the expectation from many that any hope of reaching a climate deal with Manchin was gone — Democrats were buoyant Wednesday afternoon, even as the details of the deal had yet to be released. Sen. Elizabeth Warren (D-Mass.) put it this way: "At least we're using the word 'climate.' It's a good start."

How the bill plays in the House will also be important. Progressives were elated, with Rep. Pramila Jayapal (D-Wash.) calling it a "really important victory."
And I'm skeptical this will amount to much:
And moderate Rep. Josh Gottheimer (D-N.J.), who made state and local tax relief his red line, was noncommittal about whether he'd dig in even as his priority was left out of the bill: "Until I see specifics it's hard to know."
I personally took a hit with the Trump tax hike on state and local taxes—which was entirely motivated by a desire to stick it to high-tax Blue states who had voted for Clinton rather than revenue generation or fairness concerns—and would be happy to see full relief restored. Aside from personal gain, the premise of the deduction—that people shouldn't pay federal taxes on income that they essentially didn't receive because it was confiscated by another government—strikes me as both reasonable and fair. At the same time, the deduction (like the home mortgage deduction, the ability to shelter money in college investment accounts from taxes, and others) amounts to a subsidy for the relatively well-off. I can't imagine the Democratic leadership is going to allow this bill to die on that hill.