California Not Executing Enough People, Says Federal Judge
The most novel argument yet against capital punishment.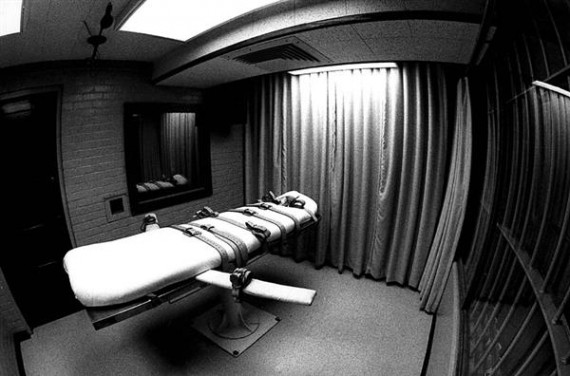 The US Supreme Court ruled the death penalty unconstitutional in 1972, only to revive it in 1976 after states corrected key issues. Since then, a lot of novel arguments have been advanced as to how the practice enshrined in the 6th and 14th Amendment violates the 8th. But here's one you probably didn't see coming.
Adam Serwer for MSNBC ("California judge strikes down death penalty"):
A federal judge in California has ruled that the state's death penalty is unconstitutional.

"[F]or most, systemic delay has made their execution so unlikely that the death sentence carefully and deliberately imposed by the jury has been quietly transformed into one no rational jury or legislature could ever impose: life in prison, with the remote possibility of death," wrote Federal Judge Cormac J. Carney of death row inmates in California. "As for the random few for whom execution does become a reality, they will have languished for so long on Death Row that their execution will serve no retributive or deterrent purpose and will be arbitrary."

The case involves a California death row inmate, Ernest Dewayne Jones, who was sentenced to death for raping and killing his girlfriend's mother in 1995. Jones and nearly half of the 750 inmates on death row in California have been awaiting execution for more than 19 years, only 13 of the 900 inmates sentenced to death since 1978 have been put to death by the state. Since 1972, the Supreme Court has repeatedly upheld the constitutionality of the death penalty, but it has occasionally ruled that the death penalty can violate the Eighth Amendment's prohibition on cruel and unusual punishment depending on how it is applied. The high court has also narrowed its use, forbidding it in the case of minors or individuals convicted of crimes other than murder.

Carney's determination that the death penalty in California is unconstitutional as applied is based on the often interminable delay between sentencing and execution. As a result, Carney concludes, the system does not serve society's interest in deterring crime or seeing it properly punished.
Carney, interestingly, is an early appointee of George W. Bush. Apparently, he's a compassionate conservative. Essentially, he's arguing that California's death penalty violates the 8th Amendment's prohibition on "cruel and unusual punishment" not because it's cruel but because it's unusual. So, California could correct this problem but getting on with executing more people at an expedited pace. Which would almost certainly increase the odds of killing people innocent of the crime for which they were convicted.
While that outcome would be perverse, I've long thought that the absurdly long period between initial sentencing and carrying out execution is in fact a problem. As Carney puts it,
When an individual is condemned to death in California, the sentence carries with it an implicit promise from the State that it will actually be carried out. That promise is made to the citizens of the State, who are investing significant resources in furtherance of a punishment that they believe is necessary to achieving justice. It is made to jurors who, in exercise of their civic responsibility, are asked to hear about and see evidence of undeniably horrific crimes, and then participate in the agonizing deliberations over whether the perpetrators of those horrific crimes should be put to death. It is made to victims and their loved ones, for whom just punishment might provide some semblance of moral and emotional closure from an otherwise unimaginable loss. And it is made to the hundreds of individuals on Death Row, as a statement their crimes are so heinous they have forfeited their right to life.

But for too long now, the promise has been an empty one.
Aside from substantially watering down whatever solace "an eye for an eye" provides the families, the long delay actually serves to deny them closure. And, presumably, "kill someone and you may fry—19 years from now, if you're one of the 1.44 percent of those sentenced to death we actually execute"—is a rather ineffective deterrent for the would-be murderer.
It's likely that this ruling will stand, in that California is unlikely to challenge it while Jerry Brown is governor. His veto of the bill reinstating capital punishment was overriden in his first go-round as governor from 1975 to 1983 and he's been trying to end the practice ever since. I don't think he would have predicted the reasoning that achieved that end.