Supreme Court Rules No Right to 'Painless Death'
The replacement of Anthony Kennedy with Brett Kavanaugh is already having a significant impact.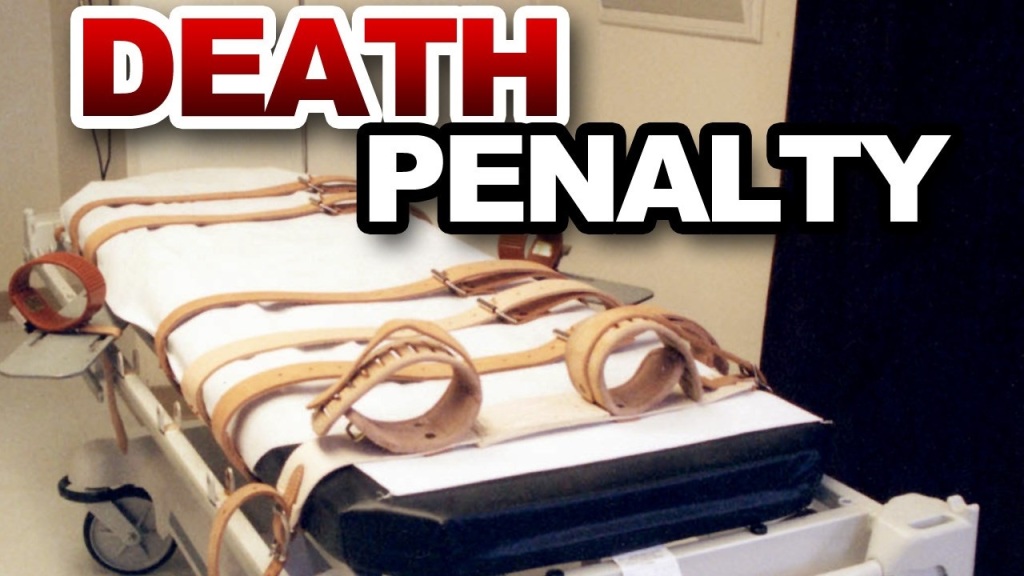 WaPo ("Divided Supreme Court rules against death-row inmate with rare condition"):
The Supreme Court's stark divide on the issue of capital punishment was on full display Monday, as the conservative majority ruled against a Missouri death-row inmate who said his rare medical condition could mean an agonizing death that would violate constitutional standards against cruel and unusual punishment.

The court ruled 5 to 4 that Russell Bucklew, convicted of murder 22 years ago, failed to show that the state's use of a lethal injection would make his suffering exceptional and that he had not proved that an alternative would be better.

"The Eighth Amendment has never been understood to guarantee a condemned inmate a painless death," Justice Neil M. Gorsuch said in announcing the decision from the bench. "That's a luxury not guaranteed to many people, including most victims of capital crimes."

On a broader point, the majority declared a renewed skepticism of long-running and last-minute legal efforts to postpone executions and indicated that death-row inmates faced a more substantial barrier in challenging the methods of execution that states employ.

That brought a biting rejoinder from the dissenting liberals, who additionally referred to a decision in February in which the conservatives denied the last-minute stay request of an Alabama inmate who was not allowed to have an imam at his side at his execution.

"It might be possible to end delays by limiting constitutional protections for prisoners on death row," wrote Justice Stephen G. Breyer. "But to do so would require us to pay too high a constitutional price."

Bucklew's execution has been delayed several times, and now-retired Justice Anthony M. Kennedy had joined liberals in the last stay.

But Kennedy has been replaced by Justice Brett M. Kavanaugh, who voted with Gorsuch and the rest of the court's conservatives to let the execution move forward.

Missouri plans to use an injection of a single drug, pentobarbital, to carry out Bucklew's execution. But he suffers from a congenital and rare disease called cavernous hemangioma. It causes blood-filled tumors to grow in his head, neck and throat, which his attorneys say could rupture during the state's lethal injection process.

Breyer said Bucklew had developed persuasive evidence that lethal injection could cause him to "sputter, choke, and suffocate on his own blood for up to several minutes before he dies."

That would subject him to "constitutionally impermissible suffering," Breyer wrote. "The majority holds that the state may execute him anyway. In my view, that holding violates the clear command of the Eighth Amendment."
Mark Joseph Stern is less dispassionate in an analysis for Slate ("The Supreme Court's Conservatives Just Legalized Torture"):
On Monday, five justices of the Supreme Court authorized Missouri to torture a man to death. In the process, they appear to have overruled decades of Eighth Amendment precedents in a quest to let states impose barbaric punishments, including excruciating executions, on prisoners. The court's conservative majority has converted a once-fringe view into the law of the land, imperiling dozens of decisions protecting the rights of death row inmates, as well as juvenile offenders. Its ruling signals the end of an Eighth Amendment jurisprudence governed by "civilized standards"—and the beginning of a new, brutal era in American capital punishment.

Russell Bucklew is a death row inmate in Missouri who suffers from a rare medical condition called cavernous hemangioma. Due to this disorder, his body is covered with tumors filled with blood vessels. Tumors in Bucklew's neck and throat, his lips and uvula, which make it difficult for him to breathe. They are highly sensitive and frequently squirt blood. A medical expert, Dr. Joel Zivot, has testified that if Missouri administers a lethal injection to Bucklew, he will die a slow, agonizing death. His tumors will rupture and fill his mouth with blood, and he will suffocate to death in unbearable pain, choking and convulsing on the gurney as he dies.

To forestall this fate, Bucklew sought to block his execution by lethal injection, arguing that it would violate the Eighth Amendment's bar against "cruel and unusual punishments." Under two Supreme Court precedents, Baze v. Rees and Glossip v. Gross, an inmate challenging his method of execution must provide an "available alternative" that will cause less pain.
Bucklew asked to be killed with nitrogen gas so that he can die from "hypoxia," a lack of oxygen, because his death from hypoxia would be faster than his death from lethal injection.

In Monday's Bucklew v. Precythe, the court rejected his claim by a 5-4 vote. Justice Neil Gorsuch's opinion for the court, however, does much more than condemn Bucklew to a harrowing demise. It also quietly overrules, or at least erodes, more than 60 years of precedents, including several written by Justice Anthony Kennedy. Gorsuch embraced a vision of the Eighth Amendment supported by Justices Clarence Thomas and Antonin Scalia that has consistently been rejected as dangerously extreme by a majority of the court.

Here is how Gorsuch does it. Baze and Glossip, he writes, declare that if a death row inmate seeks to avoid a certain method of execution, he must identify a different one that can be feasibly administered. That is true. But why does the Eighth Amendment prescribe such a test? In Baze and Glossip, the court explained that "because it is settled that capital punishment is constitutional," there "must be" a constitutional "means of carrying it out." "[B]ecause some risk of pain is inherent in any method of execution," the court has held, "the Constitution does not require the avoidance of all risk of pain." The court's duty, then, is simply to ensure that states do not impose a risky method of execution when a less painful method is at their disposal.
Gorsuch is surely right that, since it is twice enshrined in the Constitution, capital punishment itself can't be deemed cruel and unusual punishment. He's also right that a "painless death" surely isn't prescribed and that murder victims certainly don't enjoy that privilege. Indeed, the description of Bucklew's crimes in the above-linked WaPo report makes it difficult to feel too sorry for his plight:
In 1996, Bucklew, now 50, stalked his former girlfriend Stephanie Ray at another man's trailer. He shot and killed the man, Michael Sanders, tried to shoot Ray's fleeing child and then captured Ray. He handcuffed and raped her, then wounded a police officer in a subsequent gunfight.

Bucklew later escaped from jail and attacked Ray's mother with a hammer before he was recaptured.
At a visceral level, I don't mind much if he suffers a bit while he dies.
But, of course, we're talking about punishment being meted out by the justice system, not an act of revenge against a horrible human being. And the Supreme Court has, over a period of six decades, applied an "evolving standards of decency" lens to understanding the Eighth Amendment.
It would be one thing if Bucklew had been arguing that, because his health condition makes lethal injection too painful, his life should be spared. If those were the two alternatives, I would agree with the majority that the state's right to execute a heinous criminal trumps the right of the criminal to die a pain-free death. But Bucklew was instead arguing that, since his condition makes lethal injection cruel, the state should instead use another method of execution. Absent evidence from the state that Bucklew's preferred alternative was unreasonable or impractical, I can think of no reason not to accommodate the request.
Here, from Amy Howe's summary at SCOTUSBlog, is how Gorsuch justified it:
And in any event, Gorsuch stressed, the requirement of showing an available alternative is not as difficult as Bucklew might suggest, because he is not limited to the methods of execution currently allowed in Missouri, where he was convicted. Instead, Gorsuch observed, he can also "point to a well-established protocol in another State as a potentially viable option." Therefore, Gorsuch concluded, "we see little likelihood that an inmate facing a serious risk of pain will be unable to identify an available alternative—assuming, of course, that the inmate is more interested in avoiding unnecessary pain than in delaying his execution."

In this case, Gorsuch outlined, Bucklew had made only a "bare-bones proposal" to use death by nitrogen gas, depriving the body of oxygen, as an alternative to lethal injection. In Gorsuch's view, that proposal "falls well short" of showing that the alternative could be "readily implemented" because Bucklew had not offered any evidence on what Gorsuch deemed "essential questions": "how nitrogen gas should be administered (using a gas chamber, a tent, a hood, a mask, or some other delivery device); in what concentration (pure nitrogen or some other mixture of gases); how quickly and for how long it should be introduced; or how the State might ensure the safety of the execution team, including protecting them against the risk of gas leaks." The state also had a good reason not to switch from lethal injection, Gorsuch pointed out: No state has ever used nitrogen gas to carry out an execution before.
That's . . . actually quite reasonable. It would be odd, indeed, to order the state to eschew its ordinary method of execution on Eighth Amendment grounds and order it to substitute a vague procedure never previously used to execute a human being. Essentially, they would be running a science experiment on Bucklew.
But if that's the argument, why not simply order the state to accede to any readily-accessible alternative method that Bucklew comes up with?
Gorsuch and his majority seem unusually fixated on the delaying issue. Again, from Howe's summary:
The court's opinion concluded by noting that Bucklew "committed his crimes more than two decades ago," while his appeals and post-conviction challenges were completed over 10 years ago. "The people of Missouri, the surviving victims of Mr. Bucklew's crimes, and others like them deserve better," Gorsuch emphasized. "Under our Constitution," Gorsuch continued, "the question of capital punishment belongs to the people and their representatives, not the courts, to resolve." The courts' role, Gorsuch suggested, is to make sure that challenges to a proposed method of execution "are resolved fairly and expeditiously." To that end, Gorsuch stressed, last-minute stays "should be the extreme exception." Citing the recent case of a Muslim death-row inmate who had wanted an imam to be at his side in the execution chamber, but who had "waited to bring an available claim until just 10 days before his scheduled execution for a murder he had committed 24 years" before, Gorsuch explained that the justices might deny requests for relief that could have been filed earlier.
I'm actually sympathetic to that argument. While I think that, as a matter of public policy, we should do away with the death penalty—as many states have—to the extent we're going to continue using it the society has a real interest in carrying it out without excessive delay. There's simply no reason to allow endless rounds of appeal by introducing new issues one-by-one.