Calligraphy-Gate
The White House employs calligraphers. And pays them money!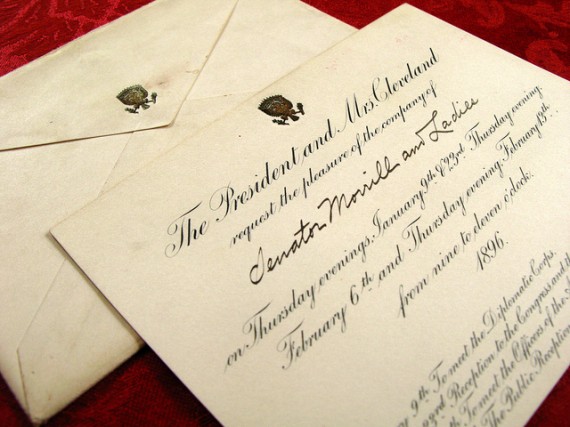 The Weekly Standard's Daniel Halper, who yesterday broke the story of a government leader reminding his employees to obey the law, unearths another scandal: the White House employs calligraphers. And pays them money!
Chief White House Calligrapher Gets Paid $96,725 Per Year

With the White House closing its doors to public tour groups in order to save money for the sequester, it's worth remembering some of the other costs the White House incurs annually.

Like the "Chief Calligrapher," Patricia A. Blair, who has an annual salary of $96,725, and her two deputies, Debra S. Brown, who gets paid $85,953 per year, and Richard T. Muffler, who gets paid $94,372 every year.
Yes, it sounds a little silly that we're paying people good money to do fancy handwriting while threatening to furlough people doing real jobs. But the White House is, after all, home to the head of state of the most powerful nation on earth. It hosts state dinners and engages in all manner of ceremonial functions. It's not shocking that a whopping three people are employed doing calligraphy.
Presumably, these individuals are members of the US civil service. The White House is subject to the locality pay for the Washington-Baltimore area and pay is standardized. So, that means Blair and Muffler are either very senior GS-12s or a junior GS-13s. Brown is likely a mid-level GS-12. (None of the amounts precisely match the pay charts; presumably, they include merit bonuses.)
Is that too much to pay people to do fancy handwriting? Maybe. It's more than a lot of learned professionals make, even in the DC area. Then again, one imagines the White House has rather high standards and these three individuals are among the best calligraphers in the country. I haven't a clue what the market is in that industry, but mid-grade civil service pay doesn't strike me as inordinate.
Oh: It's probably worth noting that President Obama didn't open the Graphics and Calligraphy Office and staff it with his Chicago cronies. Here's a C-SPAN "Tour of the White House Calligraphy Office" from the Bush administration; Blair was heading it back then, too. I haven't been able to figure out when it first opened but someone has been hand-writing White House invitations since at least the John Adams administration.