Cancel the Rest of the Debates?
More of what we saw last night would be bad for the country.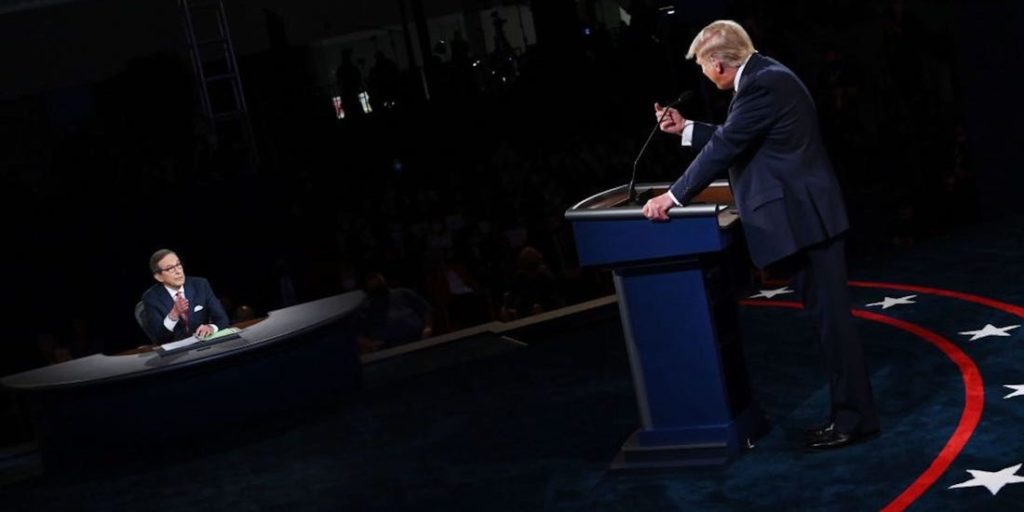 That President Trump steamrolled his way through last night's terrible, horrible, no good, very bad debate, making a laughingstock of the agreed-upon rules is not in dispute. Nor is the fact that moderator Chris Wallace failed miserably to rein him in. But it's not obvious that he could have.
WaPo's Aaron Blake:
A few weeks ago, Wallace delivered one of the toughest interviews of Trump to date — a rare instance in which Trump was repeatedly fact-checked on his falsehoods and didn't seem to know what to do.

Wallace was in some ways set up to fail on Tuesday night. He wasn't supposed to fact-check the candidates as he did Trump a few weeks ago. And it wasn't clear that any moderator would have been able to handle what was thrown at him. But it just wasn't a good debate.

Wallace allowed himself to be something of a wallflower early on, as Trump repeatedly interrupted Biden and Biden sometimes interrupted Trump — before either of them could convey a cogent thought.

But most striking was Wallace's attempts to almost placate Trump.

"Mr. President, you're going to be very happy, because we're going to talk about law and order," Wallace said at one point while trying to move past Trump talking over Biden.

"Let me ask — sir, you'll be happy, I'm about to pick up on one of your points to ask the vice president," Wallace said at another point.AD

At other points, though, Wallace noted that Trump was clearly the chief offender.

"And by the way, Mr. President, your campaign agreed that both sides would get two-minute answers uninterrupted," Wallace noted later in the debate.

Again, it was an impossible situation, but it will hardly go down as a great presidential debate.
I have long thought that moderators should be able to turn off the microphones of offenders. Blake's colleague Margaret Sullivan agrees but goes much further:
It's hard to know what Wallace could have done once the trouble began, which hardly took a moment, to fix the unfolding disaster.

Wallace needed to do something far more powerful than politely urge the president to follow the rules and stop interrupting Joe Biden. "Please let him speak," he said repeatedly, as if shouting directions to a gale-force hurricane. "I'm the moderator of this debate, and I would like you to let me ask my question," he tried at one point.

But to no avail.

Wallace needed, at the very least, a mute button. Maybe something stronger. A penalty box? A stun gun?

Failing some radical reform in the debate format, there's no reason for the next two debates to take place as scheduled on Oct. 15 and 22.

The debate commission should seriously consider allowing the vice-presidential debate to take place next Wednesday and calling off the other two presidential debates.

[…]

The debate can only be called a failure.

The idea that two more like it are in the near future is simply unacceptable. The idea that either of the two coming moderators — Steve Scully of C-Span and Kristen Welker of NBC News — can hope to control things any better is a dubious one unless the format changes substantially.
I'm honestly not sure what format change could possibly stop someone who simply doesn't care about propriety and discourse. Again, some sort of muting function might help but it would only go so far.
Given that, even under the best of circumstances, a series of short answers to questions from moderators isn't really a "debate," it might be best just to do away with the pretense altogether. Now that we're down to two candidates, we might be better off with one-on-ones instead.
As a significant frontrunner, there's not much upside for Biden in participating in a sham process. So, canceling the debates would likely redound in his favor.
But, of course, doing so would only give Trump yet another avenue for claiming the whole thing is "Rigged!" and "Unfair!" The Proud Boys are standing by.