Terrible, Horrible, No Good, Very Bad Debate
A national nightmare that may not have changed many minds.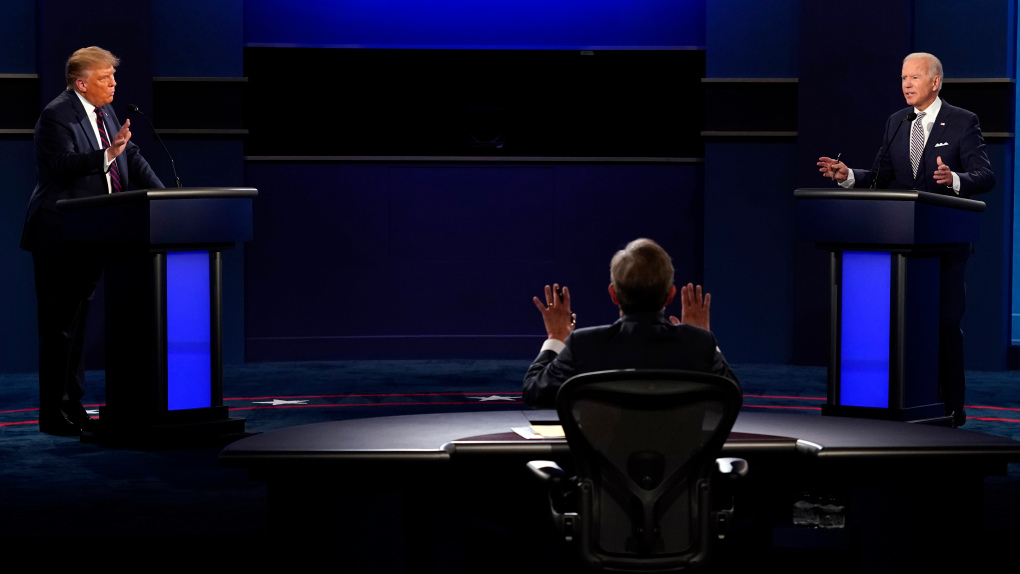 Few who have been paying attention were expecting a civil, meaningful dialog between the two men with a chance of winning the next election for President of the United States. We saw Donald Trump bully and name-call his way through the 2016 debates and Joe Biden is sadly well past his prime as a public speaker. But, holy hell, last night's showdown was simply an embarrassment.
POLITICO founding editor John Harris headlines his report "An Epic Moment of National Shame: The Debate Was an Embarrassment for the Ages."
At frequent intervals on Tuesday night, the natural human reaction—lower the sound, wince and look away—took over, and the first presidential debate of the 2020 general election became nearly unwatchable.

Those who did persist in watching were rewarded, in a perverse way: They witnessed history in the making. The proceeding was an epic spectacle, a new low in presidential politics, a new high watermark in national shame.

The stain will be visible for many years to come. It will serve as a reminder of the night the dam broke, and currents of contempt that have been building in public life for many years flooded the stage with tens of millions of Americans viewing President Donald Trump, Democratic nominee Joe Biden, and an overwhelmed moderator on live television.

General election debates—which have been a recurring feature of elections since 1960 and an institutional fixture since 1976—had been until Tuesday one of the few dimensions of the nation's public life to preserve a certain aura of solemnity. That changed in the opening moments of the Cleveland debate.

The 90-plus minutes that followed were an almost perfect distillation of the politics of insult, indignation, interruption, and irrelevancy that are commonplace on talk radio, on cable news, on Twitter.

There is no mystery why this happened. Trump plainly arrived to shred the official debate rules, and shed any pretense of decorum. At numerous points, his honking interruptions blared without interruption. So did his putdowns, including mocking Biden's performance in college 56 years ago—"You graduated either the lowest or almost the lowest in your class," before adding, "There's nothing smart about you, Joe." He also brought up Hunter Biden's drug problems and inaccurately said he received a dishonorable discharge from the Navy.

Trump's barrage left Biden with a choice. He could draw a contrast by deferring to the rules and trying to appear patient and polite. He did that some of the time. Or he could try to embrace the spirit of the evening in what often sounded like a saloon argument, at the moment when the bartender is trying decide whether things are about to turn physical and he should call the cops.

"Will you shut up, man?" Biden challenged Trump, before lamenting, "This is so unpresidential." Biden's most vivid noun of the evening was clown. "Folks, do you have any idea what this clown's doing?" he asked the audience. Later, as moderator Chris Wallace of Fox News tried with scant success to curb Trump's speaking, Biden said, "It's hard to get a word in with this clown."
The whole thing was surreal.
Because my expectations were so low, I thought through the first half hour or so that Trump was winning simply by coming across as energetic and lucid. To the extent that he had a message, he was staying on it. But, ultimately, he simply demonstrated yet again the he's a man unfit to lead a superpower.
We'll have to wait for a few days of polling to see whether it made any impact on the race. The results of the venerable Frank Lutz focus group, alas, is not encouraging. The POLITICO headline "Undecided voters call Trump 'unhinged' and 'un-American' — but unswayed by debate" really says it all. One would think that being unhinged and un-American would rather disqualify someone from, you know, running America.
After watching the first presidential debate Tuesday night, undecided voters from battleground states across the country still had plenty they wanted to know about coronavirus, racial injustice and what each candidate would do to unite the country.

Out of 15 undecided voters in a virtual focus group conducted by veteran Republican pollster Frank Luntz, four said they were supporting Democratic nominee Joe Biden after watching the debate and two backed President Donald Trump. The rest remained on the fence. There were nine men and six women and they hailed from Arizona, Pennsylvania, Iowa, Florida, Ohio, North Carolina, Wisconsin and Nevada.

"You just saw 90 minutes. How can you still be undecided?" an incredulous Luntz asked. "Please explain that to me?"
Luntz is easily the most famous focus group moderator in the country (granted, not a competitive category) but that's almost exactly the question I would have had.
Despite their indecisiveness, most described Trump in a negative light, including one of the participants who was leaning toward voting for the president. The voters characterized Trump as "unhinged," "arrogant," "forceful", a "bully," "chaotic" and "un-American."

When asked to describe Biden they offered: "better than expected," "politician," "compassion," "coherent," and a "nice guy lacking vision."
Frankly, that should be enough to decide the question of who should have the ability to order nuclear war, no?
The roughly four voters who ended the night in Biden's corner were stunned by Trump's performance. Ruthie, a voter from Pennsylvania, described it as trying to "win an argument with a crackhead."

Joe from Arizona said he entered the night leaning Biden and after the debate decided to vote for the former vice president. Trump didn't defend his record on the unrest in American cities and protests, he said. "He inflames a lot of anger in this country," said Joe. And on the pandemic, he said, Trump "couldn't defend his record on slow walking" the government's response.

Luke from Wisconsin was one of the two participants to say he's now voting for Trump. "Trump is annoying, he's unpresidential," Luke said, but on the economy and "law and order" he trusts Trump. Luke said he doesn't want to be "afraid" for his community, pointing to riots in Kenosha after the police shooting of Jacob Blake, which left Blake paralyzed.
Granting that "undecided voter" is a euphemism for moron, one would think Luke would realize that the rioting in Kenosha took place while Trump was President.
The majority of the focus group remained undecided after the lengthy, chaotic debate. Many put a greater onus on Biden to deliver strong answers than Trump — excusing the president's behavior as "typical" or just Trump being Trump.

Travis of Arizona said the few times Biden tried to land a jab on Trump "he whiffed."

Joe in North Carolina appeared to be leaning toward Biden after the debate but still wasn't sure — Trump and Republicans' constant attacks on the Democratic nominee as "senile" or "sleepy" had gotten to him.

Biden won the debate, Joe said, because "there was no significant gaffe."
In fairness, we have over the years trained Americans that the way to judge debates is on gaffes and one-liners. Still, it's depressing that people are undecided about whether to re-elect a man who they describe as an awful human being President on the basis that the only alternative failed to land a good line during 90 minutes when the other guy wouldn't shut up.
Kimberly from Ohio, the only Black person in the focus group, wanted to hear more about race relations and expressed frustration that little was said about Congress and the Trump administration's inability to reach a deal on stimulus relief. "You still have millions of Americans out there who can't even feed their families," she said.
Kimberly is focused on arguably the most pressing issues facing the country right now, so kudos to her. But, again, she's watched Trump preside over the entire mess. What more information does she need?
A noticeable number of the undecideds were struck by Biden's defiance when pressed by Trump about the progressive, left flank of the Democratic Party. And many said they wanted to hear more about efforts to unify the country from both candidates — a handful ended the evening thinking Biden would fashion a more diverse, bipartisan administration.

"My biggest concern about Biden going in and just throughout the whole primary was the radical left, so to speak, taking over the party," said Joe of Arizona. But Biden's answer convinced him otherwise. Now, he said, he planned to vote for the Democrat.

Biden's declaration that he is the Democratic Party and the one who is deciding the platform, stood out to Jeremy from Arizona. That negated Trump's attack that the Democrat would be a tool of progressive lawmakers like liberal star like Rep. Alexandria Ocasio-Cortez (D-N.Y.) Even so, Jeremy said he remained undecided.

"I do not want another AOC, but I also don't want someone all the way to the right either," said Jeremy. "What I want to see in the next two debates is why should Joe be elected? Not why I shouldn't vote for Trump. Trump's not presidential — we've gotten that."

Similarly, Mike from Iowa said Biden's "best answer" of the night came when he talked about unity. Mike wanted more information about who Biden would select for his cabinet and if it would be bipartisan rather than dominated by progressive picks.

"Just tell us whose it's going to be. That would help, that would go a long way," he said.
For low-information voters, that's not unreasonable. They probably didn't pay much attention during the Democratic nominating process. Still, given that Trump has worked so hard to further the divide in the country, it's remarkable that the onus is on the challenger to demonstrate that he would be better at generating unity.
When asked by POLITICO about Trump's refusal to condemn white supremacists, roughly five of the 15 said it was a moment that stood out to them across an otherwise hard to follow debate.

"That was definitely his worst moment," said Travis of Arizona, who remained undecided after the debate. "That's like the easiest thing that he could do."

Nick of Arizona, also picked it as the "worst moment" of the night for Trump.

"I don't really think he's some big racist, but I guess I don't really know," he said.

Earlier in the focus group, Nick had mentioned Trump's refusal to condemn white supremacists as an example of Trump's behavior that "makes it so hard for you to able to tell anyone that you're voting for him."

Kimberly from Ohio also raised her hand when asked if that part of the night stood out.

At separate points throughout the discussion, she described Biden as someone who was "more approachable" and with an "open ear to talk about race relations without becoming offensive."

But ultimately, she remained undecided.

"Being a Black woman, they did not say how they were going to improve race relations with black people," she said. "I'm undecided. And from my community, it's a lot of us who are undecided because it's darned if we do and darned if we don't, what do we get? We don't get anything from this system."
Kimberly's not wrong. But, again, we have pretty strong evidence as to who Trump is at this point. Why not give the dude who won the nomination on the strength of his decades-long relationship with Black Democrats and who chose a woman of color as his running mate a shot?
And, damn, Nick. What more evidence do you need? The Proud Boys understood Trump's shout out.
The only good news here is that Biden clearly wasn't hurt by the debate. Given that he has a rather significant and steady lead for months, that means Trump is the one who needed to make up ground. It doesn't look like that happened.