#CancelColbert Trolling
An opportunist ruins a good joke and hijacks an important discussion.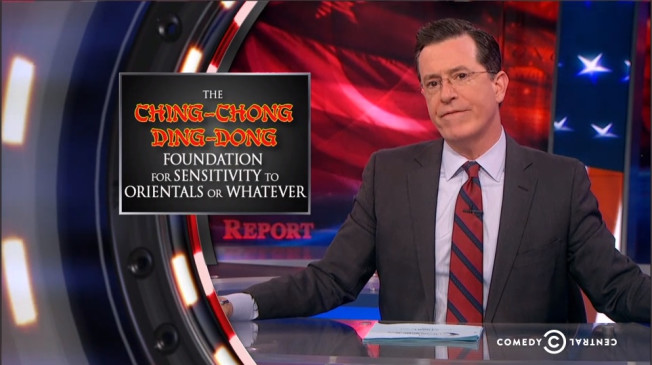 On Wednesday night's episode of "The Colbert Report," the satirical comedic news program on Comedy Central hosted by comedian Stephen Colbert, a joke lampooning Washington Redskins owner Daniel Snyder's absurd creation of the Washington Redskins Original Americans Foundation to deflect criticism that his team's racist nickname is racist.
The joke's at 4:10 of this clip:
The key joke:
Folks, this move by Dan Snyder inspires me, because my show has frequently come under attack for having a so-called offensive mascot. My beloved character Ching-Chong Ding-Dong…the point is, offensive or not — not — Ching-Chong is part of the unique heritage of the Colbert Nation that cannot change. But I'm willing to show the Asian community that I care by introducing the Ching-Chong Ding-Dong Foundation for Sensitive to Orientals or Whatever.
The show's promotional Twitter account subsequently tweeted, "I am willing to show #Asian community I care by introducing the Ching-Chong Ding-Dong Foundation for Sensitivity to Orientals or Whatever."
Naturally, faux outrage ensued.
This attracted the ire of a 23-year-old freelance writer and hashtag activist named Suey Park, who gained prominence last year with the #NotYourAsianSidekick micromovement.
The Ching-Chong Ding-Dong Foundation for Sensitivity to Orientals has decided to call for #CancelColbert. Trend it.

— Suey Park (@suey_park) March 27, 2014

For much of the night, Park made war on Comedy Central, and thousands copied the hashtag. The network had made a powerful hashtag enemy, as Park reminded it. This was her work. She started hashtags like Comedy Central started six-episode sketch shows. The Guardian had placed her in a list of the "top 30 young people in digital media," No. 12, right below "Kid President." Her Facebook fan page and Twitter account provided information on how to book her, because she "speaks on race/gender and social media" and is a "board member of Activist Milennials." For much of the night, her Twitter feed tracked 1) the progress of #CancelColbert, 2) tweets thanking her for the hashtag, and 3) tweets from racist idiots who were angry at her.

By the time she tweeted that, the right had caught on. Tweeting at Colbert was an unexpected opportunity for cultural revenge—the petard-hoisting of a liberal comedian whose schtick was saying outrageous things in the voice of a "right-winger." The prime mover was Michelle Malkin, the Asian-American conservative (and, it is inevitably said, author of In Defense of Internment) who names and shames the people who hurl slurs at her.
If you managed to avoid the Internet last night, you missed a crash course in hashtag activism.
Steve M. at No More Mister Nice Blog struggles with this, because he both applauds Colbert's obvious intent and yet doesn't like the backlash directed at Park by some of Colbert's defenders.
Colbert's character is an oblivious right-wing jerk who thinks he's reasonable and charming, and I feel Colbert sustains that conceit brilliantly most of the time, and successfully skewers people who have a good skewer coming. But it can a delicate task playing an offensive boor without saying offensive things in a way that gives them the power they'd have if you actually believed them — when I was growing up, I watched Carroll O'Connor as Archie Bunker on All in the Family get loud ovations for lines that were seemingly meant to offend, and it began to seem as if he'd evolved into the show's hero. But I don't see Colbert having jumped the shark that way.

[,,,]

To me, it's not over the line — it's an oblivious-about racism character mocking a real-life racist. But I'm a white guy. To Suey Park, who's Korean-American, it was over the line, hence the #CancelColbert Twitter storm. I simply don't know how this feels to her, or to other people it offended.

But I also think it's indisputable that Colbert was trying to drop the joke on the right side of the line. I think a campaign that calls for cancellationdoesn't take his intentions into account, here and throughout the years he's done this character.

So I disagree with Park — and I find this all exasperating, because the real person named Stephen Colbert is trying to be on the right side and American society is full of so damn many dangerous, malevolent, destructive bastards that this campaign seems wildly misdirected.
But NMMNB commenter Ernest Miller spots the truth:
Many of the attacks on Park are atrocious. It is very sad that many of those who disagree with her are condescending (or worse). But, Park is social media savvy and I believe that she was trolling. It is arguable whether Colbert crossed the line. Even if he did, however, it is clearly not a reason to cancel his show, such as for the reasons you mention in your post. But why #CancelColbert? #CancelColbert is alliterative, catchy and more likely to trend than #ApologizeColbert or #ColbertScrewedUp. It is also clearly meant to be inflammatory to Colbert fans. Park shouldn't be forced off the internet (#ProscribePark ?), but she should be called out on her trolling. If Colbert's bit offended, then let's discuss it reasonably. But, apparently, reasonableness doesn't get as many retweets and favorites.
Removed from the context of the Snyder controversy and oblivious to the nature of Colbert's show, it wouldn't be unreasonable to someone to find the tweet offensive. But Park, an activist against Asian stereotypes, was fully aware of the context. She nonetheless successfully trolled Twitter by creating the hashtag #CancelColbert and turning what should have been a discussion about an term that's actually racially offensive to some and yet used in real life by a major team in our most prominent sports league into a discussion about whether a comedian making an obvious joke on a satirical comedy show should be fired. That may be a "crash course in hashtag activism" but it's also a textbook case of trolling.