Can't Find the Suspect? Just Cuff Everyone!
Because, of course, the ends justify the means.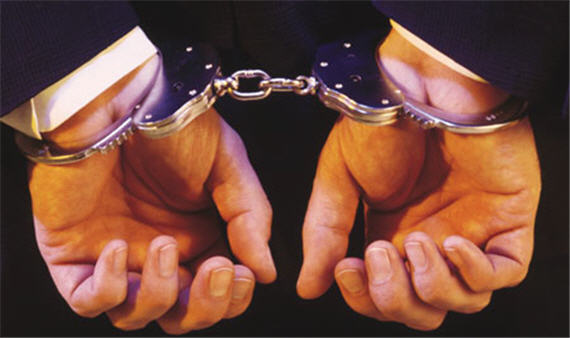 Via ABC News:  Police Stop, Handcuff Every Adult at Intersection in Search for Bank Robber
Police in Aurora, Colo., searching for suspected bank robbers stopped every car at an intersection, handcuffed all the adults and searched the cars, one of which they believed was carrying the suspect.

Police said they had received what they called a "reliable" tip that the culprit in an armed robbery at a Wells Fargo bank committed earlier was stopped at the red light.

"We didn't have a description, didn't know race or gender or anything, so a split-second decision was made to stop all the cars at that intersection, and search for the armed robber," Aurora police Officer Frank Fania told ABC News.

Officers barricaded the area, halting 19 cars.

[…]

"Most of the adults were handcuffed, then were told what was going on and were asked for permission to search the car," Fania said. "They all granted permission, and once nothing was found in their cars, they were un-handcuffed."

The search lasted between an hour and a half and two hours, and it wasn't until the final car was searched that police apprehended the suspect.
According to the local ABC affiliate:
"Cops came in from every direction and just threw their car in front of my car," said Sonya Romero, who was one of the drivers handcuffed. "We all got cuffed until they figured out who did what."

Ben Barker watched the ordeal and told 7NEWS police were armed with shot guns and rifles.

"We didn't know if we were in the line of fire or what the hell was happening," Romero said.

[…]

The other drivers were then released. The whole ordeal lasted about two hours.
The police eventually found the suspect with two loaded guns in his car.
However, the success of the operation does not make it acceptable.  Indeed, this is an egregious abuse of police power.
To have at least 18-25 people (and likely quite a few more than that) detained (and indeed, handcuffed) because they happened to be an at intersection where they might have been (they didn't know for sure until they found the person) a person suspected of a crime in the area is an action out of an authoritarian regime, not a system wherein citizens are presumed innocent and have protections against random searches.
Based on the above account (and the video at the link), the police in question first handcuffed the persons present and then asked permission to search the cars.  This is a clear violation of the Fourth Amendment, not to mention what clearly has to be unlawful detention.
Granted, such actions make police work easier.  What?  Evidence of a possible drug dealer in that subdivision over there?  Well, let's just occupy the place, cuff everyone and ask if we can search their houses!
This is an utterly unacceptable methodology, and the fact that Officer Fania described it thusly is disturbing:
"It's hard to say what normal is in a situation like this when you haven't dealt with a situation like this," Fania said. "The result of the whole ordeal is that it paid off. We have arrested and charged a suspect."
Because, of course, the ends justify the means.