Carl Reiner Dead at 98
A legendary comic is gone.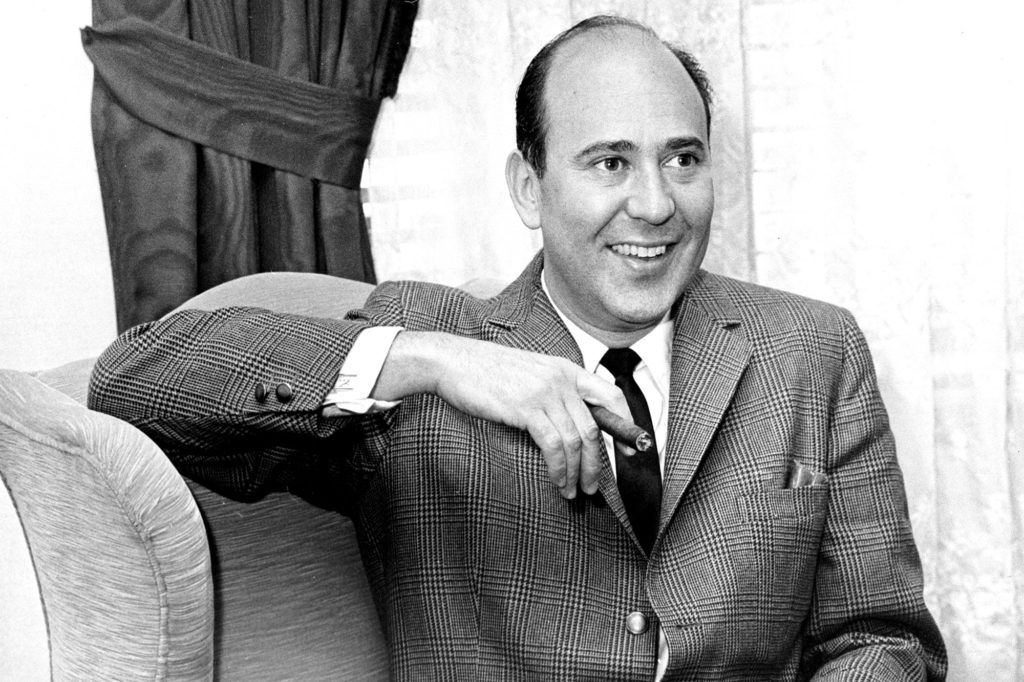 One of the most prolific comedians of all time has left us.
NYT ("Carl Reiner, Multifaceted Master of Comedy, Is Dead at 98"):
Carl Reiner, who as performer, writer and director earned a place in comedy history several times over, died on Monday night at his home in Beverly Hills, Calif. He was 98.

[…]

Mr. Reiner first attracted national attention in 1950 as Sid Caesar's multitalented second banana on the television variety show "Your Show of Shows," for which he was also a writer. A decade later he created "The Dick Van Dyke Show," one of the most celebrated situation comedies in television history, and teamed with Mel Brooks on the hugely successful "2000 Year Old Man" records. His novel "Enter Laughing" became both a hit Broadway play and the first of many movies he would direct; among the others were four of Steve Martin's early starring vehicles.

He won praise as an actor as well, with memorable roles in films like "The Russians Are Coming, the Russians Are Coming" and, more recently, "Ocean's Eleven" and its sequels. But he spent most of his career just slightly out of the spotlight, letting others get the laughs.

His contributions were recognized by his peers, by comedy aficionados and, in 2000, by the Kennedy Center, which awarded him the Mark Twain Prize for American Humor. He was the third recipient, after Richard Pryor and Jonathan Winters.

In his performances with Mr. Brooks and before that with Mr. Caesar, Mr. Reiner specialized in portraying the voice of sanity, a calm presence in a chaotic universe. But despite his claim to the contrary, he was never "just the straight man."

"He was a comedian himself, and he truly understood and still understands comedy," Mr. Caesar said of Mr. Reiner in his book "Caesar's Hours" (2003), written with Eddy Friedfeld. "Most people still don't realize the importance of a straight man in comedy, or how difficult that role is. Carl had to make his timing my timing."

Mr. Reiner was, Mr. Caesar added, "the best straight man I've ever worked with."
Variety ("Carl Reiner, Comedy Legend and 'Dick Van Dyke Show' Creator, Dies at 98"):
Carl Reiner, the writer, producer, director and actor who was part of Sid Caesar's legendary team and went on to create "The Dick Van Dyke Show" and direct several hit films, has died. He was 98.

He died of natural causes on Monday night at his home in Beverly Hills, his assistant Judy Nagy confirmed to Variety.

Reiner, the father of filmmaker and activist Rob Reiner, was the winner of nine Emmy awards, including five for "The Dick Van Dyke Show." His most popular films as a director included "Oh God," starring George Burns, in 1977; "The Jerk," with Steve Martin, in 1979; and "All of Me," with Martin and Lily Tomlin, in 1984.

Rob Reiner tweeted on Tuesday morning, "Last night my dad passed away. As I write this my heart is hurting. He was my guiding light."
Rolling Stone ("Carl Reiner, American Comedy Legend, Dead at 98"):
Carl Reiner, actor, writer, director and one of the defining comedic talents of the 20th century, has died, Variety reports. He was 98.

[…]

Reiner was a comedy stalwart for nearly seven decades, a ceaseless worker who got his start on Fifties variety shows and was still providing high quality entrainment as the voice of "Carl Reineroceros" in last year's Toy Story 4. Although it's impossible to single out the thing Reiner is "most famous" for, several potential options include: creating, writing, directing and co-starring in The Dick Van Dyke Show; directing classic comedies like Oh, God! and The Jerk; and forming the long-running sketch duo, "2000 Year Old Man," with Mel Brooks.
Vanity Fair ("Carl Reiner, Comedy Patriarch, Dies at 98"):
If Carl Reiner had written a deathbed memoir, it would have been titled Exit Laughing. After all, the legendary comedy writer, performer, and director had already published Enter Laughing and Continue Laughing. Having conquered TV, movies, Broadway, and traditional publishing over his seven-decade-plus career, Reiner spent his last years mastering e-books and Twitter, writing and tweeting until Monday night, when he died at age 98 in his Beverly Hills home, TMZ reports. Reiner died of natural causes, Variety writes. He was prolific til the end, even sitting for an interview in an episode of the YouTube series "Dispatches from Quarantine" that premiered on June 22.

Born in the Bronx, Reiner began his New York stage career as a serious Shakespearean thespian, but he found that comedy was what paid the bills. He worked as a Borscht Belt joker at the Allaben Acres resort in New York's Adirondack Mountains, where he met his future wife, singer Estelle Lebost, and he learned the skills that served him as a comedy writer under actor Maurice Evans in the U.S. Army's entertainment unit in Hawaii during World War II.

After the war, Reiner landed two jobs with one audition: summer entertainment director at the Lake Spofford Hotel in New Hampshire, and replacement for star Jules Munshin in the touring production of the revue Call Me Mister. Roles such as the latter, as well as in Broadway musicals Inside U.S.A. and Alive and Kicking, led to his casting in the sketch company of Sid Caesar's landmark live-TV comedy series Your Show of Shows. Throughout the 1950s, Reiner would work as a performer and writer on Caesar's various shows, working with a legendary team of scribes that included Neil Simon, Mel Brooks, Larry Gelbart, and Woody Allen. He also wrote his first book, 1958's Enter Laughing, an autobiographical novel about his early days as an actor.

Reiner drew from his own life to create his first sitcom, Head of the Family, about a young, recently married TV-sketch-comedy writer, in which Reiner also starred. The show was a flop until Reiner retooled it with a new leading actor and actress and took a supporting role as the sketch show's egotistical host, Alan Brady. The result was The Dick Van Dyke Show (which was on-air from 1960 to 1966), an innovative series that made Dick Van Dyke and Mary Tyler Moore into stars and earned Reiner several Emmys for the show's mix of sexy, sophisticated comedy and silly slapstick.
That he was successful in so many mediums over so many decades is truly remarkable. Even at 54, I'm not old enough to remember Show of Shows. And even the Dick Van Dyke show, which the family and I watched a lot, was in syndication, having concluded its original run when I was still a newborn.
Reiner was younger when he did his turn as Alan Brady than I am now but he seemed much older, as everyone seemed to in the days of black and white television. That he was still going strong more than half a century later is just remarkable.