Chad Johnson Gets 30 Days in Jail for Butt Pat
The former NFL wideout formerly known as Chad Ochocinco will spend a month in jail for patting his lawyer on the fanny.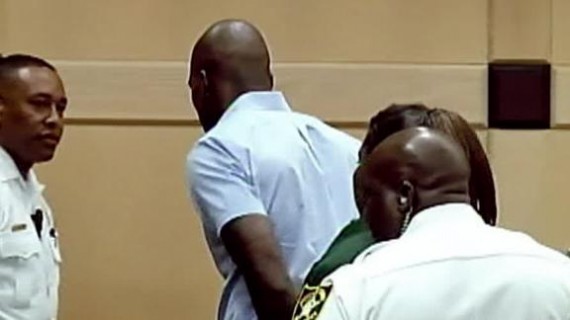 The former NFL wideout formerly known as Chad Ochocinco will spend a month in jail for patting his lawyer on the fanny.
CNN ("Butt pat lands former NFL star Chad Johnson in jail"):
As an NFL player, Chad Johnson patted a lot of men on the butt when he liked their work, but on Monday, defendant Chad Johnson found out that one Florida courtroom was not the place to play that game.

After Johnson patted his lawyer on the rear, Judge Kathleen McHugh rejected Johnson's plea to a probation violation in the domestic violence case involving Johnson and his then-wife, Evelyn Lozada.

Johnson was arrested in May for not meeting with his probation officer and was in court Monday to enter a plea.

After he was asked if he was pleased with his attorney, the former wide receiver once known as "Chad Ochocinco" gave his lawyer, Adam Swickle, a gentle pat on the rear.

McHugh was furious when people in the audience laughed.

"There's nothing funny about what's going on here today," she told Johnson.

Johnson, 35, replied that he wasn't laughing.

Then McHugh said, "I don't think anything's funny about it, Mr. Johnson. This isn't a joke."

Johnson said he didn't do it as a joke.

Swickle agreed, saying: "I don't think it was done as any disrespect to the court. I don't think he meant to get a reaction from the court room, judge."

The judge told Johnson she wouldn't accept a plea deal that involved only community service and more anger management counseling. Instead, she sentenced him to 30 days in jail and tacked three months onto his one-year probation, which would have ended in September.
Now, I've never been a fan of Johnson, who has always struck me as a bit of a punk with an ego that outpaced his not inconsiderable talents as a football player. And, I stress at the outset, I haven't followed the domestic violence case and therefore have no opinion as to whether his original sentence was fair. Nor, for that matter, do I have any opinion on whether the plea deal was a reasonable and sufficient punishment for his probation violation.
But I'm quite sure that, on the limited question as to whether Johnson's patting his lawyer on the butt in response to the question asked by the judge should have led to the reversal of a plea deal otherwise acceptable to said judge, culminating in a month in jail, the judge's conduct here is outrageous. It's not only a petty abuse of power but a waste of taxpayer resources.
There is an increasing tendency in this country for judges, who are supposed to operate as dispassionate stewards of the legal system, to instead act as bullies, more interested in enforcing the outsized deference to which they feel entitled than administering justice. That the victim in this case is by all evidence a jackass doesn't make it right.