Nakoula Basseley Nakoula Is Not A "Political Prisoner"
Debunking a conservative myth that has arisen in connection the Benghazi story.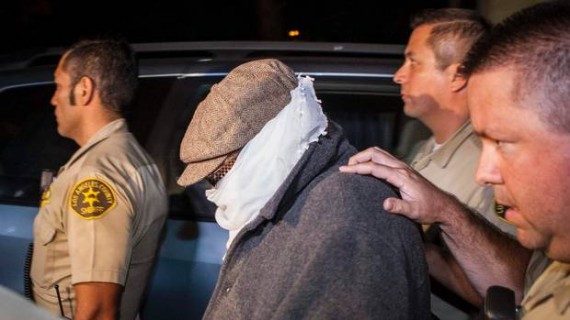 Among the side characters that arose during the aftermath of the attack on the U.S. consulate in Benghazi, which coincided with unrelated protests that developed in various Muslim countries over a YouTube clip purporting to be from a film called Innocence Of Muslims is a man named Nakoula Basseley Nakoula. Nakoula is the producer of the film under the name of Sam Bacile and, in the immediate aftermath of the attack and the protests became of interest to Federal law enforcement. Nakoula, it seems, had been convicted several years ago of multiple counts of bank fraud in Federal Court. As part of his probation, Nakoula was barred from using any aliases and was also barred from using the Internet during the time that he was under probation. When the film itself and his role in it first became public, Nakoula was brought in for questioning by Federal authorities. As I noted at the time, under the terms of his probation Nakoula was required to comply with all requests from law enforcement so there was nothing per se improeper about the fact that the L.A. Sheriff's Office escorted him from his home to the Federal office where he was questions. Despite this, the mere fact of Nakoula being questioned caused some conservatives to go off the deep end. Glenn Reynolds, for example, absurdly said that it was grounds for President Obama to resign his office. Eventually, Nakoula was arrested on charges that he had violated the terms of his probation by using at least one alias while raising money to make his "movie," and by using the Internet in the process of doing so. Later, he was  sentenced to one year in a Federal Prison for violating the terms of his probation, a sentence that is set to expire in November of this year.
Bizarrely, throughout this whole process, Nakoula has become some kind of a cause celbre for conservatives, who apparently believe him to be a victim of the Obama Administration's efforts to cover-up the true story behind the Benghazi attacks. The latest version of this can be seen in a column published at Politico by National Review's Rich Lowry:
Nakoula Basseley Nakoula deserves a place in American history. He is the first person in this country jailed for violating Islamic anti-blasphemy laws.

You won't find that anywhere in the charges against him, of course. As a practical matter, though, everyone knows that Nakoula wouldn't be in jail today if he hadn't produced a video crudely lampooning the prophet Muhammad.

In the weeks after the attack on U.S. facilities in Benghazi that killed Ambassador Chris Stevens and three others, the Obama administration claimed the terrorist assault had been the outgrowth of a demonstration against the Nakoula video. The administration ran public service announcements in Pakistan featuring President Barack Obama saying the U.S. had nothing to do with it. In a speech at the United Nations around this time, the president declared — no doubt with Nakoula in mind — "The future must not belong to those who slander the prophet of Islam."

After Benghazi, the administration was evidently filled with a fierce resolve — to bring Nakoula Basseley Nakoula to justice. Charles Woods, the father of a Navy SEAL killed in Benghazi, said Secretary of State Hillary Clinton told him when his son's body returned to Andrews Air Force Base: "We will make sure that the person who made that film is arrested and prosecuted."
Other conservatives have, in the past and now in the wake of yesterday's testimony before the House Oversight Committee, referred to Nakoula as a "political prisoner."
This is fundamentally absurd.
Without getting into the circumstances by which Nakoula came to the attention of Federal law enforcement late last year, let's just make a few things clear. As I noted above, Nakoula was convicted on multiple fraud charges in 2010 and ended up with a sentence that placed him on probation, a very generous outcome to say the least. Among the terms of his probation were the requirements that he not use aliases and not use the Internet. When the existence of the film and his involvement in it came to light, it obviously would have raised the interest of his Probation Officer, which is probably the most likely explanation for why he was brought in for questioning to begin with. When he was charged with  violating the terms of his probation he was granted, as the law requires, the right to a public hearing where he was represented by counsel. After that hearing, he received his sentence. That, apparently, isn't good enough for Lowry:
A violation of probation, though, usually produces a court summons and doesn't typically lead to more jail time unless it involves an offense that would be worth prosecuting in its own right under federal standards. Not for Nakoula.

This wasn't a case of nailing Al Capone on tax evasion. As Nina Shea of the Hudson Institute points out, Al Capone's underlying offense was racketeering and gangland killings. Nakoula Basseley Nakoula's underlying offense wasn't an underlying offense. He exercised his First Amendment rights.

His case has symbolic significance in the ongoing battle over whether the Muslim world will embrace modernity, and the panoply of freedoms associated with it, or whether it will continue to slide backward by adopting blasphemy laws punishing expressions deemed offensive to Islam. The administration has been dismayingly willing to accommodate the latter tendency. Nakoula's jail time appears indistinguishable from what the 56-nation Organization of Islamic Cooperation, devoted to pushing blasphemy laws around the world, calls "deterrent punishment" for "Islamophobia."
There's just one problem with what Lowry says here, and it's that it doesn't comport with either the facts of the case or what actually happens in probation violation proceedings Federal Courts. Popehat's Ken White. an attorney in California, explains: [Emphasis mine]
I've observed, and participated in, federal supervised release revocation proceedings since 1995. In writing about Nakoula I've drawn not only on that experience but on the actual documents from his case and on the law. My premise has been this: anyone on supervised release for a federal fraud conviction and owing more than $700,000 in restitution would face supervised release revocation if the Probation Office discovered that they were using aliases, engaging in unreported financial transactions, and using computers in those transactions, all in violation of their terms of release. Most federal judges would issue arrest warrants, not summonses, and most federal judges would order jail time to such a person if they found he had obtained and used a false driver's license and concealed transactions from the Probation Officer. Rich Lowry's claim that "[a] violation of probation, though, usually produces a court summons and doesn't typically lead to more jail time unless it involves an offense that would be worth prosecuting in its own right under federal standards" is quite frankly pulled straight out of his ass. Supervisees are routinelyarrested rather than summoned, particularly when there are indications they might be a flight risk — like using a false identity. Supervisees areroutinely returned to prison for offenses that would never be prosecuted federally as separate crimes.

Is Nakoula in federal prison because he made the "Innocence of Muslims" video? Superficially, perhaps, in the sense that his behavior may have escaped detection if he hadn't become famous. It's even possible that someone in the Obama Administration tipped off — or pressured — the Probation Office about his conduct. (If that's what happened, there ought to be a Congressional investigation.) But Nakoula's conduct is the sort that would absolutely be pursued if detected by his Probation Office and would routinely result in a revocation of supervised release and a return to federal prison. People saying otherwise don't know what they are talking about or don't care, or both.
In other words, in the context of a typical Federal probation revocation hearing and assuming all facts being the same, there's likely no reason to believe that Nakoula's imprisonment is an unusual outcome that can somehow be ascribed to an effort by the Obama Administration to establish this producer of an incredbly badly made YouTube video as the fall guy for the murder of an American Ambassador and three others. The available public  facts all establish that he used an alias, accessed the Internet, and engaged in secret financial transactions, all of which he hid from his Probation Officer. While I'm not an expert in Federal criminal law, I can say that I've learned to trust Ken White's judgement on these issues enough to think that his opinion that a probation revocation resulting in a one year prison sentence is really not all that outrageous is likely correct. Moreover, if it was, I'd have to wonder why Nakoula's attorney's aren't screaming to the rooftops about how their client is being railroaded by the Federal Government. Instead, they've been largely silent and, as far as I can tell, have not filed any kind of appeal of this sentence.
The ironic thing about all of this is that Nakoula Basseley Nakoula is someone who has been convicted on multiple fraud charges, and who then went on to violate the terms of his probation. And, yet, conservatives trust him more than they trust the President of the United States.