Filmmaker Behind "Innocence Of Muslims" Questioned By Federal Officers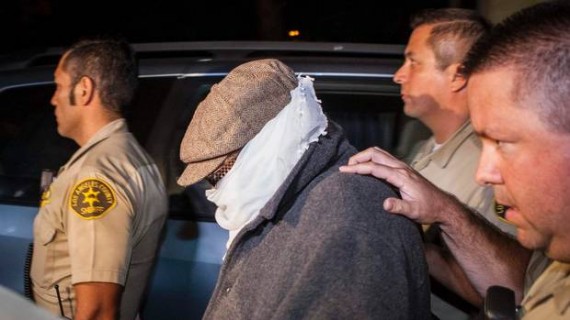 The man behind the film that has set off sometimes violent protests across the Muslim world was questioned for several hours yesterday by Federal law enforcement officials, but apparently not for the reason you might think:
LOS ANGELES — A Southern California filmmaker linked to an anti-Islamic movie inflaming protests across the Middle East was interviewed by federal probation officers at a Los Angeles sheriff's station but was not arrested or detained, authorities said early Saturday.

Nakoula Basseley Nakoula, 55, was interviewed at the station in his hometown of Cerritos, Calif., Los Angeles County Sheriff's Deputy Don Walker said.

Federal officials are investigating whether Nakoula, who has been convicted of financial crimes, has violated the terms of his five-year probation. If so, a judge could send him back to prison.

Nakoula went voluntarily to the station early Saturday morning, wearing a coat, hat, scarf and glasses that concealed his appearance. It is unclear whether he returned to his home, which has been besieged by media for several days.

The probation department is reviewing the case of Nakoula, who pleaded no contest to bank fraud charges in 2010 and was banned from using computers or the Internet or using false identities as part of his sentence.

Federal authorities have identified Nakoula, a self-described Coptic Christian, as the key figure behind "Innocence of Muslims," a film denigrating Islam and the Prophet Muhammad that ignited mob violence against U.S. embassies across the Middle East.

(…)

A federal law enforcement official said authorities had connected Nakoula to a man using the pseudonym of Sam Bacile who claimed earlier to be writer and director of the film.
Under the terms of his probation, Nakoula is essentially required to cooperate with any request from his Probation Officer to appear for questioning, so he really had no choice as to whether or not he was going to appear. Additionally, if he has violated the terms of his probation then he could be in danger of being sent to Federal Prison to serve out his sentence. So, legally, there was nothing improper about what his Probation Officer(s) did here. Nonetheless, I have to wonder how much of what they talked with him about for several hours dealt with his potential probation violations, and how much of it deal with the movie that he's apparently connected with. Since I seriously doubt that there was anything about the movie that violated the terms of Nakoula's probation, I find that rather disturbing because it feels like the Feds intimidating someone for no good reason.
Like it or not, offensive or not, Nakoula had a right to make this movie. The fact that bunch of troglodytes half a world away aren't civilized enough to realize this is no good reason to make him the subject of a potentially illegitimate Federal investigation.